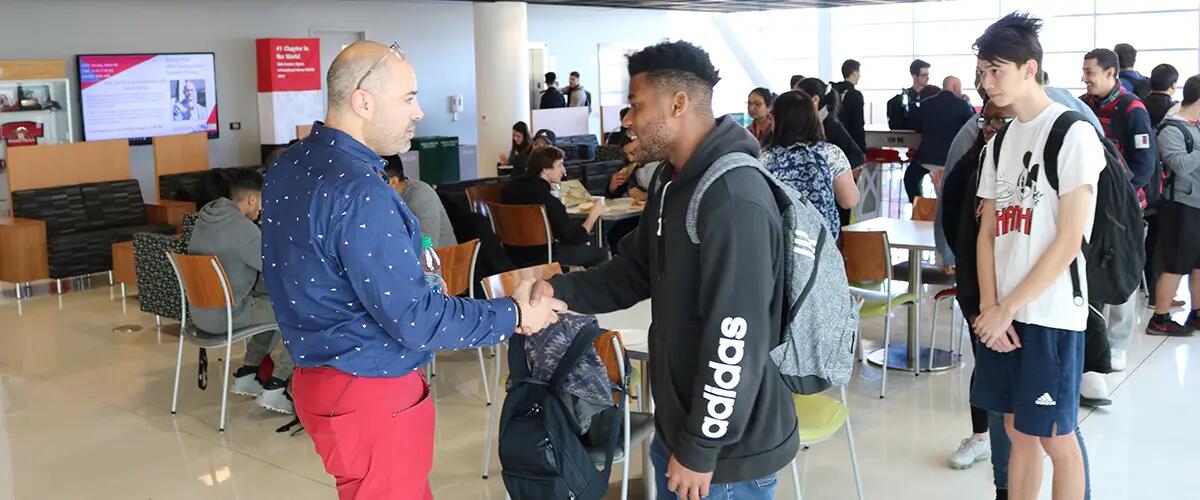 Serial entrepreneur shares the failures behind his success
Aaron Price, president and CEO of the NJ Tech Council empowered a community of more than 100 student innovators during a visit to Rutgers Business School.
Price, who spoke as part of the Distinguished Speakers Series, started his first business at the age of 16 with his brother. From there, as a University of Maryland student, he co-founded DeliverU, one of the first online ordering services for restaurants. He also started several more businesses such as One Headlight Consulting, weCraft, and livecube.
After realizing that there were many people who see the world as he does, Price founded the New Jersey Tech Meetup. Starting this was the driving force behind Propelify, an organization to empower innovators who take action. He went on to lead the launch of the Propelify Innovation Festival in 2016, and it became known as one of the most significant tech events in the Northeast with notable keynote speakers such as Arianna Huffington and Gary Vaynerchuk.
In August of 2019, the NJTech Council acquired Propelify after seeing the alignment in its mission to empower entrepreneurs and innovators who are transforming the future. Price now serves as the council's president and CEO.
Price was not afraid to share some of his setbacks and failures and how those lessons helped him get to where he is today. Given that many students in the audience have business ideas or one day aspire to be entrepreneurs, he offered tips on how to test their ideas with a simple proof- of-concept and build it all out within a day.
One of the other lessons that Price emphasized was the importance of seeking advice from disparate sources and always taking the lead in networking. He stressed the importance of not just networking for the sake of getting something in return, but looking for ways that you can add value to other people's lives.
Learning from feedback and accepting advice is what makes or breaks a founder's success, he told the audience. University students have an advantage because people are always willing to help and to provide mentoring. What's important is that we take advantage of those opportunities, he said.
Rutgers Business School sophomore Barbara Coelho, a marketing major, said it was very reassuring to hear Price continuously say "fail forward." "Sometimes, we expect success to be instant," she said, "but we're so young and must be prepared for obstacles that are in our path and learn from them."
Key takeaways Price shared:
"Capitalize on opportunities that come your way."
"Think about your time as an unlimited resource and prioritize what has to get done right now."
"Behind the scenes – it's always a challenge. Optics make it look easy."
"You need absolute determination to get from A to B and no matter how many people tell you no, you will persevere."
-Sri Narayanan
Press: For all media inquiries see our Media Kit