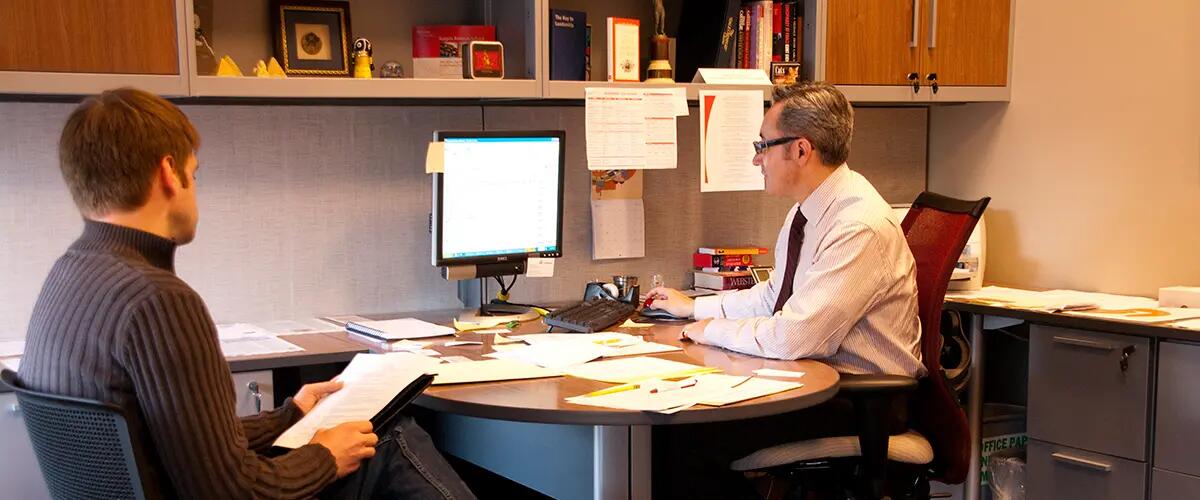 What's involved in making sure Rutgers students are the best job candidates
The secret to being the No. 1 MBA program in the U.S. for job placement
Dean Vera, director of the Rutgers MBA Office of Career Management, and his team – Melinda Lawson and Andy Gogates – have steadily helped to raise the ranking of Rutgers Business School by advising Full-Time MBA students on how to differentiate themselves as job candidates and land jobs in highly competitive fields.
When Rutgers Business School was recognized as the No. 1 MBA program in the U.S. for job placement in Bloomberg Businessweek's survey of Best Graduate Business Schools in 2016, we asked Vera how he and his team made that happen.
Q: What's involved in making sure Rutgers students are the best MBA job candidates?
A: "In short, it's a process. It begins at orientation with the right messaging. Key to that messaging is setting expectations: We're not a placement office – students place themselves. We are here to teach them how to conduct a self-directed job search. For as many as 70 percent a year, that self-direction begins and ends at OCM as students secure summer internships and full-time positions. For the remainder, they find positions on their own. Either way, we've prepared them. The career management program for full-time students and the career management workshop for part-time students kicks it off and then we work one-on-one with students on resume and cover letter writing, interviewing skills and networking."
Q: What's the most important thing you try to instill in students when they show up at OCM?
A: "To choose a career path as quickly as they can. Nothing happens in a career management process or job search without that first step."
Q: What's your No. 1 piece of advice for MBA students who are starting job searches?
A: "They're all career changers, but if they can't walk the walk of their chosen career path, it's not going to happen for them. If our students can't answer finance, marketing or supply chain management questions during an interview, which can make up 50 percent of interview questions, then they won't move to the next round."
Q: Who recruits Rutgers students? What sectors? What companies?
A: "Rutgers MBAs seek opportunities in corporate finance, pharma marketing, consumer packaged goods marketing and all areas of supply chain management. Each year, approximately 35 percent of the outgoing class secure positions in the pharmaceutical industry in all of the functional areas I just mentioned, including consulting roles. Rutgers alumni can be found in the many different industries that make their home in New Jersey. The Class of 2016 accepted offers from Deloitte Consulting, Prudential Financial, Avaya and Dell." (Click here to see the complete list)
Q: What's the average salary?
A: "In 2016, the average salary was 104,753, including bonus." (See the complete list of salary figures for the Class of 2016)   
Q: If I'm a marketing student, where am I going to get a job?
A: "If you're interested in marketing for the pharmaceutical industry, our students receive summer internships and full-time positions with such firms as Bristol-Myers Squibb, Johnson & Johnson and Merck. In consumer packaged goods, our MBAs have secured brand management roles with Church & Dwight, Mars Chocolate, Bayer Consumer Health, and Campbell's. If you're interested in a consulting career with a firm specializing in the biopharmaceutical space, then Herspiegel, Nuvera and Inventiv are some of the companies that recruit from Rutgers Business School."
Q: If I study supply chain management, what job am I going to get and where am I going to get that job?
A: "Our MBAs have landed summer internships and full-time positions at Johnson & Johnson's Procurement Leadership Development Program. They are also hired for procurement, operations and logistics positions at such companies as Dell, Novartis, Pfizer and MasterCard, Prudential and the Metropolitan Transportation Authority."
Q: How did you end up at Rutgers Business School?
A: "I fell into career management. I spent 12 years in English language and management training. Working with managers often led to providing them with career advice and helping them to craft a marketable resume and cover letter. My first position in career management was at Baruch College's Zicklin School of Business as an (employer) relationship manager. I spent more than two years there. I came to Rutgers Business School as a career adviser in 2006, and two years later I became assistant dean for MBA Career Management and director of the MBA Office of Career Management."
Q: What do you like about your job?
A: "I enjoy hearing from alumni, even as far back as the Class of 2008, who tell me about their promotions and career successes."
-Susan Todd
Press: For all media inquiries see our Media Kit