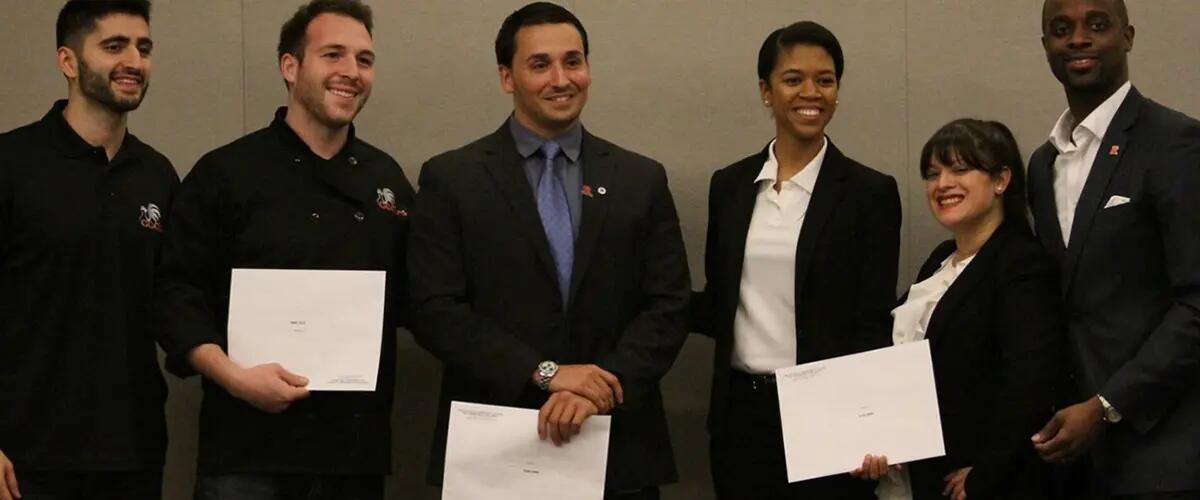 Startups that solve problems are big winners in 2017 business plan competition
The business plan competition at Rutgers Business School is sponsored by the Sales Executive Club of Northern New Jersey Foundation each year as a way of  encouraging the entrepreneurial ambitions of students and alumni and supporting job creation in the state.
Previous winners have gone on to build successful ventures, including Bergen Botanicals, Playa Bowls, Tea & Honey Blends and last year's winner, Charles Roberts LLC, which launched its first product earlier this year.
The judges, led by Richard Romano, president of the Sales Executive Club of Northern New Jersey Foundation and a member of the Rutgers Business School board of advisers, traditionally consider the potential of the start-up as a major factor in selecting the winners.
"Rutgers Business School gave me the knowledge to turn my idea into a business," said Anton Kogan, who won the top prize in  2017, "and the business plan competition gave me the means to grow it."
Flourishing startup taps "overlooked" market
Behind lots of new businesses is a problem that needs fixing.
When Anton Kogan realized how difficult it was to send packages to jail prisoners – not only is it time-consuming, but deliveries are denied for a myriad of reasons, including the way a box is sealed – he set out to provide a service that would make it easier and more effective for friends and relatives to ship care packages. 
"I thought there had to be a better way," Kogan said.
Emma's Premium Foods was born, offering food as well as apparel, books and other goods that can be shipped to prisoners in New York State Corrections and Community Supervision facilities. Customers can order a range of products by telephone or online and arrange for Emma's to handle delivery. The company caters to inmates as well as relatives and friends who may be shopping for them.
In its second year, the business is growing rapidly – monthly sales have increased five-fold since the company was launched in 2015. Sales for 2017 are projected to reach $350,000, fueled largely by word of mouth, Kogan said.
The potential of the start-up business earned Kogan the top prize of $20,000 in the 2017 Business Plan Competition.
Kogan, 29, studies supply chain management and global business as a Part-Time MBA Program at Rutgers Business School. He is building Emma's around his studies and a full-time job. "I like business. That's my thing," he said. "I had this idea and I wanted to see if I could spin it into a profitable company."
The prize money will enable him and his part-time workers to move the growing operation out of a basement and into a commercial space. Undaunted by a single large competitor, Kogan said he hopes to expand Emma's into Pennsylvania and Connecticut.
"I knew there was something worth mining," he said. "This market was overlooked."
Building a business that keeps people moving
Good health never goes out of fashion.
Racquel Clarke, a Rutgers MBA alumna, started pop-up fitness company FitFUNd last year to make it even easier for people to achieve the health benefits of exercise and activity.
"I see us filing a new space in the wellness ecosystem," Clarke said recently. "People need convenience when it comes to physical activity."
Her company makes exercise accessible to busy professionals by offering onsite classes as part of corporate wellness programs. FitFUNd also works with children in creative learn-through-play programs at community locations like libraries and schools.
Clarke said she was introduced to the concept of health equity as an undergraduate when she volunteered with a local community center, and her interest grew after working at a health insurance company where she realized the difference information and accessibility can have on people's wellness.
When she was at Rutgers, Clarke said she concentrated in social entrepreneurship and realized business could have a social impact and still be financially sustainable.
"I see us filling a new space in the wellness ecosystem," Clarke said recently. "People need convenience when it comes to physical activity."
In its first year, without any marketing, FitFUNd provided onsite classes to 19 clients. The company is a social enterprise and uses part of its profit to subsidize the cost of kid-fit classes at local non-profits that serve children. Classes are booked online at www.gofitfund.com.
As more human resources managers and more working professionals realize the benefits of taking breaks to move during the course of the workday, Clarke is hoping the idea of having fitness classes available regularly in corporate settings will spread.
Others see the possibility of a new trend taking hold.
Clarke's start-up business won third place and $10,000 in the 2017 Business Plan Competition at Rutgers Business School. She hopes to use the prize money to promote her corporate wellness events and grow her business by attracting more companies and organizations as clients.
Clarke, who is the company's operations manager, runs the business with two other Rutgers MBA alumni. Norville Barrington, who graduated from the program in 2014, is marketing manager and Jaliyla Nieves, another 2014 graduate, handles finance operations.
-Susan Todd
Press: For all media inquiries see our Media Kit