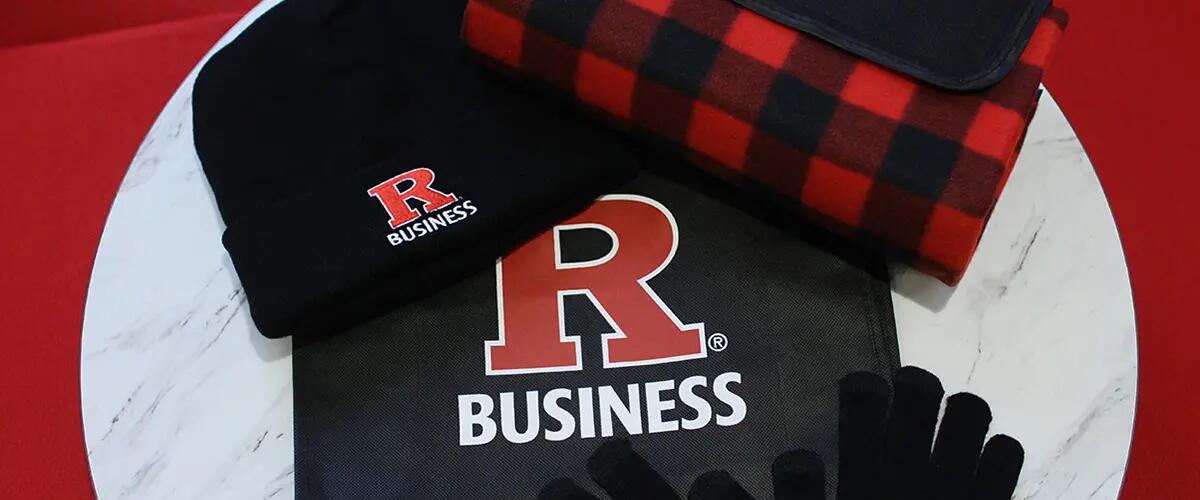 A store opens with Rutgers Business School merchandise to sell
An online store selling Rutgers Business School apparel and merchandise is open for business.
The store – the first devoted to Rutgers Business School products – will offer a selection of high-quality sweatshirts, shorts, tees and baseball-styled caps as well as accessories like backpacks, laptop computer cases and doggie bandanas. A percentage of each purchase will go directly to the Rutgers Business School Student Emergency Fund.
After years of providing Rutgers Business School merchandise as gifts to alumni, students and special guests, Andrea Cunnell, director of alumni and corporate engagement, led the effort to partner with Stephen Mittler, vice president of marketing at All Colors, to establish the store.
"Rutgers Business School merchandise has not been widely available," Cunnell said. "There's a big demand for alumni, students and staff to have Rutgers Business School clothing. Having a store will make it available globally."
Visit the new Let's Get Down to Business store.
All Colors, a woman-owned, family-run business, is an established vendor with long ties to Rutgers University. (The company made a lot of the tee-shirts, caps and other products Rutgers Business School has ordered in bulk and given away in the past.) All of its merchandise is printed and embroidered with school logos at the company's location in Highland Park, just over the river from New Brunswick. All Colors handles production, sales, fulfillment and customer service.
The All Colors production room is dominated by a huge printer for emblazoning apparel with logos, a smaller manual printer is reserved for smaller quantity jobs and an industrial-sized embroidery machine stands against one wall. A corner of the room looks like the inside of a crayon box – rows of containers holding bright colored inks used in the printing process. Mittler said Rutgers Red – known as PMS186 – gets used by the bucketful.  
The company has 20 employees. Several of them are Rutgers University alumni, including Connor Jagemann, who worked as a Scarlet Knight mascot before he graduated from Rutgers Business School. Mittler also hires Rutgers students as paid interns.
Mittler has run a similar online store for Rutgers Law School for nearly nine years and operates micro sites for a number of student groups across the university. He is currently working with the honors college in New Brunswick to establish a similar store.
"Rutgers Business School has such an impressive reputation and such a proud and strong alumni family," Mittler said. "I'm expecting the store to be well-received."
- Susan Todd
Press: For all media inquiries see our Media Kit