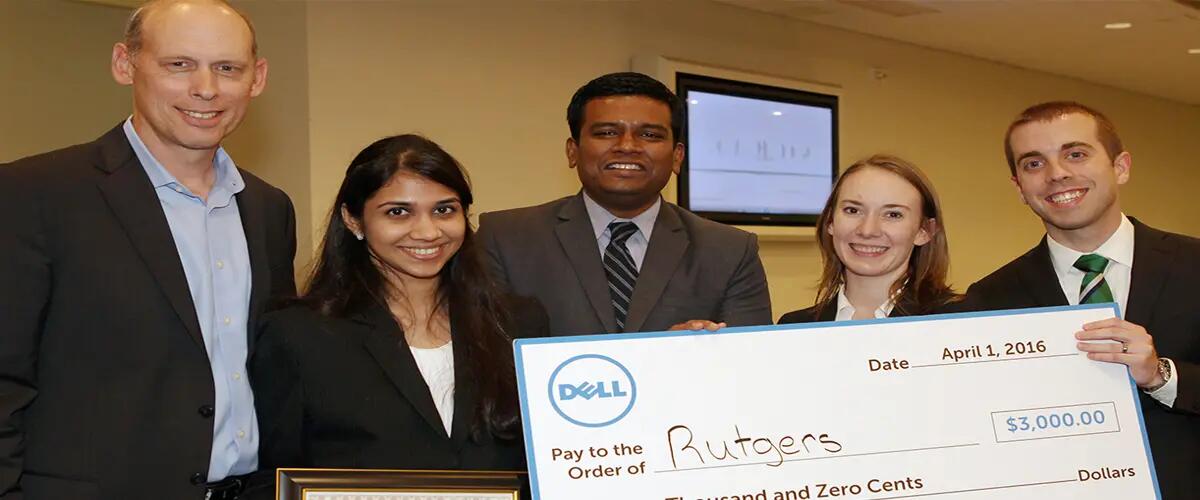 Strong ties to industry pay off for Rutgers supply chain students
Rutgers Business School's highly-ranked Supply Chain Management program works closely with industry to produce talent for a critical aspect of modern business
From its earliest days, the Supply Chain Management Program at Rutgers Business School has worked closely with industry professionals.
And the partnership is still paying off.
The graduate program at Rutgers Business School is now rated as one of the best in the U.S. In its 2016 ranking of graduate programs, Gartner listed Rutgers Supply Chain Management as No. 7 in all of North America. The Rutgers Supply Chain Undergraduate program was ranked No. 5 in North America by Gartner.
Supply chain management is a critical part of modern business, creating a demand for expertise in procurement, planning, distribution, logistics and customer service by nearly every industry, from fashion to financial services.  
Companies around the world depend on the success of their supply chains to effectively execute their business strategies. The mission-critical nature of supply chain management as an enabler of materials, information and financial flows also makes it one of the fastest growing areas of employment. 
The ranking by Gartner weighs how effectively graduate programs are preparing their students for those jobs with curriculum, analytics and real-world experience.
Rutgers Business School's partnerships with industry help achieve that, with executives and managers influencing the development of curriculum, encouraging faculty research and providing students with opportunities to apply their knowledge and gain real world insights with special projects and internships.
The connections also benefit students and companies in another important way: Industry has a hand in ensuring students are equipped for jobs and identifying the talent that best fits its culture.
"Professor Lei Lei was a visionary," said Leonardo (Len) DeCandia, Johnson & Johnson's chief procurement officer who worked closely with Lei, now the dean of Rutgers Business School. "The link with industry started early."
When Rutgers Business School started its program, it worked with eight of the world's leading pharmaceutical companies, including Johnson & Johnson. The connections to industry later expanded to include such stalwarts as Panasonic, Schindler, MetLife and Dell.
Alok Baveja, professor and chair of the Supply Chain Management Department, said the "deep and strategic partnerships with industry are a three-way win."
"For companies in finding and retaining high-quality talent; for students in finding employment with flagship supply chain organizations and also learning from cutting-edge and future-leaning curriculum; and for Rutgers in its mission of synergizing creation and dissemination of knowledge while having a lasting impact on all of its stakeholders," he said.
Student perspective
Aisha Khan studied finance as an undergraduate at Rutgers College. When she returned to get her MBA, she was drawn to supply chain. "Supply chain is still mathematical, which I liked," Khan said, "but it's also critical to any organization."
Khan said the strength of the Rutgers supply chain curriculum and the potential to land a job in the field after completing the program sold her on Rutgers.
After completing the MBA program in 2014, she went to work at Johnson & Johnson. She is now global change management and communications lead for spend management strategy at the company's world headquarters.
In 2016, Khan was one of two Rutgers MBA alumnae – Sarah Kruse Harse was the other – who were among 30 under 30 Rising Supply Chain Stars listed by the Institute for Supply Management and ThomasNet.com.
Looking back at her time in the program, Khan said what she liked most about the curriculum were the off-campus projects that provided her with hands-on work experience. In one of her classes, students were placed into group and each group was assigned to a company.
"My project was with Colgate-Palmolive, and we interacted directly with the company," Khan said. "I went there more often than I went to class during the project."
"Having that real world work experience taught me leaps and bounds more than I could learn in a classroom," she said.
Through the Rutgers Center for Supply Chain Management, Baveja said board members work closely with the center directors, department chair and faculty in curriculum innovation, participating in guest lectures and special events, and in bringing actual projects from their organizations for students to work on as part of their curriculum.
Influencing curriculum
Mike Dundas, Dell's senior vice president of global operations, manufacturing and operations engineering, said just recently there were discussions with Rutgers about incorporating problem-solving techniques into the supply chain management curriculum.
"We need people who can think on their feet," Dundas said.
As a result of industry's input, Rutgers Business School is introducing what's known as rapid cases – like case competitions without the luxury of a week to prepare – so they already have a foundation for solving crises that come up, Dundas said.
The strong ties Rutgers Supply Chain Management has nurtured with industry also help to get students jobs at graduation. Its track record in the area of job placement helped earn Rutgers Business School the No. 11 spot in U.S. News and World Report's 2016 ranking of supply chain management MBA programs in the nation.
The Rutgers program focuses on certain areas that its advisers from industry consider to be important. alumna Aisha Khan said when she went to interview for an internship at Johnson & Johnson, she realized other Supply Chain Management programs didn't have the same focus on procurement – something that helped her to land the internship.
"Rutgers is staying on top of the industry's needs," she said. "It helped me to get where I am today."
Talent Pipeline
Dundas, who recruits for Dell, puts a lot into the search for new employees. "We're on campus building relationships with first-year MBA students," he said. "I think we're able to select better candidates who fit with Dell."
In the past three years, Dundas says about 30 Rutgers students have joined Dell. The company has a 90 percent acceptance rate and a 95 percent retention rate among students who come to the company from the Rutgers MBA program.
"We're doing a pretty good job of matching employer with employee," he said. "That's the benefit of having a strong tie to Rutgers."
- Susan Todd
Press: For all media inquiries see our Media Kit