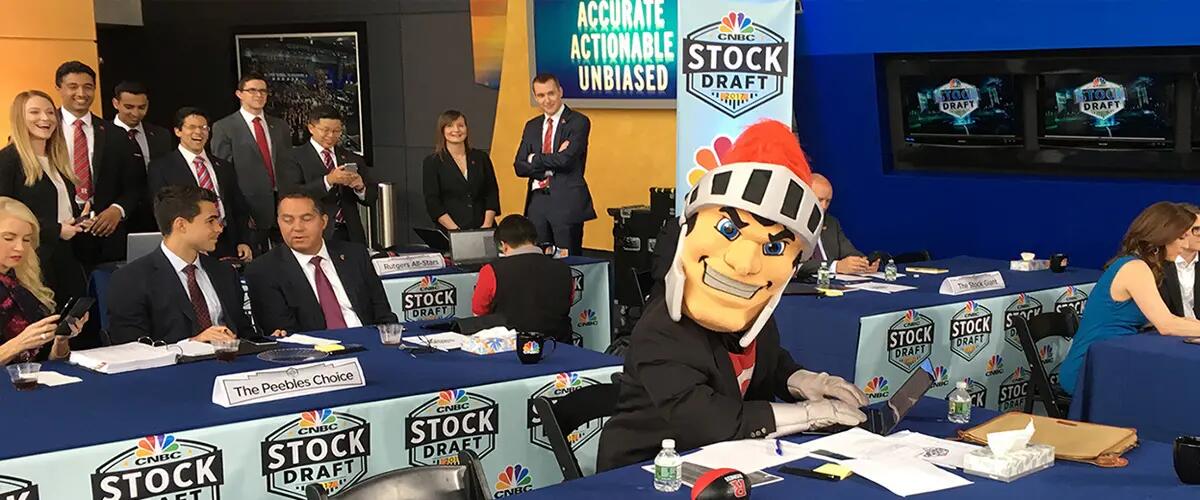 Student investors compete with professionals in CNBC stock draft
CNBC held its biggest ever stock draft (coinciding with the NFL draft) on CNBC's "Power Lunch," with eight top teams picking their favorite stock ideas for the investment contest.
A winner will be chosen based on the performance of each team's two stock draft choices from the closing price on April 27, 2017, through the 2018 Super Bowl on Feb. 4, 2018.
For the first time, a university team participated right alongside the seasoned professionals such as Kevin O'Leary, chairman of O'Shares Investments, and Tim Seymour, managing partner of Triogem Asset Management.
Representing Rutgers University were Andrew Lee (Rutgers Business School) and Karn Dalal (School of Arts and Sciences) as The Rutgers All-Stars.
The Rutgers University Undergraduate Student Managed Fund is an investment fund created by members of Little Investment Bankers of Rutgers for the undergraduate community. The mission of LIBOR and the fund is to educate its members and strengthen their knowledge of the financial markets. The student groups achieve their goals by holding weekly meetings during which members discuss various investment strategies and analyze current events in the economy.
Andrew Lee and Karn Dalal were cheered on by members of LIBOR, Rutgers cheerleaders, and the Scarlet Knight. 
Lee said: "Our first pic, Wells Fargo & Company, was chosen by Rutgers alum Don Peebles, Peebles Corporation founder, chairman & CEO. After the show, we discussed our choices with him.  It turned out that we were both choosing companies that we believed were strong value plays."  The Rutgers team also selected Bank of America Corporation (BAC) and Pfizer Pharmaceutical Company (PFE). 
"At the end of the day," Lee said, "the point of the Stock Draft was to represent Rutgers, the Student Managed Fund, and LIBOR on national television and have fun."
-Sean Ireland
Press: For all media inquiries see our Media Kit