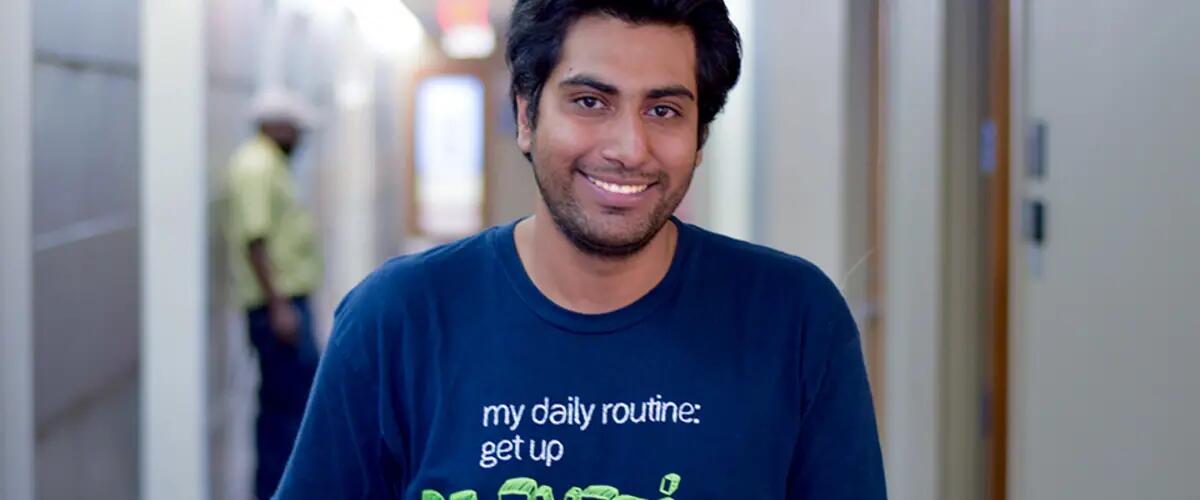 Student succeeds at running a business before graduation
Rutgers Business School senior Rahul Anand is named Student Entrepreneur of the Year by The Center for Urban Entrepreneurship and Economic Development
This story was originally published by Rutgers Today. It was written by Dory Devlin.
With a degree in gastronomy and a few years of startup experience, it wasn't easy for Rahul Anand to land a job at Google in India. But the Rutgers business student who runs a digital marketing company while taking a full course load has never shied away from a challenge.
After eight tries and 17 rounds of interviews, Anand was hired as one of the first members of the pilot team that created Google Knowledge Graph. Over time, the team grew to 17,000 globally, but as Anand was poised to move on, he realized his gastronomy degree would not help him advance in his career. So he applied to undergraduate business programs near his sister in New Jersey and chose Rutgers.
Anand, 27, arrived at Rutgers Business School-Newark and New Brunswick in the fall of 2013 to study marketing. After one quiet semester to adjust to language and cultural differences, he widened his world. He joined the Dean's Advisory Council to help engage students and restarted a defunct, in-debt Indian Students Association. Classes were going well, he was getting to know more people, but something was lacking.
"I missed having problems to solve," Anand says.
In need of a challenge, he decided to start a digital marketing services business in the competitive New Jersey-New York market while a full-time student. "I figured if I'm pursuing a degree in marketing, I should be able to market it, because if I can't do this, I might be in the wrong field," he says.
The first $450 he earned – for helping a car repair shop owner establish a web and social presence and gain market traction through banner ads – helped him buy the fledgling company's first server. "It was the beginning," he says. By spring 2015, a few more students joined, bringing sales and graphics skills. By the end of that summer, there were six. A year and a half later, the staff of The Ideas Maker has been as many as 16 in the summer of 2016 to 11 now. They have worked with 18 clients and reached a goal of $50,000 in revenues by the end of the summer. The new goal: $75,000 by the end of the year.
"I think he is just getting started on a very bright career and his future accomplishments will amaze us all," Can Uslay, marketing professor at Rutgers Business School, said of Anand.
"Rahul has the ability to rally a team and find ways to help everybody who is on his team," says Alfred Blake, assistant director of undergraduate entrepreneurship programs in the business school's Center for Urban Entrepreneurship & Economic Development. "He is a true entrepreneur who can draw people in by helping them see the value in it for them."
Growing a successful student-run business is only one of the reasons why Anand was chosen Student Entrepreneur of the Year 2016. While building The Ideas Maker and pursuing his courses, Anand helped organize a Google I/O Extended event in May 2016, bringing Google's well-known annual developer conference to Rutgers in Newark. The next month, 90 people – entrepreneurs in and around Newark as well as students – turned out for an Entrepreneurship Summit planned by Anand and the student entrepreneurship organization he helped start. Serial entrepreneur and millennial branding expert Gerard Adams spoke at the event.
In October, Anand helped organize a two-day hackathon based on the recently released Google Cloud Machine Learning API. "We had over 60 people – 12 teams started and 8 teams made products over the two days," Anand says. The winning team combined a vision API with an audio API to create an app that would allow a visually challenged person to scan another person's emotions via a phone's camera.
"Rahul has great analytical skills to begin with but he also couples these skills with outstanding intellectual curiosity, interpersonal rapport, and grit – that is a very powerful combination in any setting, and sets him apart," says Can Uslay, associate professor of marketing and co-director of the RBS Center for Market Advantage.
Anand also was named to a Newark 30 Under 30 list recognizing young people who are collaborating with organizations and individuals in Newark.
"I think he is unstoppable and has already made us proud at RBS with his current accomplishments," Uslay adds, "but I think he is just getting started on a very bright career and his future accomplishments will amaze us all."
Press: For all media inquiries see our Media Kit