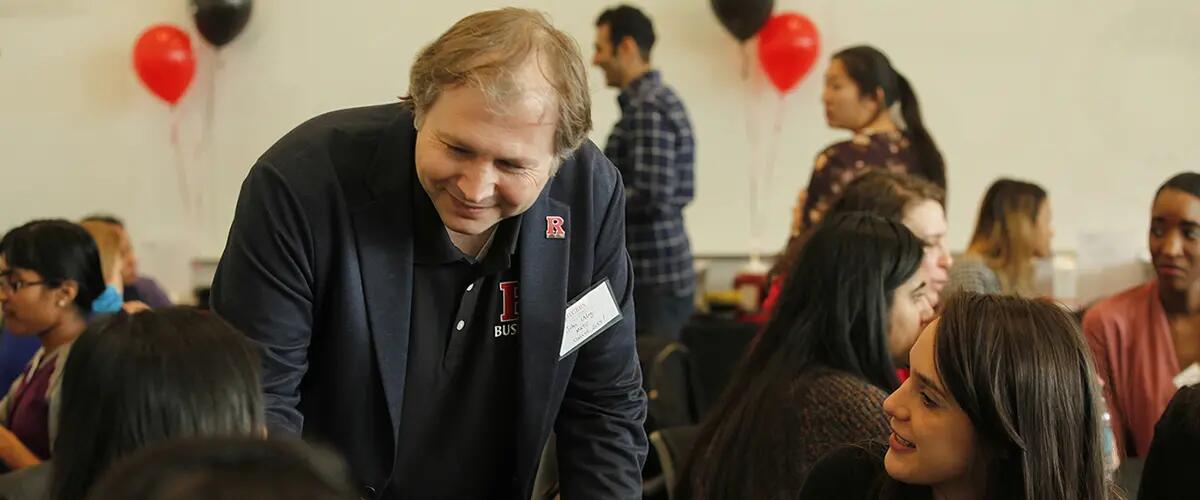 A student team's endeavor inspires a professor's award-winning case study
Professor Can Uslay's wrote a case based on the Hult Prize-winning group of Rutgers Business School students (now alumni) and won first prize for it in the William Davidson Institute 25th Anniversary case competition at the University of Michigan. It was his first time entering a case-writing competition.
Marketing professor Can (John) Uslay recently won first place in a case-writing competition sponsored by the University of Michigan's William Davidson Institute.
Participants were required to describe a dilemma or challenge faced by a company or organization related to creating, implementing or evaluating market-based solutions in developing countries.
It was the perfect theme to showcase the story of Roshni Rides, the name of a rickshaw transportation company created and piloted by a team of Rutgers Business School students. The team won the $1 million Hult Prize for social entrepreneurship in 2017 after a compelling presentation about how their company could help improve the lives of refugees living in the Orangi Town settlement.
Professor Uslay closely followed the progress of the team for more than a year leading up to their impressive win.
In a case titled "Roshni Rides: Pricing Transportation for the Under served," Uslay lays out the challenges the team faced, specifically their effort to find a price point that would keep the cost of the service affordable and still enable the company to grow.
It was the first time Uslay entered a case-writing competition and in a short interview he talked about why he decided to enter, the valuable role cases play in teaching and the satisfaction of writing a case that students consider their favorite.
Q: Why did you choose to base your case on Roshni Rides?
A: "I was familiar with Roshni Rides even before I heard about the competition. I think it was December of 2016. Dean Markowitz sent an email to all of the faculty saying there would be local competition for the Hult Prize on campus so I went to that. Much to my pleasant surprise, I found that one of my (former) students, Hanaa Lakhani, was taking part in the competition. She was a student in my new product planning class earlier that year. The team won the competition that evening. Sometime later in the spring, Hanaa got in touch with me to get some feedback about their plans because they were going to the regionals. By that time, they had pivoted. The initial idea was actually electric bikes believe it or not. Then they had moved on to rickshaws, electric rickshaws at that time and they were calling themselves Roshni Rides. So I went over their slides and gave her feedback on their marketing plan and on their financials. We do those presentations in my class all the time so students are pretty familiar with those types of things. Then the team won the regionals. So I was already pretty familiar with them. Around the time they won the Hult Prize, this case-writing competition was announced. I'm not sure of the exact timeline, but I think it was maybe a month after or so. I was actually thinking of working on a case, but I wasn't sure what the topic should be, and the title of this competition was actually finding solutions that are profitable but at the same time helping people in developing markets. It fit very well because it's exactly what Roshni Rides wants to do."
Q: What did you gain by entering the competition?
A: "I have written cases before, but I've never entered a competition. It was the fit between the topic and the case I was thinking of writing and then the more important thing was the publicity effect we could create for Roshni Rides because I believed in their cause. I also thought it would help Rutgers Business School because Michigan is a leading university in the Big Ten and we are part of the Big Ten. There was a monetary prize too (He won $3,500), but from the very beginning, I told Roshni Rides that if we ever won anything, I would give it to them, which I have done. We professors do research and it gets disseminated to academic circles and over time, to practice. This is another way we can influence teaching, another form of bringing about change."
"It doesn't help my academic portfolio much so it was mostly the pleasure of helping Roshni Rides and bringing positive publicity to RBS. I will also be able to use it in my classes for sure. A few of the students said this was their favorite case of the class. That's satisfying."
Q: What's involved in writing the case?
A: "First, you have to identify some learning objectives, what should the students get out of it after reading and discussing the case in the class. And then, you have to write the story following the outline to get at those different learning objectives in the case. You cannot present all of the necessary information in the same section, you have to spread it out and create a compelling story line, and there is actually a teaching note that's about the same length that takes a professor through some teaching objectives -- what kind of discussion to have, what are some probing questions, what are the supplementary materials and this is a quantitative case, so the teaching note also includes information on how to compute the calculations that it takes to be able to come to some of the conclusions. It was a more time- consuming exercise than I had hoped, but it all worked out in the end.
Q: Could this serve to help Roshni Rides?
A: "Students could come up with a different perspective that we didn't touch upon or didn't explore enough. In fact, at the end of the case, I share the contact information for Roshni Rides so they can contact them."
Press: For all media inquiries see our Media Kit