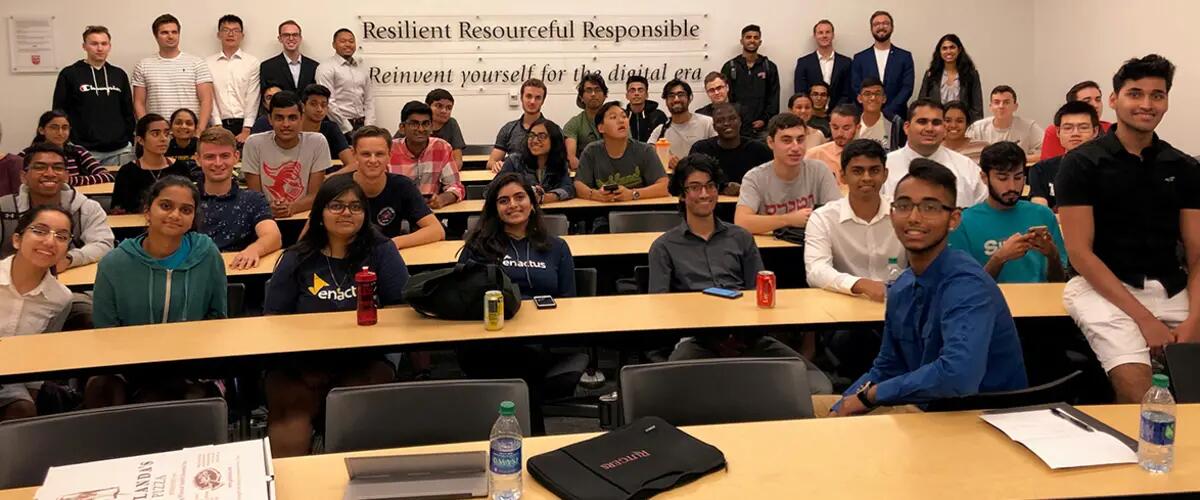 Students are recognized for their commitment to blockchain education
The Blockchain Education Network chose Rutgers Business School's Blockchain Hub as "Best Chapter" over student groups from around the world.
The RBS Blockchain Hub, a student-run initiative dedicated to learning about blockchain and its potential, received the Blockchain Education Network's first annual Outstanding Chapter of the Year Award.
Rutgers Business School's chapter was selected from student groups around the world.
"The leadership team at the RBS Blockchain Hub has displayed an outstanding commitment to blockchain education, student engagement, and overall involvement throughout their 2020 academic year," officers of the volunteer Blockchain Education Network (BEN) stated in a blog post announcing the winners.
For senior finance student Chris Buren, who started the group two years ago, the recognition was rewarding. "I was surprised and grateful and humbled," Buren said.
Buren and his student executive committee have built the Blockchain Hub with a strong structure to provide any Rutgers student interested in blockchain with the ability to attend workshops, meet guest speakers, to apply their knowledge in hack-a-thons and to travel to conferences – until the COVID outbreak occurred last March – to learn and network.
"The structure," said Buren, "makes it a much more fulfilling experience for the students."
Buren was also instrumental in persuading RBS administrators to offer a one-credit course last year on new technologies, including blockchain. The class attracted 70 students, many of whom were also involved in the Blockchain Hub.
Buren credited the Blockchain Hub's success to the support of the dean's office and the partnership of BEN, which has provided resources as well as networking and educational opportunities. Won Gyun No, associate professor of accounting and information systems, serves as advisor to the students
The RBS Blockchain Hub is in the company of other student organizations from across the country and around the world that were recognized by BEN for their activities in 2020. Other award winners were chapters from Istanbul University (Outstanding New Chapter), Northwestern University (Outstanding Chapter Research), and Leeds University Union Cryptocurrency & Blockchain Society (Outstanding Chapter of Digital Presence).
Press: For all media inquiries see our Media Kit