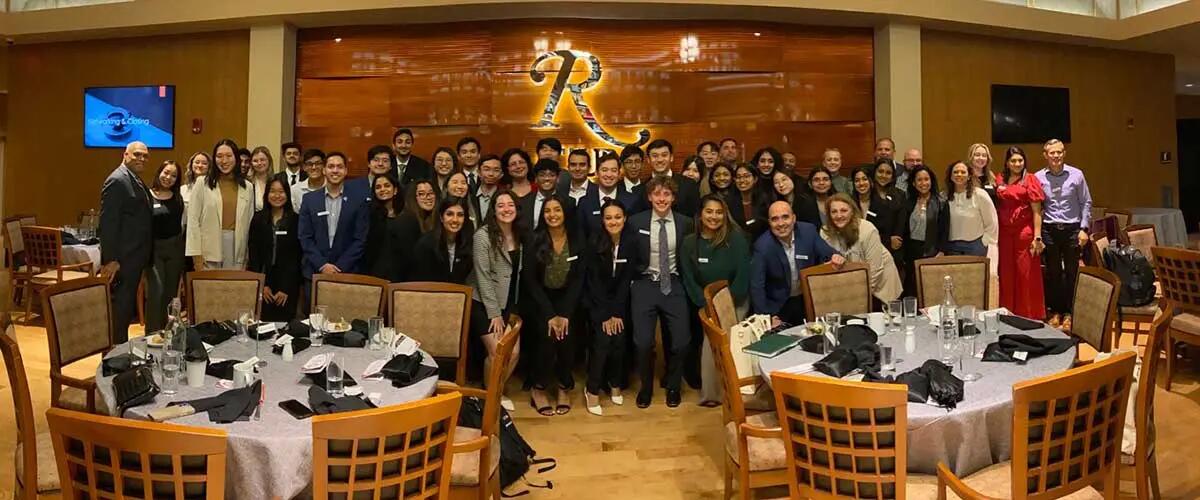 Graduating senior reinvents herself from a shy first-year student into a confident student club president
Entering Rutgers Business School, Katherine Perez was still determining what she wanted to study. She did know, however, that she would get everything she could from her college experience.
During high school, she set her goal to earn a perfect 4.0 GPA at college. After starting RBS, she expanded her focus to look further ahead at careers and life after school. "I need more than good grades," she said. "I need to find the area of study that piques my interest. I need to explore career options, student involvement, and open myself to possibilities and opportunities." She did, and she also was accepted into the Honors College, inducted by Beta Gamma Sigma, the International Business Honor Society that invites membership to the top ten percent of undergraduate business students. She made the Dean's List Fall 2019 - Spring 2022 and earned a 3.95 GPA.
A friend was going to a Rutgers University Supply Chain Association (RUSCA) information session and invited Perez to tag along. "Why not," she said. "I was a pretty quiet and reserved first-year; at the information session, I met kind, confident, and capable seniors explaining the association and the engaging world of supply chains."
This was her first real introduction to supply chain management, forecasting retailer inventory needs months or years out, and contingency planning for inevitable supply disruptions. "I can build a career around planning how to get organizations what they need, when they need it, even if the initial plan falls apart?" Perez knew she had found her passion. She soon joined RUSCA and declared the supply chain management major. She double majored in marketing because it paired well with supply chain.
After completing the RBS core courses and working through the required major courses, her future career plan was finalized with a demand planning and fulfillment course. "Apparently, people who love planning are not that common. I love planning," she said.
During the summer between junior and senior year, Perez interned at Ulta Beauty in merchandise planning and inventory. She advanced her knowledge of inventory forecasting and product lifecycle management, organization skills, and problem-solving.
After graduation, Perez will take a job as an external operations planner at Shiseido, working with contractors to get products to stores and managing disruptions. "I am very excited about starting my career with Shiseido," she said.
The demand planning and fulfillment course stands out for Perez from all other courses. Hosting the Rutgers University Supply Chain Association banquet stands out among her student leadership accomplishments. "I built my leadership skills with RUSCA and was voted president for the last two years. I was an introvert entering RBS and became a 'people person' with the confidence to enjoy public speaking. I've developed interpersonal skills for communicating with different people from other backgrounds and perspectives in different time zones.
"I like full-circle moments. I have become one of the confident and capable seniors I met at my first RUSCA information session."
Katherine Perez, BS '23, was selected to receive the Dean's Distinguished Leadership Award, created in 2011 to recognize student leaders from Rutgers Business School's graduate and undergraduate programs in Newark and New Brunswick. The award is given to students who demonstrate outstanding academic achievement, service to RBS and leadership potential. The name of each recipient is engraved on the Rutgers Business School bell.
Also receiving the Distinguished Leadership Award are Tenille Grant, BS '23 and Sarah Ladyman, MBA '23 
Press: For all media inquiries see our Media Kit