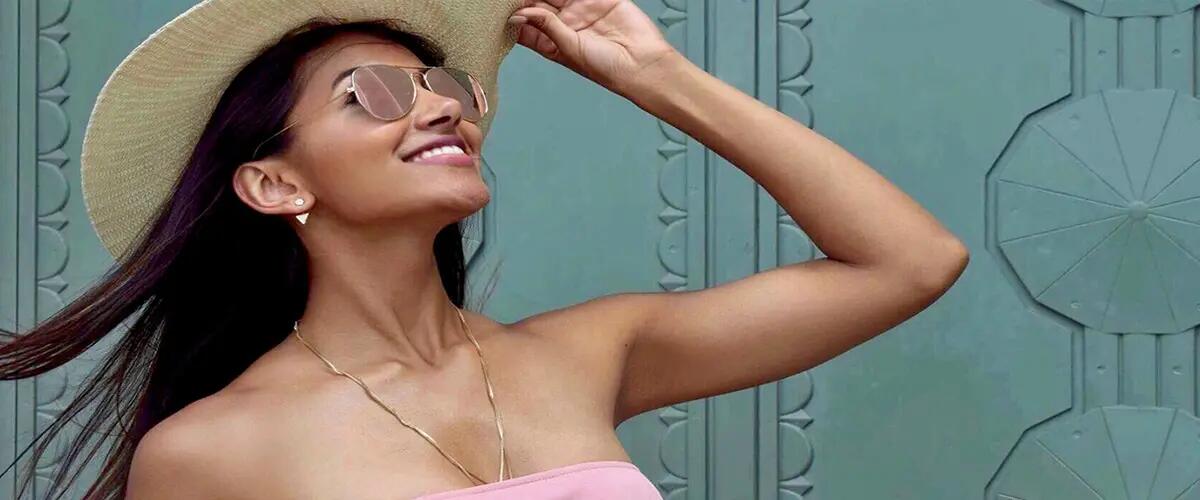 Student's business skills will be put to work as pageant winner
This story was originally published in Rutgers Today as part of an occasional series highlighting extraordinary Rutgers students who are making their mark at the university and beyond. It was written by Dory Devlin.
Amid starting marketing and finance classes as a sophomore at Rutgers University this fall and her work on the student-run Rutgers University Programming Council, Chhavi Verg did something else no other student did: She won the Miss New Jersey USA pageant.
It was her third try as a contestant and winning was everything she hoped. But in losing twice before, she says she learned where her strengths lie and how important it is to have a platform to advocate for what she believes in.
"I was very upset," Verg says, recalling her first loss in the Miss USA New Jersey pageant, after she had been fourth runner-up in the Miss New Jersey Teen USA as a high school senior in Edison. "Since I did well the first time without any coaching or experience, going in to the adult pageant, I thought: I've got this. I'll totally do well. And when I didn't, it shocked me."
Determined to do better, she tried again, and discovered a good bit about herself along the way.
When she started working out to get in better shape for the pageant, exercising "quickly became less about getting the perfect swimsuit body and more about getting healthier and loving the endorphins and feeling I got from getting stronger every day," she says. Verg, 19, started a fitness website, earned her personal trainer certificate and made plans to create an online fitness program, on hold since her win.
She learned she wants to one day run her own business, as her parents, wholesale distributors of cosmetics and fragrances, do. She learned she loves public speaking – absolutely loves it, never fears it.
She discovered she cares a lot about women's education issues and that to have a real impact on any social cause, "you need a voice and a platform to reach many people." Social media makes that more possible for individuals, she says, but it takes time to earn credibility. "For me, this pageant was a way for me to get that voice to reach many people and work for things I care about."
"Winning this pageant is giving me the opportunity to apply all the knowledge I've gained at Rutgers Business School," Verg said.
When Sangeeta Rao, assistant dean for mentoring programs at the Rutgers Business School-Newark and New Brunswick, first came upon Verg's application to the Women BUILD leadership development program, she noted it was the first time she had seen a pageant contestant. "You don't always associate leadership and academic excellence with a pageant," she says. The multi-year program accepts 20 students per year, per campus. Currently, about 70 students are enrolled in Women BUILD in New Brunswick and Newark.
Then, she met Verg, and quickly realized the value of her experience.
"When I interviewed Chhavi, what struck me was her grit and determination to overcome obstacles," Rao says. "She struck me as someone with leadership abilities who was able to accomplish something that we early on spend time with on our students – a self-assessment to take stock and reflect on strengths, limitations and what you need to work on to be successful. Chhavi was further along with that than the others through her pageant experience."
Verg didn't grow up yearning to be in a beauty pageant. She didn't think about them at all, really. She was too busy with school, dance lessons and recitals. After one recital as a teenager, she was offered a modeling opportunity, which led to more modeling.
"I loved being on stage and I loved performing," Verg says. So when she learned about the Miss New Jersey Teen USA pageant through her high school guidance counselor's newsletter, she thought: "Why not? Let me give it a shot."
As she prepares for the Miss USA pageant this summer while juggling her classes and Miss New Jersey USA speaking commitments, Verg, who commutes from her family's home in Edison, already sees how her Rutgers and pageant experiences are a good mix.
"Winning this pageant is giving me the opportunity to apply all the knowledge I've gained from my time at Rutgers Business School and gain real-world experience," Verg says. "Being a title holder involves networking, public speaking and knowing how to market yourself – all skills not only relevant to careers in business but also for success in life."
Press: For all media inquiries see our Media Kit