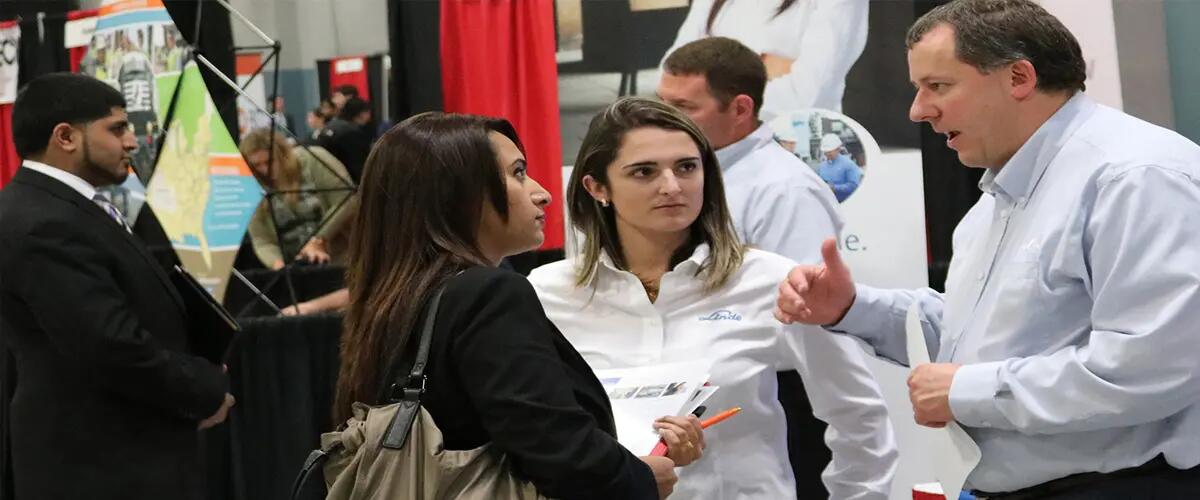 Students explore job possibilities at annual Supply Chain Management Career Exposition
The Supply Chain Management Career Exposition grew for the sixth year straight, since it began as the Supply Chain Management Meet & Greet in 2010.
Corporate representatives and students alike repeatedly said that they targeted specific companies for their work culture, environmental and sustainability values, and fit beyond just a paycheck.
Third year student Sophie Jacobs said, "You can submit your application and resume online, but this is the only way you get to speak directly with a person and show her or him who you are and how you fit with the company."
Sixty-eight major corporations, ranging from Amazon, to Coca-Cola, to Intel, UPS and more participated.  Feedback from the company surveys collected at the conclusion of the event were overwhelmingly positive, emphasizing the quality of the students.
More than 540 students attended from both the New Brunswick and the Newark campuses.  The event was exclusively for supply chain majors/concentrations (primary and secondary) at the undergraduate and graduate levels.
For the first time, Intel Corporation participated.  Supply Line Manager Anastasia S. Paluch, RBS '16, and Purchasing Manager and Operations Manager Jason Clark persuaded the leadership that Intel needed to attend.
"Rutgers Business School's rankings demonstrate the academic quality of the school and the students," said Clark.  "We hadn't come East previously, and this time, we are only going to Rutgers and Penn State."
"Intel values the student diversity at Rutgers," continued Clark.  "The students demonstrated strong interpersonal skills that are crucial in supplier negotiations.  Also, their willingness to relocate shows that they are risk-takers: willing to take a chance.  They can adapt to change, market or otherwise, and they will be innovative."
Lee Manning from Coca-Cola was equally impressed with the RBS students.
"They did their homework," Manning said.  "They were familiar with the company and our efforts in sustainability. They stressed their fit with Coke and the synergy that would meet their career and personal goals."
-Sean Ireland
Press: For all media inquiries see our Media Kit