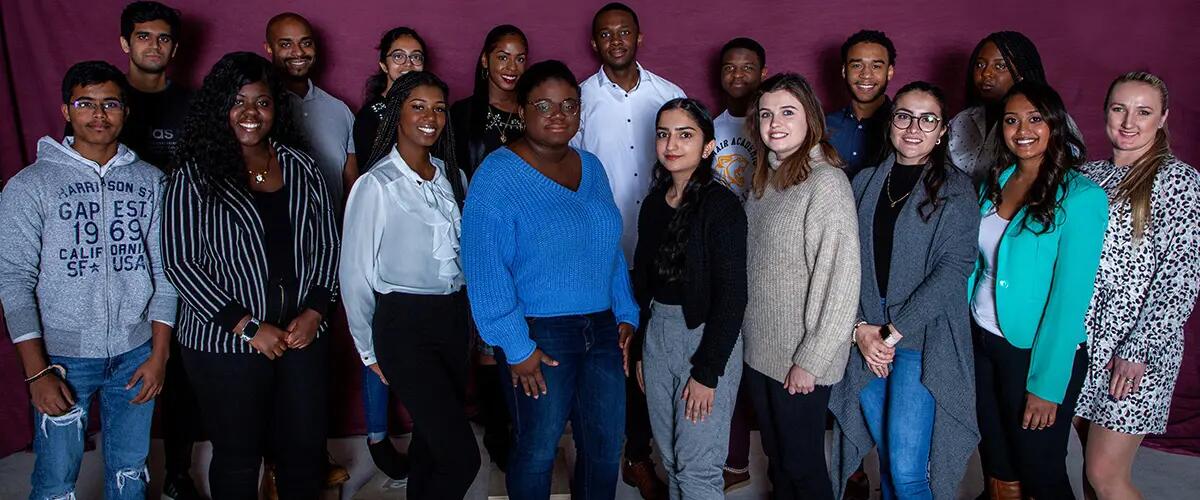 Students get a deeper appreciation for scholarships
The Rutgers-Newark Scholars Workshops Program held its fifth workshop for student scholarship recipients at the Shine Portrait Studio in downtown Newark.
The scholars workshops program was started two and a half years ago with the intent of forging more engaging relationships among the RU-N scholarship students and fostering a stronger connection between the students and Rutgers University.
The workshops, which are held every semester, give the students a chance to learn about private philanthropy and the generosity of Rutgers donors. It also gives them an opportunity to express their gratitude directly to the donors.
Nearly half of the 57 workshop attendees, or 25 scholars, were Rutgers Business School students. Those students were the beneficiaries of 22 different Rutgers Business School scholarships, including the Judith Fay Ross Memorial Scholarship, which was established by the estate of Ross, a late Rutgers Business School staff member. Her generosity has provided scholarships to 429 students since 2010.
Vita Viran, a senior finance major at RBS, spoke about her gratitude for the Certosimo Family Award in Leadership and the networking opportunities the workshop provided.  
"It was an amazing opportunity to be able to attend the Rutgers-Newark scholarship workshop," Viran said. "I was able to meet other students who are not taking the same courses as me or going to the business school."
"I also had the chance to record a video to personally thank the donor, which I think is super cool and makes my thanks more personal than just writing a letter," she said.
Viran said another valuable aspect of attending this workshop was hearing Amanda A. Ebokosia, a Rutgers alumna, speak about her time as a student and the impact she's making an impact in society today.
In addition to Viran, the following Rutgers Business School students attended: Francisca Akuoko, Lady Carla Ames, Alexandra Brick, Gary Carter, Cameron Clark, Jasmine Clarke, Nzingha Delespinasse, Het Desai, Marlaine Erisnord, Bozena Ghattas, Osayre Gomez, Kanayochi Ibe, Jason Jerome, Khushboo Kapadia, Guneet Kaur, Dev Mehta, Harold Moreno, Laiba Sairah Ninan, Dorcas Owusu, Nicole Padilla, Esther Patrick, Zehan Xu, Yuliang Yang, Saray Zarate.
-Nicolle Williams
Press: For all media inquiries see our Media Kit