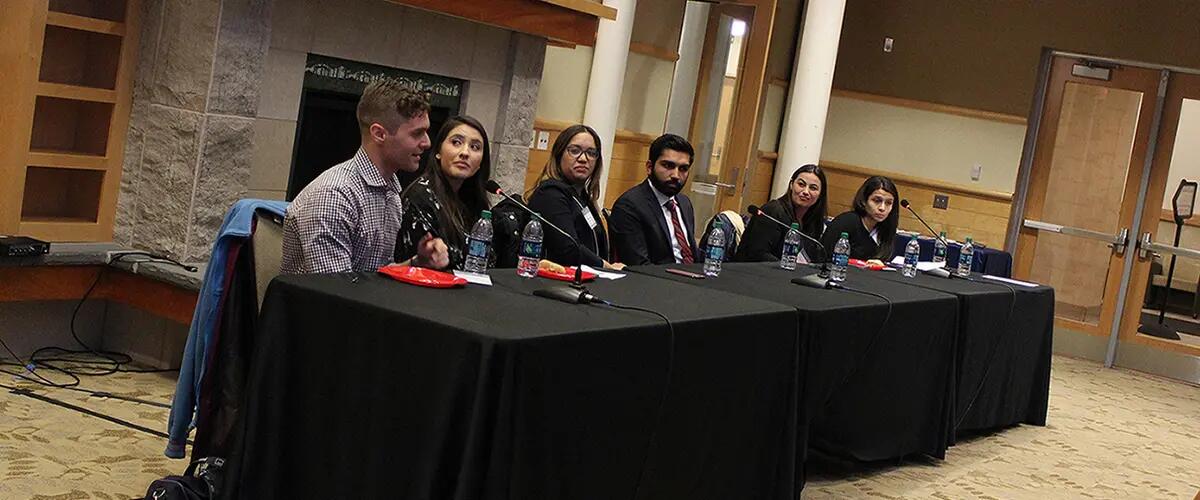 Students get a real world perspective on diversity and inclusion
On Monday, April 16, the Association of Latino Professionals for America (ALPFA) held a Diversity and Inclusion Panel with Goldman Sachs executives at the Livingston Student Center's Gathering Lounge.
The panel discussion was intended to give underrepresented individuals in the business field an opportunity to hear stories of professionals who come not only from diverse backgrounds and ethnicities, but who each possess their own unique story.
"The diversity panel with Goldman Sachs was such an incredible experience," said Jaydene Salce, a pre-business student in the School of Arts and Sciences. "As a Dominican, listening to the various background stories of each guest really inspires me to work harder, stay focused and build my own story of success."
Even though ALPFA's main goal is to empower Latinos, the organization is open to all majors and all backgrounds. The students who attended the event were not limited to Hispanics and that was the main goal of the Diversity and Inclusion Panel.
The members of ALPFA want to express their gratitude to Goldman Sachs professionals: Lauren Stokes, Jennifer Holt, Andrea Gutierrez, Cristina Michaels, Angela Rosario, Jennifer Aguiar, Aaron Teitz and Sarthi Tuli.
We would also love to extend a special thanks to our honored guests: Charles Brown, assistant dean for diversity programs, Elizabeth O'Connell-Ganges, assistant vice chancellor of student engagement, and John Perez, career management specialist.
Without the help of our co-sponsors — the Office of Career Management, Rutgers University Women in Business, Quantitative Finance Club, Rutgers Business Governing Association, Phi Beta Lambda, and Beta Alpha Psi — this event could have been such a success.
With 13 of 15 board members returning for the upcoming school year, we plan to continue to open up opportunities for Latinos and other underrepresented ethnicities in the business field.  ALPFA will mark its 10-year anniversary in the fall, and the board is looking forward to celebrating the organization's historical year. 
-Bruno Diaz
Press: For all media inquiries see our Media Kit