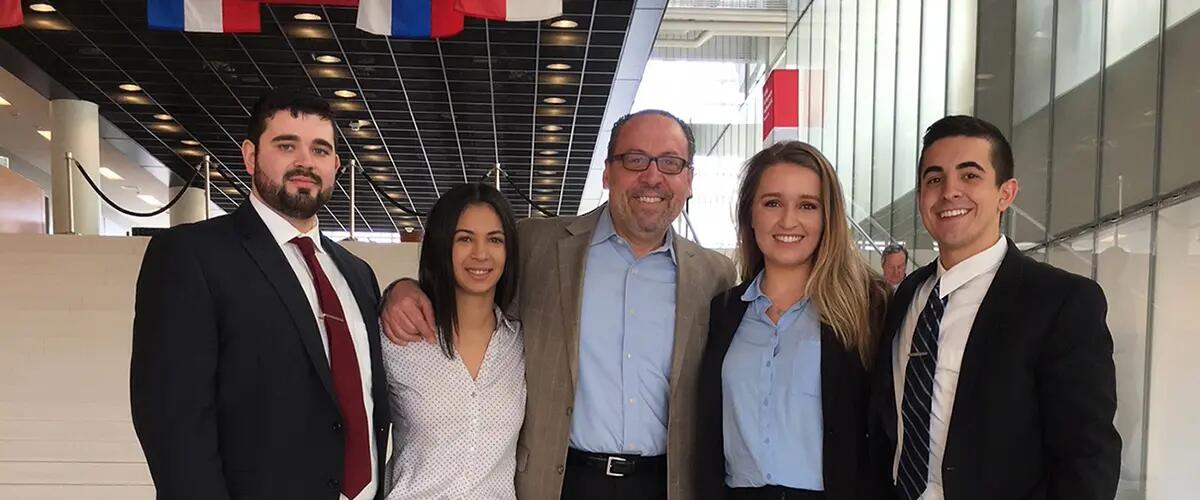 Students put their skills to the test in case competition
A team of Rutgers Business School-Newark undergraduates won second place in the Rutgers Ten Plus Case Competition, demonstrating adeptness at improving a corporation's efficiency to increase market share.
While the company was fictitious, the students used real-world skills to analyze the situation and present recommendations to a panel of supply chain management experts from Johnson & Johnson, Panasonic, Coca-Cola, UPS, and five other global companies.
The competition "is unlike anything else they do during their four years of undergraduate work," said John Impellizzeri, an assistant professor of professional practice and co-director of the Center for Supply Chain Management. "There are a lot of dynamics going on, and they learn important skills they'll take with them into the business world."
The team was made up of senior Laura Cruz, who studied supply chain management; junior Nile Hagag and sophomore Anna Pisklarov, both double majoring in finance and supply chain management; and accounting major Christian Tavares, also a junior.
The April 13 competition at the New Brunswick campus attracted teams from Northeastern University, Penn State University, Purdue University, the University of Iowa, the University of Pittsburgh, the University of Nebraska, and Stevens Institute of Technology. Northeastern won first place.
Teams had seven days to analyze the case and prepare a 30-minute pitch. During the presentation, the teams also had to field questions from the judges. Panelists provided valuable feedback to teams and individuals, said Impellizzeri, noting the competition can serve as an extended job interview.
Cruz said competing helped to sharpen her presentation skills. "I'll get to take this experience with me when I start my consulting career with Ernst & Young," she said.
Rutgers Business School's undergraduate supply chain management program is the largest in the U.S. and was ranked among the Top Five in North America by Gartner, Inc.in 2016.
- Margaret Crouse
---
Press: For all media inquiries see our Media Kit