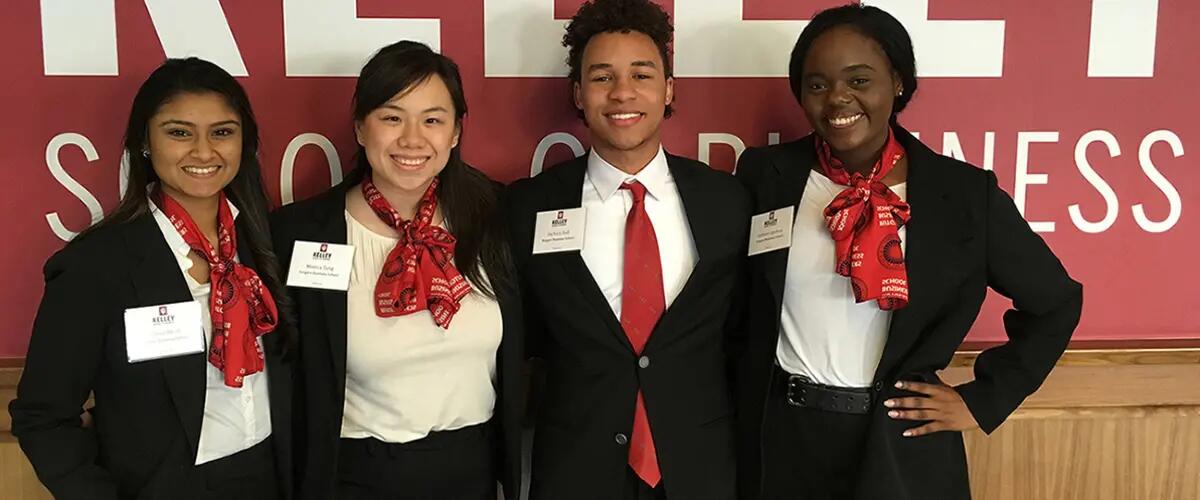 Students tackle real-world business issue in national diversity case competition
The retail giant Target challenged students to come up with ways to make its diversity efforts more effective.
Four students from Rutgers Business School-New Brunswick traveled to the Kelley School of Business in Indiana to participate in the National Diversity Case Competition on Jan. 13.
The team – senior Monica Sung, juniors Shaina Bhatt and Izoduwa Igiehon and sophomore Zachary Bell – placed second in the preliminary round.
The competition required the students to present their ideas for how Target can build on its existing measures to increase diversity in three levels of its operations – its corporate offices, distribution centers and stores.
Bhatt, the team captain, said the Rutgers team spent every day of the winter break researching and preparing its presentation. "We took a practical approach to it," she said.
As part of its presentation, the Rutgers team proposed that Target begin integrating diversity into its corporate job interview process by asking candidates specific questions about why it's important in the workplace. The team also proposed that Target require job descriptions to include open-mindedness for individuals applying for retail positions in its stores.
Bhatt said the team spent the morning of Jan. 13 practicing before going into the preliminary competition. "We felt really good at that point. It was the culmination of all of our work and we felt that even if we didn't win, we had this really great experience."
In all, 35 teams from across the country competed in Kelley's diversity competition, which is held annually during the weekend of Martin Luther King Jr. holiday.
The teams were broken into seven groups for the preliminary round. Only the winner of the preliminary round advanced to the finals. Rutgers lost its chance to be a finalist to Michigan State. Drexel University was the overall first-place winner.
At Rutgers, students were interviewed to fill spots on the team. The team was advised by Leon Fraser, assistant professor of professional practice and managing director for Rutgers Business School Executive Education.
Three reasons Bhatt would encourage other students to do a case competition:
"You get the experience of working with different types of people. In the workplace, you don't get to choose who's on your team and a case competition gives you a chance to learn how to communicate and how to get a task done."
"It's a way to build your network. It's a great way to meet different people and you build connections with them through the experience of working on the case. You never know how they might be able to help you after the competition."
"You build skills. I was never a good public speaker. I'm a quiet, shy person. Case competitions forced me to put myself out there and get my voice heard. The sooner you develop public speaking skills the better because you definitely need them in business school."   
Press: For all media inquiries see our Media Kit