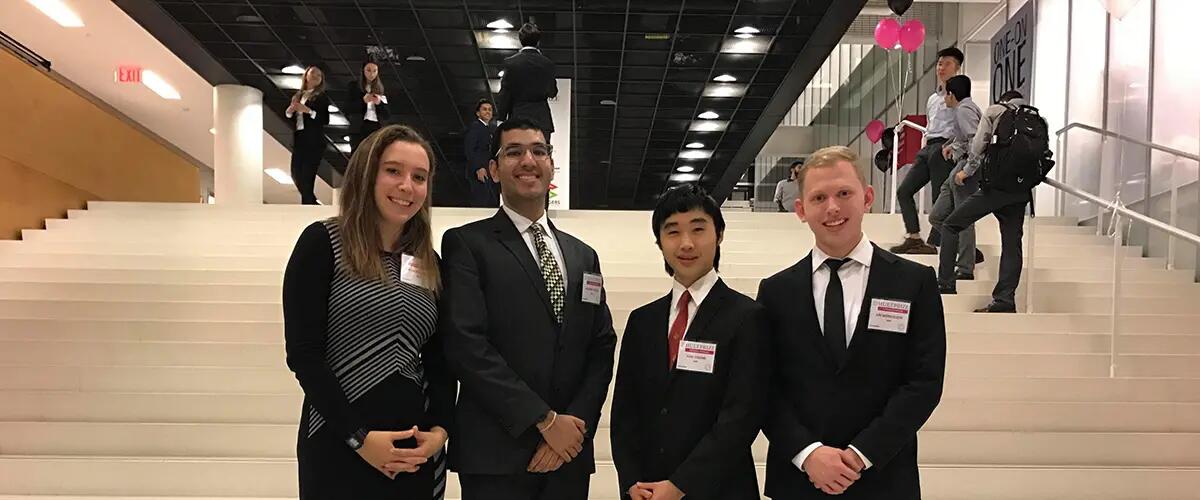 SULIS: Redefining Liquid Sunshine wins Hult Prize at Rutgers Competition
The Honors College: A place where meaningful innovation is born out of collaboration between students and faculty from across the liberal arts and professional schools.
The newly formed Honors College at Rutgers University was envisioned as "a living-learning community focused on tackling complex problems and global challenges." Four students and their faculty advisors just put that theory into practice. Honors College students Yuki Osumi ('20/School of Arts and Sciences), Sarah Pomeranz ('20/Rutgers Business School), and Anurag Modak ('20/SAS), with Ari Mendelow ('18/School of Engineering) won the Hult Prize at Rutgers University Competition on December 8. Johnson & Johnson, one of the sponsors of the competition donated the $1,000 first prize.
Rutgers Business School student Sarah Pomeranz said that she and the team were ecstatic over the win, and very grateful to their advisors. "We had a Board of Advisors comprised of Rutgers faculty and professionals spanning the campus; we learned so much from them and our experiences in the Rutgers Eco Complex and the Innovation Lab."
SULIS (solar ultraviolet light-induced sterilization) is a solar powered water purification system for communities without access to clean water, whether they are in developing countries or recovering from natural disasters. The team's research shows that using ultraviolet light the technology could sterilize 12 liters of water in seven hours.
"Our system differs from other water purification systems because it is the only one that is photocatalytic. It uses only the sun's energy, it is affordable and sustainable," said Pomeranz. "We know there are still many challenges ahead of us, which is why we are currently focusing on solidifying our technology and focusing on finding our collective story that will bring SULIS to market."
The team will next compete at the Hult regionals next March.
-Sean Ireland
Press: For all media inquiries see our Media Kit