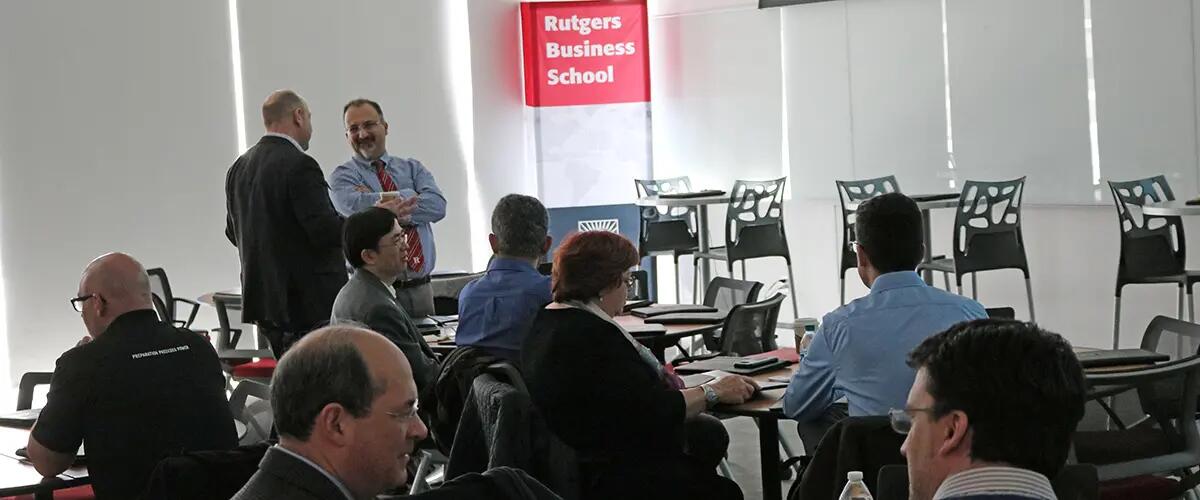 Supply Chain Management conference became a disruption management example
Using their collective supply chain disruption skills, the organizers of the 7th Annual Supply Chain Management (SCM) Directors' Conference quickly tried to mitigate Winter Storm Toby's impact on the March 22 event at Rutgers Business School.
More than 100 deans, directors and supply chain management center managers from across the country had pre-registered to participate in the conference. And then Toby brought a foot or more of snow to the Mid-Atlantic and Northeast, making travel to the conference nearly impossible.
Overnight, the conference program committee, including Rutgers Business School faculty Arash Azadegan, Alok Baveja, John Impellizzeri, James King, Rudi Leuschner and Lian Qi and Shawn Alborz from the University of Texas-Dallas restructured the event into a hybrid conference, allowing some guests to attend virtually.
The conference was designed for directors, deans, and center managers to discuss programs and curricula, challenges and successes, with the goal of improving scholarship.
MSCM Program Director Sara Jones from the University of Washington arrived a few days early after attending a series of conferences in Europe.
"I've come from leading a study tour during spring break to Paris and Barcelona for supply chain and information technology students," Jones said. "This conference is very high on my list to attend each year for the peer-to-peer exchanges and shared experiences."
Saint Louis University Center for Supply Chain Management Director Cindy Mebruer agreed. "This is my third year in a row attending this conference. Everyone shares what they are doing well and areas where they are struggling," she said.  "This conference is a communal exchange of ideas and solutions."
This was the first year that Managing Director Michael Rowe of Weber State University in Ogden, Utah attended. "I'm here to network and learn what others are doing, and want to do for improving their programs and student learning," he said.
Rutgers Business School-New Brunswick hosted the event with the Jindal School of Management at the University of Texas-Dallas.
-Sean Ireland
Press: For all media inquiries see our Media Kit