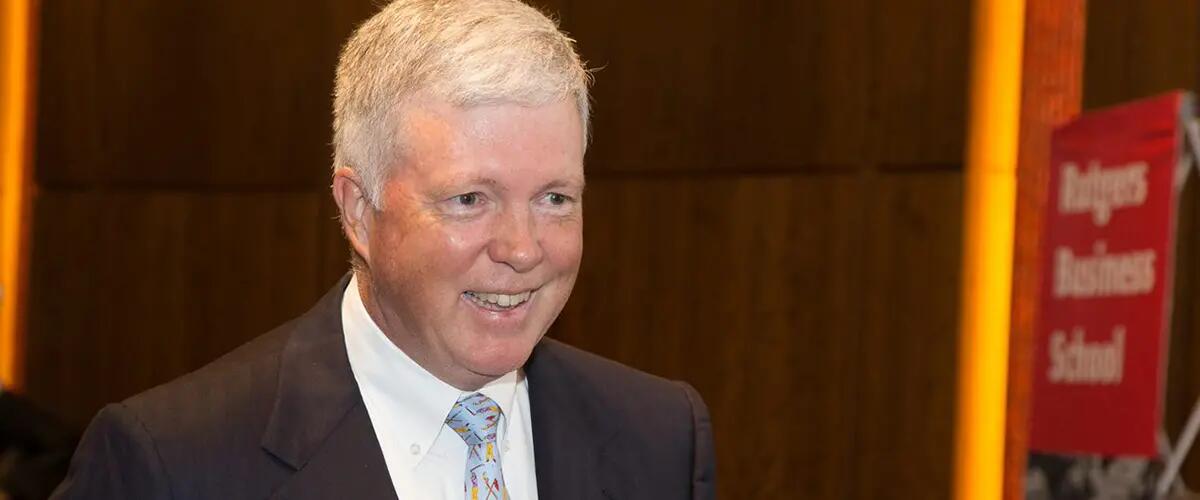 Sweet Success: MBA alumnus Brian O'Malley is guiding innovation at sugar industry giant
By any measure, Brian O'Malley's career looks pretty sweet.
A 1991 alumnus of the MBA program at Rutgers Business School, O'Malley has spent more than three decades in the sugar industry, a career that stretched from the financial accounting department, survived the era of leveraged buyouts and earned him the corner office at Domino Foods.
"When someone gets to see this industry up close, it's very exciting," O'Malley said. "People are always amazed at how technically complicated it is, but the process is the same as it has been for more than 100 years."
O'Malley can discuss the chemistry of sugar as easily – and as earnestly – as he can explain why sugar packaging is finally getting a make-over and why eating habits are more to blame than sugar for America's obesity problem.
When O'Malley joined Domino Sugar Corp. in 1982, it was part of the conglomerate Amstar Corp. A few years later, when the huge companies that were pieced together like shopping malls began falling out of favor with Wall Street investors, Amstar was taken private and its businesses spun off and sold.
"I went with the sugar piece," O'Malley said.
The sugar business changed hands a number of times. For 10 years, it was owned by Tate & Lyle, a British company that was traded on the London Stock Exchange. Then in 1998, as the landscape of the sugar industry continued to change, O'Malley was hired by Refined Sugars Inc., which had recently been acquired by Florida Crystals and the Sugarcane Growers Cooperative of Florida. O'Malley was given the job of running a major sugar refining plant in Yonkers.
After he earned his MBA in finance from Rutgers Business School, O'Malley had broadened his experience by working in sales and marketing. When he took the position at Refined Sugars, he became vice president of sales and strategy. "They hired me for my knowledge of the industry," he said, "but having an MBA was a plus."
"We put together a strategy for growing in the U.S. and in 2001, we bought Domino," O'Malley said. He was named president and chief executive officer of Domino, which later became Domino Foods. Domino Foods is part of ASR Group.
As CEO of one of the industry's sugar giants, O'Malley is also acting chairman of the Sugar Association, which has given him a role in recent hearings before the International Trade Commission over a dispute with Mexico's sugar exports.
"When you are a leader in the industry, you have to take leadership positions and be recognized as somebody that speaks on behalf of the industry," he said.
But what O'Malley relishes more than serving as the face and voice of the industry is unlocking the innovation that has led Domino to introduce new products and attractive, updated packaging.
On the supermarket baking aisle, Domino sugar isn't only sold in those rectangular cardboard boxes your grandmother stored in her cupboard. These days, it comes in molded plastic dispensers designed to sit on a kitchen table or countertop.
Domino has also introduced a zero-calorie, natural sweetener called Zing, which is sold in packets and sugar bowl-like dispensers. It's made with Stevia rather than chemicals like saccharine and sucralose.
O'Malley was a driving force in creating the company's Boca Raton Innovation Center where Zing and the new packaging and other innovations, including organic Agave-based sweeteners and flavored syrups, were created.
When he began working with the company in 1982, Domino had a research and development capability, but through multiple leveraged buy-outs, O'Malley said resources were shifted away from R&D.
"One of the things I felt strongly about was re-establishing that R&D capability, so we could start to develop new products," O'Malley said. "If you don't create new products, you eventually become obsolete."
- Susan Todd
Press: For all media inquiries see our Media Kit