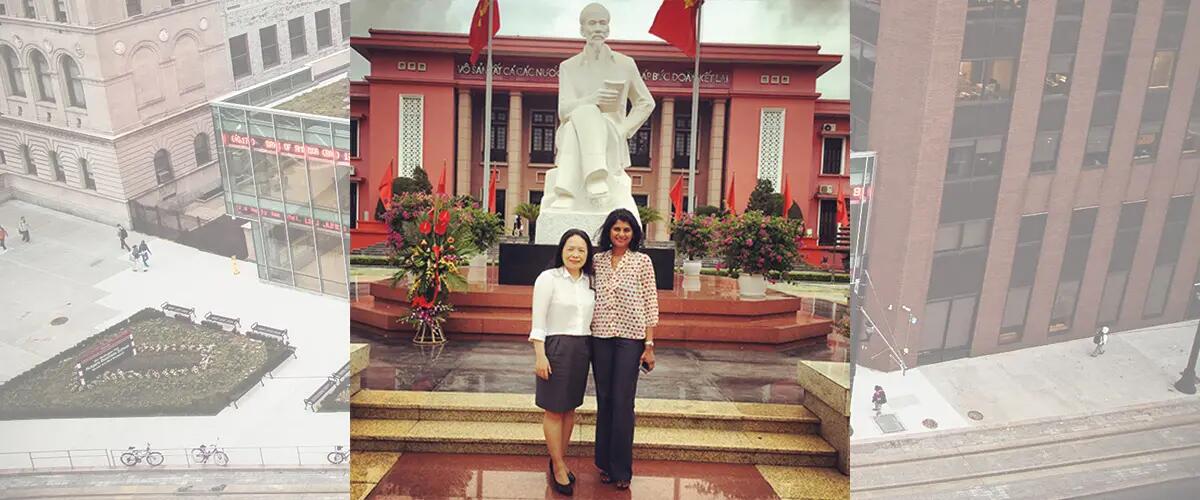 Taking the power of mentoring to female professionals in Vietnam
An assistant dean's expertise helps to provide workers and organization leaders in Hanoi with some intensive training in how to mentor and how to be mentored.
Sangeeta Rao, an assistant dean at Rutgers Business School, traveled to Vietnam in late June to run an intensive three-day training program on mentoring.
In Vietnam, mentoring is a new concept. At Rutgers, it is Rao's area of expertise.
Rao has helped to expand Women BUILD (Business Undergraduates in Leadership Development) at Rutgers Business School and introduced new programs, including Helpful-Executives-in-Reach and Team Up, which connects undergraduate students to working professionals.
While the preparation for the training in Vietnam was intense, the translation painstaking, the result, Rao said, was "incredibly rewarding."
"I was really impressed with the questions I got and how motivated, interested and eager the participants were to learn more and apply what they were learning." Sangeeta Rao
"I was really impressed with the questions I got and how motivated, interested and eager the participants were to learn more and apply what they were learning," she said.
"We're so used to mentoring here," she said. "It is just part of the institutional culture and the culture of professional development. But in Vietnam, it's relatively new so it was exciting, and that's why it was stimulating to do and to contribute in that way."
Q: How did the trip to Vietnam come about?
A: "Dr. Mary Hawkesworth, a distinguished professor of political science and women's and gender studies at Rutgers University, contacted me after we met briefly at a meeting in January. She wanted to know if I would be interested in conducting training for a program sponsored by Women in Politics and Public Administration (WIPPA) at Ho Chi Minh National Academy in Hanoi. She was a long association with WIPPA, and she had been trying for a long time to get somebody to lead this training."
Q: Why did you decide to take it on?
A: "This is an important initiative because it's about empowering women to be leaders in public administration and politics within Vietnam, a nation emerging out of a very straightforward Communism into an open economy – at the moment. The Vietnamese are also often encumbered by social norms, which make very clear divisions between gender roles both at home and in the workplace. This initiative came about because the United Nations Development Program invests heavily in projects and programs to further women in developing nations and, therefore, this mentoring program seemed like a strategy that could make a real intervention in furthering women in their careers, particularly in public administration and, hopefully, in politics."
Q: Will the training have an impact?
A: "Yes, definitely. In the West, we're very familiar with terms like coaching, mentoring and sponsorship, but these were not widely embraced or even known within the working culture of Vietnam. The system there has only recently introduced private enterprise and private entrepreneurship. So human resources and how to manage human resources in companies are relatively new concepts both in terms of how you identify talent and how you develop talent. Even if mentorship occurred in that context you most likely would end up mentoring someone who looked like you or reminded you of you at a certain age.  Cross-gender mentoring is something that needs to be encouraged."
Q: What else did you learn about Vietnam?
A: "The food is amazing. We have coffee breaks here in the U.S. with cookies. They have fresh fruit of the most incredible kind that's given at working meetings. We had a working lunch for those three days. While we might get sandwiches here, there I had eight-course meals. Lunch break is one and half to two hours long. After lunch, there's a half-hour tea break and then, many people like to take a short nap."
"You also see how differently business and work function. The Vietnamese have relationships that are very fluid between the personal and the professional, which makes mentoring interesting. Most of the professionals I met wanted to have their supervisor as their mentor and that's something we discourage. We don't want somebody who is going to be writing your performance evaluation also mentoring you because you're supposed to be as open and honest about your shortcomings, your challenges and your personal goals."
 -Susan Todd
Press: For all media inquiries see our Media Kit