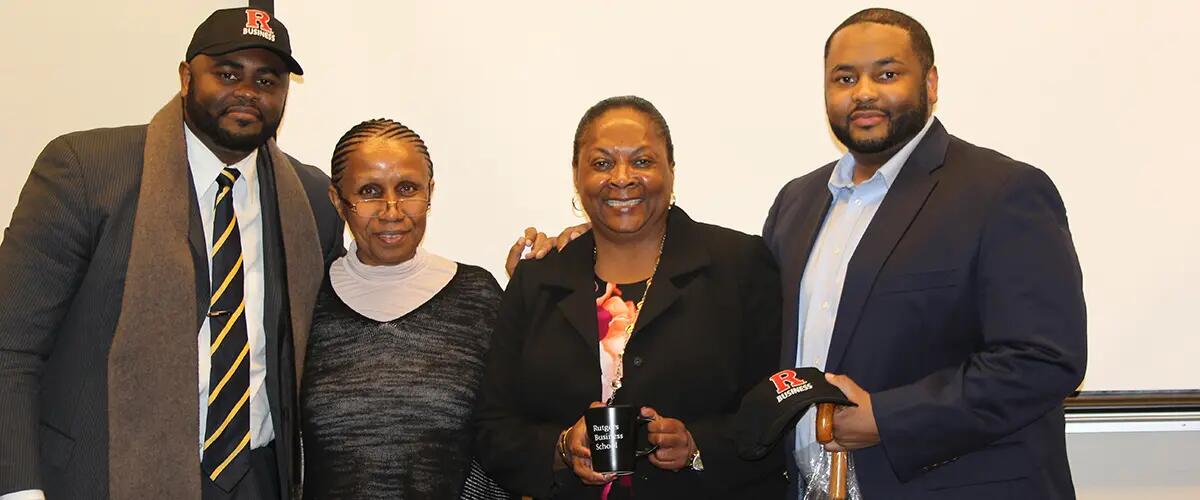 Three executives add real life lessons to a class on diversity
Three executives who are responsible for implementing diversity strategies in their organizations visited Rutgers Business School in November as guest speakers in a managing organization diversity course.
The executives – Craig Griggs, U.S segment leader (Finance) for Campbell Soup's Beverage & Grocery business; Derrick Griggs, chief operating officer for the Affordable Housing Alliance and a Rutgers Business School alumnus; and Valerie Jackson, director, Policy, Planning & Development for the City of East Orange, participated in a panel discussion about implementing diversity strategies.
During the discussion, the guests shared their insights, experiences and successes, providing real-world perspectives for the class. Each participant focused on different topics based on their professional experience. Jackson focused on women and how they can better understand and communicate their worth to an organization; Craig Griggs stressed the importance of a professional appearance in conjunction with being prepared and performing well on the job; and Derrick Griggs provided insights into building the competencies students need to get the jobs of their choice.
Rutgers Business School regularly invites select leaders from the private and public sector to discuss diversity and its implications in the workplace and community. Read about a recent forum on diversity in the financial industry.
The students, all undergraduates, created and shared specific questions that they wanted the speakers to focus on prior to the discussion, ensuring that the discussion was as meaningful as possible since all of them are juniors or seniors preparing for professional careers. "The evening was a huge success with the participants so engaged that the speakers stayed beyond the allocated one hour time period that they initially committed to prior to the session," said Diana Tyson, the instructor. 
Student Jay Morris said the career advice offered by the speakers was "extremely helpful."
"They are people of diverse backgrounds who knew the hardships of climbing the corporate ladder as minorities in America," he said. "I am glad I had the opportunity to hear their stories."
Student Claudine Setal agreed. "All three speakers spoke frankly and honestly about their experiences with diversity," she said. "Their life lessons were true to life with no sugar coating."
"The speakers were very inspirational. It was very interesting learning about their backgrounds and how they grew as individuals," said student Hadir Elfarra. "They had the skills to use the right balance of personal experience and humor to engage the audience, which added to their credibility."
"Their wide range of accomplishments inspire and challenge you to do better," Elfarra said. "I particularly enjoyed their talk on diversity as there were some areas I had not considered. I liked the fact they also provided some examples of how we can use our differences to enhance our business relationships."
The class of 40 undergraduate students, which represent four continents, provided refreshments from their countries, providing another aspect to the diversity discussion.
Tyson noted that all of the speakers were compelling and committed to facilitating access to jobs and opportunities within their respective organizations for the students who were interested in learning more about career opportunities. "Students were encouraged to follow-up with the different speakers to discussion job openings in the various organizations," she said.
Rutgers Business School is part of Rutgers University Newark, which has been ranked one of the nation's most diverse campuses by U.S. News & World Report since 1997.  
Rutgers Business School is committed to helping students be prepared for and secure positions within various sectors of the economy. Sessions such as this one supplement the academic experience and contribute to their preparation and ability to compete in the global market place.
In the inaugural ranking of undergraduate business programs by Poets&Quants, Rutgers Business School-New Brunswick was No. 25 and Rutgers Business School's undergraduate program in Newark was No. 49.
Some other recent rankings that reflect the rising stature of Rutgers Business School and its programs:
No. 5 Best Supply Chain Management undergraduate program in the U.S. (Gartner 2016)
No. 7 Best Accounting Undergraduate program in the U.S. (College Choice, 2016)
No. 9 Best Colleges for Jobs on Wall Street (Business Insider, 2016)
Press: For all media inquiries see our Media Kit