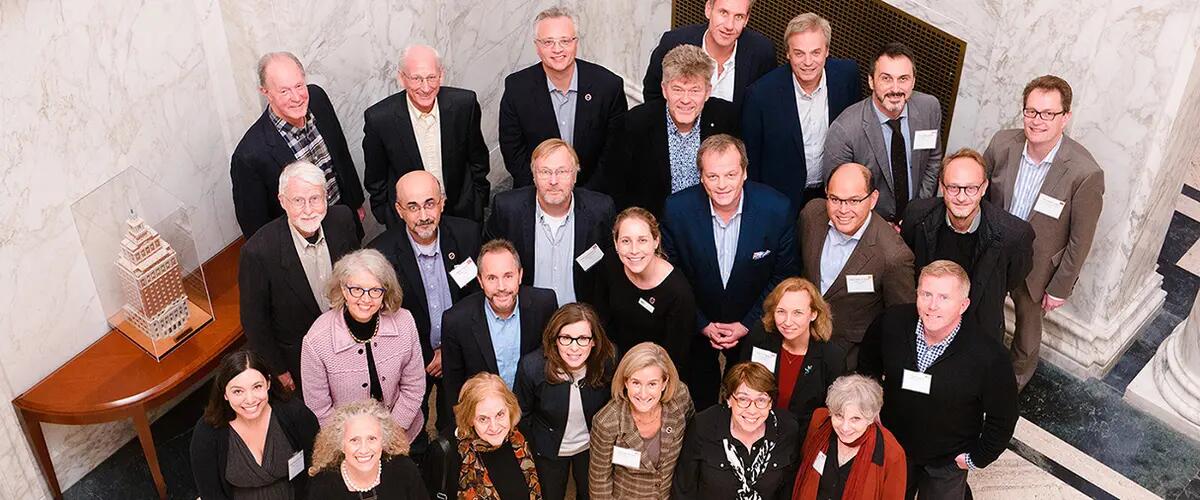 In troubling times, taking a look at ethical business leadership
Some of the most distinguished business ethic scholars from North America and Europe gathered on the Rutgers campus in Newark to share and discuss new research examining ethical business leadership in troubled times.
Inside a stately 15 Washington Street building conference room, the scholars spent the day gathered in a horseshoe-shaped arrangement exchanging ideas on such topics as the political role of corporations, the dynamics of corporate social responsibility, the ethics of digitalization and earth leadership.
The invitation-only meeting, formally known as the Trans-Atlantic Business Ethics Conference, occurs every two years, alternatively moving its venue from one side of the Atlantic to the other. It was the first time the conference took place at Rutgers. The conference, which was held Nov. 1 through Nov. 3, was sponsored by the Institute for Ethical Leadership, part of Rutgers Business School.
Professor Joanne Ciulla, who took over leadership of Institute for Ethical Leadership last year, has participated in TABEC for years. Other Rutgers Business School faculty also attended, including professors Michael Barnett, Danielle Warren, Wayne Eastman and Tobey Scharding, a visiting professor. All four are IEL faculty research fellows.
Eleanor O'Higgins, a professor from the University of Dublin, presented research examining the pioneering progressive leadership at Unilever and Patagonia. In both cases, O'Higgins found leadership that was "willing to go against the grain" in developing business practices aimed at respecting the environment and future generations.
The scholars heard from one practitioner during the event when Gary M. Cohen, executive vice president of global health at Becton Dickinson and president of BD Foundation, addressed the group. Cohen, a Rutgers MBA alumnus, is founder of the Rutgers Institute for Corporate Social Innovation.
In addition to Demuijnck and O'Higgins, the other scholars who participated in the conference were: Sandra Waddock, of Boston University's Carroll School of Management; Dirk Matten, Schulich School of Business; George Enderle, Mendoza College of Business; Markus Scholz, FHWien, University of Applied Sciences; Laura Spence, Royal Hollow, University of London; Wim Dubbink, Tilburg University; Daryl Koehn, DePaul University; Tom Donaldson, The Wharton School; Chris MacDonald, Ted Rogers School of Business; Christoph Lütge; Thomas Beschorner, director of the Institute for Business Ethics, St. Gallen; Pat Werhane, DePaul University and the Darden School; Cynthia Clark, Harold S. Greenen Institute, Bentley University; Alejo Sisson, department of philosophy, University of Navarra; Zsolt Boda, director of the Business Ethics Center, Corvinus University; and Johannes Brinkmann, BI Norwegian Business School. 
Press: For all media inquiries see our Media Kit