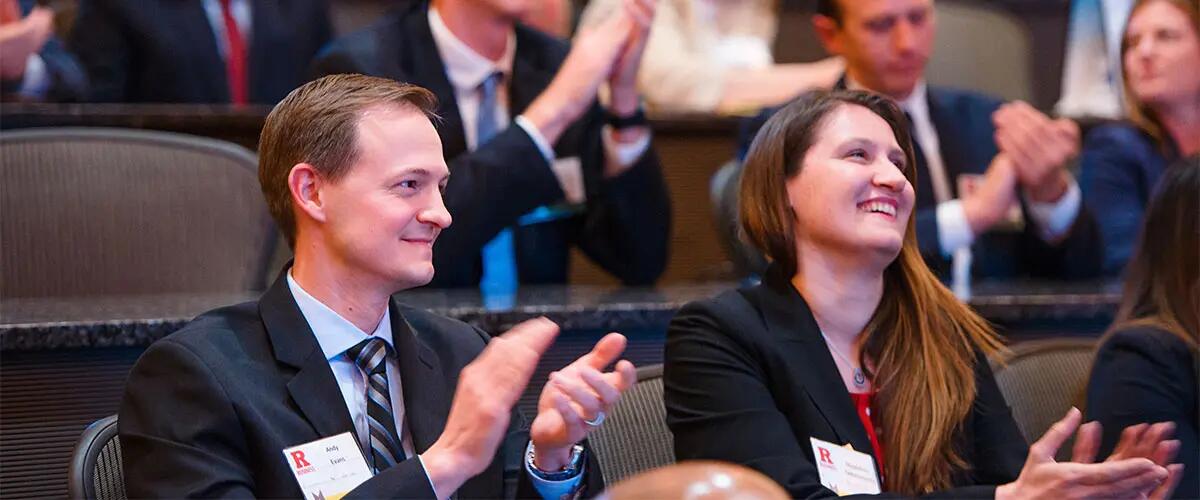 UCLA and Rutgers are top winners in biopharmaceutical case competition
Each year, the cases at the heart of the Rutgers competition help to attract MBA students studying pharmaceutical management at the nation's leading business schools. "It was as though we were part of the company," one student said.
A team of Rutgers MBA students finished second after UCLA's Anderson School of Management captured top prize at Rutgers Business School's annual biopharmaceutical case competition.
Andrew Clark, a second year MBA student at Anderson, said he and his classmates wanted to participate in the competition because it focuses specifically on the biopharmaceutical industry.
"The competition has a good reputation," Clark said, "and we thought it would be a way to network with companies that don't recruit often from the West Coast."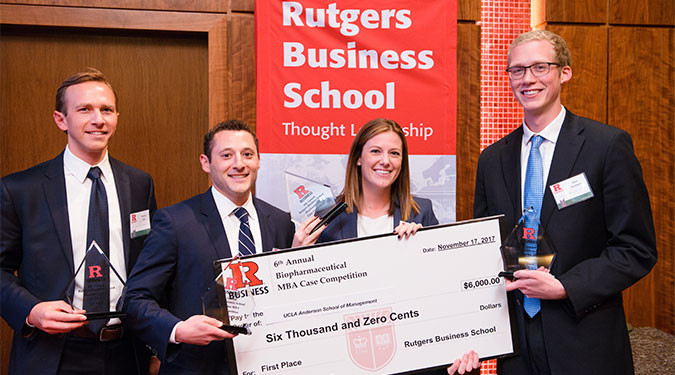 After six years, the biopharmaceutical case competition, hosted by the Blanche and Irwin Lerner Center for the Study of Pharmaceutical Management Issues, has grown into one of the premier events for MBA students pursuing management roles in the biopharmaceutical industry. Read about some of the recent rankings the Rutgers MBA program, including the Pharmaceutical Management program, have received: Financial Times ranks Rutgers MBA No. 37 in U.S.
The 2017 competition attracted applications from 22 schools, according to Professor Mahmud Hassan, who is also director of the Lerner Center. In addition to Rutgers and Anderson, students from Columbia Business School, Georgetown's McDonough School of Business, the Carey Business School at Johns Hopkins, MIT, Boston University, Duke's Fuqua School of Business, Carnegie Mellon's Tepper School of Business and Cornell's Johnson Graduate School of Management participated in the event.
Risha Lathiya, a Rutgers MBA student, said the competition offered a "challenging, very real-world case and an opportunity to apply everything you've learned in the classroom to a real-world situation."
"I really wanted to have that experience," she said. 
Lathiya teamed up with MBA classmates Andy Evans, Kevin Hsu, Magdalena Kwieciszewska and Sean May to represent Rutgers in the competition.
This year, the case required students to present a commercialization strategy for a late-stage product for treating subarachnoid hemorrhage resulting from a ruptured brain aneurysm. The product is being developed by Edge Therapeutics, a New Jersey- based biotechnology company.   
Gary Branning, president of Managed Market Resources and an instructor at Rutgers Business School, wrote the case. The MBA students, who were given a week to develop their presentations, were specifically asked to make a case for why they would launch the drug alone or find a company to partner with.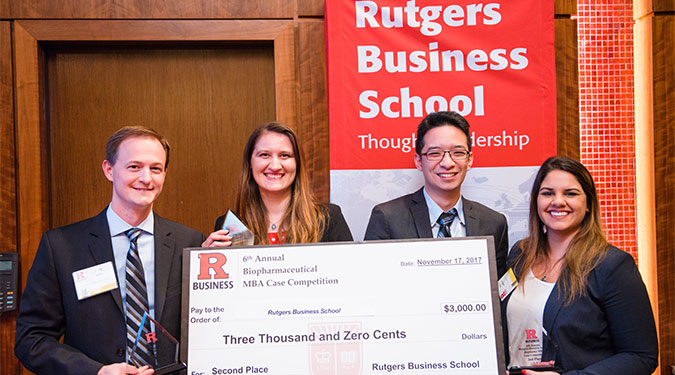 "We attacked it from multiple angles and came up with different ideas and worked together to decide which one made the most sense," Lathiya said. "It was as though we were part of the company."
Clark said everyone on his team found the case "fascinating."
"We really delved into given the time that we had," he said.
In addition to expanding the team's own knowledge and skills, Clark said the team wanted to participate in the Rutgers competition as a way of creating opportunities for other members of the Healthcare Business Association, a student club at Anderson. In addition to Clark, the winning team included first-year Anderson MBA students Gabrielle Larus, Zane Goodwin and Dan Edin.
"We wanted to put our best foot forward as representatives of Anderson," Clark said.
That doesn't come as a surprise to Hassan. The number of companies that sponsor the Rutgers competition is a big attraction to students, he said.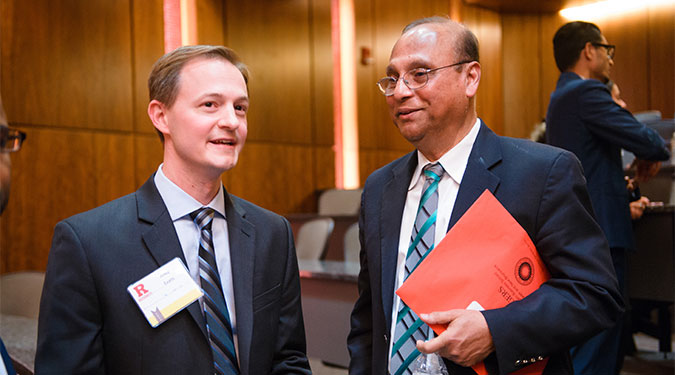 "It gives them an opportunity to prove themselves in front of the companies," he said, "and to network with judges, company representatives and other students."
 As the first-place winners, the Anderson team took home $6,000. Clark also won the competition's $500 prize for best presenter. Rutgers won $3,000 as the second-place winners. Boston University won $2,000 for third place.
The competition was sponsored Bayer, Novartis, Bristol-Myers Squibb, Novo Nordisk, Herspiegel Consulting, Model N, Nuvera Life Science Consulting and the Buchanan, Ingersoll Rooney law firm.
- Susan Todd
Press: For all media inquiries see our Media Kit