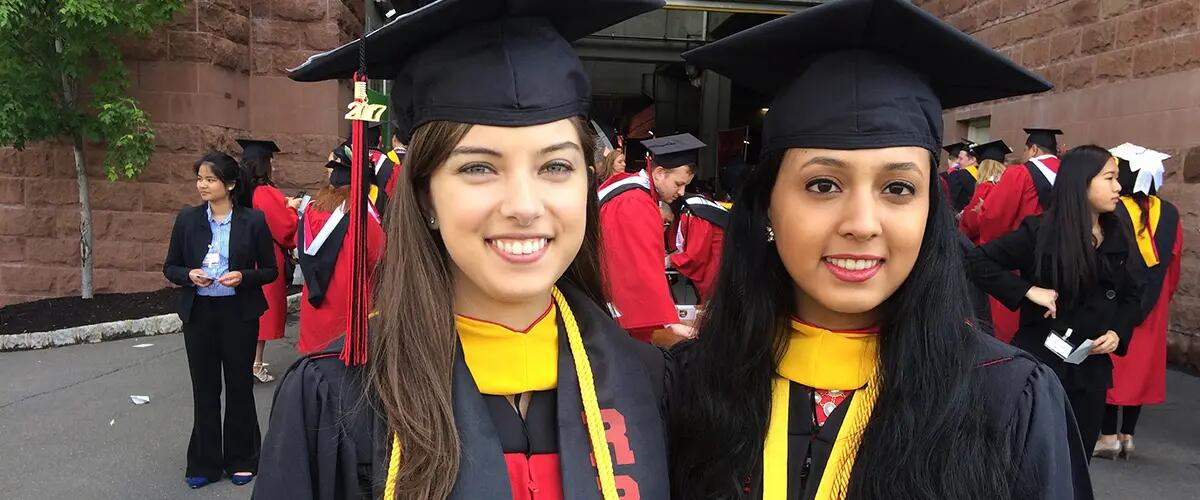 Undergraduate students leave their mark on Rutgers
The dean's Distinguished Leadership Award was created in 2011 to recognize student leaders from Rutgers Business School's graduate program and undergraduate programs in Newark and New Brunswick. The award is given to students who demonstrate outstanding academic achievement, service to RBS and leadership potential. The name of each recipient is engraved on the Rutgers Business School bell, honoring them for posterity.
The two undergraduate recipients carried the Rutgers Business School bell, leading the graduating class procession into High Point Solutions Stadium during Rutgers University Commencement on Sunday, May 17.
Amelia Seecharan, who majored in marketing and in supply chain management, is a recipient of this year's award. After graduation, Seecharan will work at Johnson & Johnson as an assistant brand manager at Neutrogena. Here's what she had to say about her experience at RBS:
"One of the many things that I love about Rutgers Business School – Newark is the wide array of organizations that it offers to students to help them grow personally and professionally," said Seecharan. "Student involvement is embedded in the DNA of this school, and it helped me build some of the strongest networks. 
"At Rutgers Business School, I found some of the most hard working and diverse set of students, which includes representation for those who seek to shatter the glass ceiling and debunk stereotypes. I found that motivation and drive from the amazing young women (and men) in Rutgers Undergraduate Women in Business (RUWIB).
"At the beginning of my sophomore year, I had been selected as the RUWIB vice president of leadership development. My role within RUWIB had the biggest impact on my growth at the school. My executive board position helped me break out of my shell, and learn about the benefits of working with a team, confidently presenting to an audience, and networking with corporate executives to build strong connections.
"My time as vice president of RUWIB came to an end when I accepted my first co-op offer at Johnson & Johnson Consumer, Inc. in 2016, but it had a big impact on the decisions I chose to make for the rest of my undergraduate career.
"I am eternally grateful to Rutgers Business School for having such an outstanding organization available for its student body, and for all the great learnings I've adopted from my time there."
Zoe Makropoulos, who majored in marketing, will continue to work as a marketing and digital media intern at Rutgers Business School after graduation.
Makropoulos said: "Prior to coming to Rutgers, business was the last thing I wanted to do." 
"Both of my parents worked in business sectors and I envisioned business as nothing more than working in a cubicle for the rest of my life," she continued. "When I was accepted into Rutgers Business School, I was still extremely skeptical as to what I wanted to do. Four years later, I realize it was the best decision I ever made. In my time here, I learned quickly and frequently that business is far more than just working in a cubicle. Business is everything."
"My greatest experience came from teaching a class of my own as a peer instructor through Rutgers University's First-Year Interest Group Seminars (FIGS) program. Teaching a group of first year business students is the definition of coming full circle in my four years here. 
"Bringing all of the knowledge and experiences I faced in my time here to these students made me realize how truly fortunate I am to have had such an amazing school to mentor me. I am a huge advocate of paying forward all of the experiences we face. The students in my course taught me so much in the 10 weeks we shared together and I know that each of them will go on to be successful in all that they do.
"The students, faculty and staff at RBS have taught me what business really is, to challenge myself, and they gave me the opportunity to gain a world of perspectives in and out of the classroom."
-Sean Ireland
Press: For all media inquiries see our Media Kit