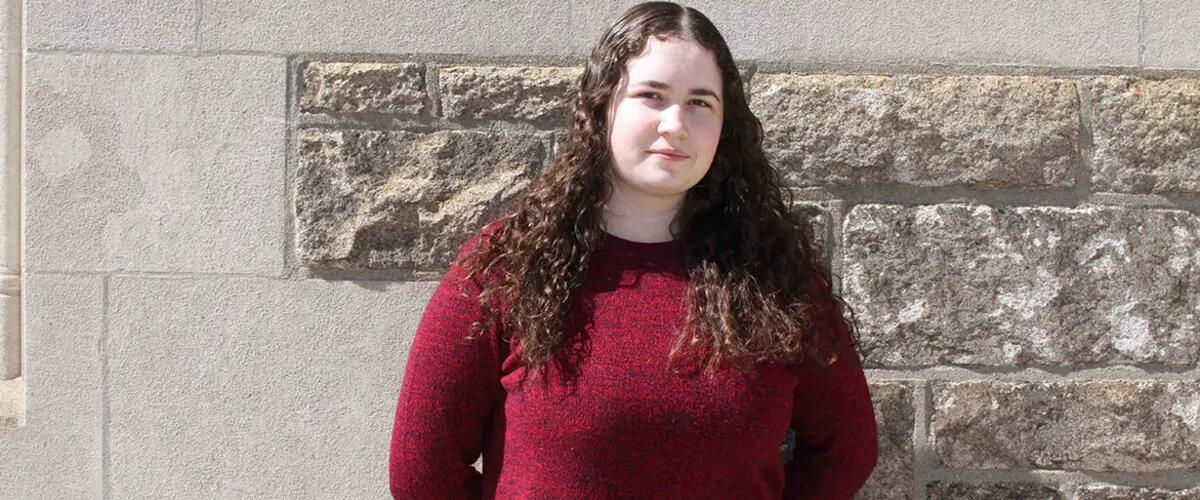 In Urban Solutions Lab, student tested viability of a business idea
Life after college is looking incredibly sweet for Miriam Brickman, who is part of the Class of 2023 at Rutgers Business School-Newark.
With her major in marketing and minor in economics nearly completed in her junior year, Brickman applied for an internship with the Urban Solutions Lab, outlining a business idea she had for operating a food truck.
After she was accepted into the Urban Solutions Lab, Brickman had the opportunity to learn more about what it would take to make her idea a reality. Ultimately, she changed course, opting to open a small commercial space with a walk-up counter in Teaneck that will be called The Brickery.
"Food is a big aspect of everyone's life," Brickman said of why food became the focus of her entrepreneurial ambitions. "Whether it's a good burger or a stunning cake, the response it evokes, how it makes people feel, is very rewarding," she said.
Through the Urban Solutions Lab, she was mentored, given resources, including access to experienced entrepreneurs running similar businesses, and she was given time to research regulations and calculate start-up costs.
Started by the Rutgers Advanced Institute for the Study of Entrepreneurship and Development, or (RAISED), the Urban Solutions Lab is housed within the Honors Living and Learning College at Rutgers University-Newark. Its objective is to bring students and community stakeholders together in pursuit of prosocial entrepreneurship. Students with a business idea are selected for semester-long internships that allows them to carve out the time in their lives to research and start a venture, according to Professor Ted Baker, who co-founded the Urban Solutions Lab with Jasmine Cordero-West, the associate director of RAISED.
Brickman was among the lab's first eight interns. "(Miriam) was very determined," said Cordero-West who mentored Brickman. "She has that entrepreneurial drive. This won't be her only venture."
Cordero-West said Brickman is part of a generation of young people who are being inspired by the entrepreneurs and influencers who they see all around them. "They understand that entrepreneurship is something that's possible for everyone," she said.
Brickman's business idea grew out of a long-time passion for baking. She started making sweet things in middle school and continued through high school. "YouTube was my main teacher," she said.
Brickman is pragmatic, resourceful, and brimming with ideas. While she was in college, she lived at home. She worked as many as three jobs at once. And she baked.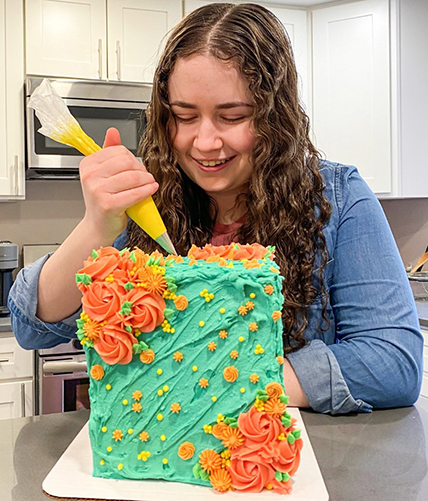 During the pandemic shutdown, she jumped on the popularity of do-it-yourself kits and started assembling some of her own cupcake decorating kits. She supplied the cupcakes, made the frosting, and provided a theme. A beach kit, for example, would include crushed graham crackers for sand and the tiny umbrellas used in cocktails.
She put her marketing and logistics skills to work, promoting her cupcakes on Instagram, setting delivery dates, and establishing geographical areas in Essex, Passaic and Bergen counties that allowed her to create reasonable distribution routes. Birthday parties, Bat and Bar Mitzvah celebrations, and holidays created a steady demand for her cupcakes. Her largest single order was 400 cupcakes, which she baked in a school kitchen. At the peak of the pandemic, a local synagogue asked her to make special boxes of honey cookies and bee-patterned cupcakes to deliver to its members on Rosh Hashanah. She fulfilled the order from home. "No one else was allowed in the kitchen for a few days," she said.
With that experience inspiring her, she set out to see whether she could make a business of operating a food truck that sold her sweet treats. The Urban Solutions Lab put her in touch with people already operating food truck ventures. She also had access to websites, tax information and industry data that provided insights into how food truck businesses were regulated, how competitive it might be to get started and how other food truck business had performed. The process turned out to be critical for Brickman.
"That information helps you see whether it's an industry you want to take a risk with," she said. "What struck me was the number of permits that were necessary. It was different in every municipality. It's much different than operating an ice cream truck. There are a lot more restrictions on food trucks."
That's when Brickman revised her plan.  She found a commercial property in Teaneck that shedescribes as "pretty cozy" and "mostly a kitchen" with a walk-up counter where she can serve customers her baked treats. In a shark tank-styled process, Brickman made her pitch and succeeded in receiving a $12,000 grant from the Urban Solutions Lab to help pay for the lease.
The Brickery – a name that blends her last name with bakery – is expected to open at the start of June with gelato, waffles and a popular new treat, edible cookie dough. There are plans to add crepes, cupcakes, and other sweet creations.
During the Urban Solutions Lab internship, Brickman learned more about building an element of social good into a business. Brandon Frame, the founder of Black Men Can, gave a talk that left an impression. "I appreciate that perspective that a business is not just about profit," she said. She's still mulling some ideas for repurposing food waste and giving back to the community.
"There are a lot of things in the back of my mind," she said, "but right now I'm focusing on building the business."
Brickman describes herself as an analytical creative. "I love math and I love the artistry involved in decorating a cake," she said. "A lot of people think marketing is fluffy. I like the analytics and data behind it."
While she was in college, most of her jobs involved working with kids, but she also landed a remote job with a Pennsylvania company that gave her experience in the data analytics aspect of marketing and public relations. She's counting on her marketing knowledge to help establish the business. She's also relying on her younger brother, a senior in high school, who will be taking a gap year after graduation to help establish The Brickery.
Brickman said she isn't sure what inspired her path to entrepreneurship. "I guess I prefer to challenge myself in different ways as opposed to taking the safe route," she said.
Press: For all media inquiries see our Media Kit