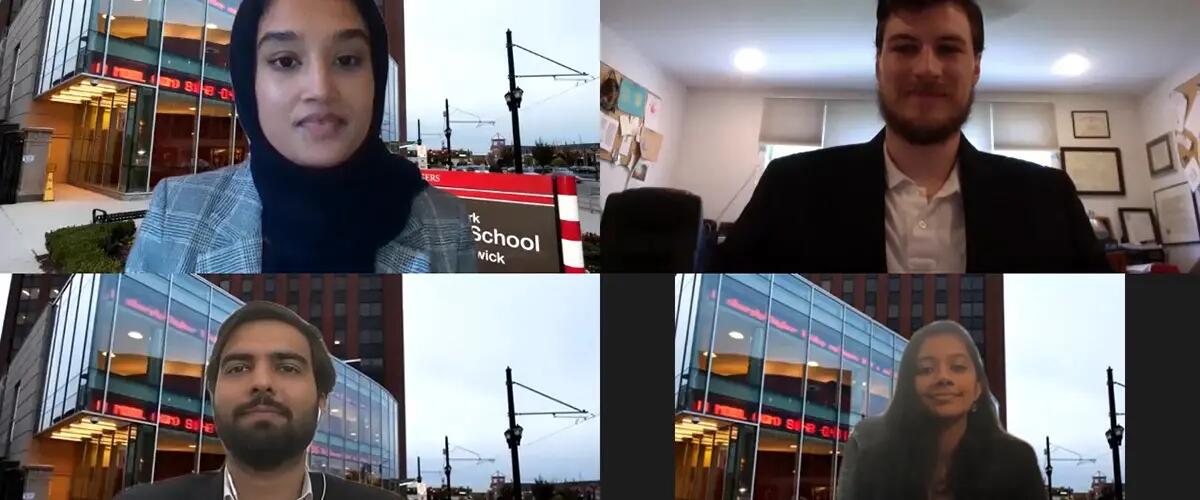 Virtual format increases challenge of MBA supply chain case competition
Four Rutgers Full-Time MBA students were the top winners in a case study competition hosted for the first time in the U.S. by 4flow, a German supply chain consulting services group.
The Rutgers team – made up of second year MBA students Shamama Siddiqui, Meet Manek, Ritu Jain and Daniel Bolotsky – competed against graduate students from Georgia Tech and the University of Michigan on May 13.
The Berlin-based company organized a U.S. preliminary round of its five-year-old competition after opening offices in Atlanta and Detroit. A second preliminary round was held in China.
Siddiqui said the competition offered a challenging case that combined consulting and supply chain management. The business problem at the center of the competition focused on last-mile logistics, an area of supply chain management that gained a lot of attention as grocery store companies, particularly, tried to pivot to home delivery during the pandemic.
The competition was a first for Siddiqui and Jain, who teamed up with Manek and Bolotsky, both of whom were veterans who had participated in several previous MBA case competitions.
In a series of long, late-night Zoom meetings, the four developed their case and created a slide deck to submit to the judges. "It was very challenging," Siddiqui said. "It would have been so much easier if we were brainstorming in person in the lounge at school, but it was very good practice to use virtual tools for something so technical."
Manek, who concentrated his studies in supply chain, said the team's strength was its ability to collaborate, a skill emphasized in the Rutgers MBA program. "We put a lot of effort into brainstorming a solution, and we felt we had a really good solution," he said.
After winning first place in the U.S. round, the Rutgers team – competing as SRMD Consulting – advanced to the international round to compete against teams from six other schools. Teams from ESB Business School, Reutlingen University, Technische Universitat-Berlin, Freie Universitat and Karlsruhe Institute of Technology were represented. A team from the School of Management at Fudon University in China also participated. Students from Technische Universitat-Berlin captured first place.
For the Rutgers team, part of the attraction of doing the 4Flow competition was the possibility of traveling to Berlin for the international round. The competition was held virtually for the first time as a result of the coronavirus pandemic. During the two days, the student also attended training on making presentations virtually and activities that allowed them to network with students from other schools.
The international round was more challenging, requiring the teams to add information to its presentation three hours before the final competition. "It added an element of realism," Siddiqui said. Each team also worked with a mentor from the company to refine their cases.
"Despite it being virtual," Siddiqui said, "it was a great experience."
Press: For all media inquiries see our Media Kit