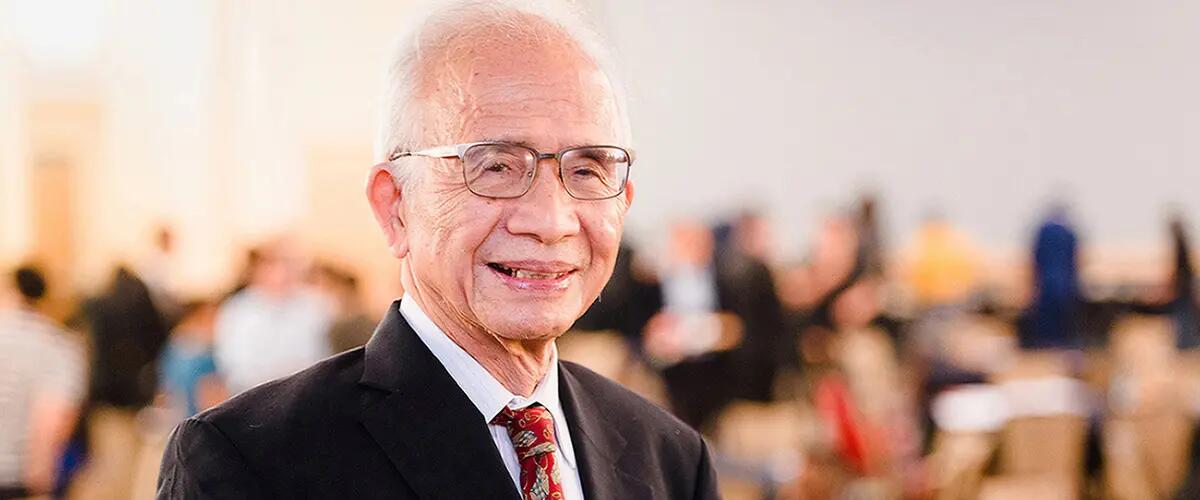 Where professors share knowledge on issues in finance, economics and accounting
Twenty-six-year-old conference highlights research, thought leadership at Rutgers and a reverence for a distinguished professor.
Finance professors from around the world spent two days in September listening to research on a variety of issues, from financial applications of parallel processing to the ethics of cryptocurrency, during the annual Conference on Pacific Basin Finance, Economics, Accounting and Management.
Among the keynote speakers were Louis Scott from the Federal Reserve Bank of New York, Professor Richard Kihlstrom from Wharton at the University of Pennsylvania, Professor Chunchi Wu of the University of New York at Buffalo, and Professor Yong Shi from the Chinese Academy of Sciences.
The event was held at the Livingston Student Center, not far from Rutgers Business School on the Livingston Campus. Many professors from the Finance and Economics Department at Rutgers Business School attended the conference and took turns introducing the speakers. Others participated in the conference, presenting papers in breakout sessions during the event.
Yaxuan Qi, a former Ph.D. student at Rutgers Business School who teaches finance now at the University of Hong Kong, said the Pacific Basin Conference – like other academic conferences – create opportunities "to learn new ideas."
"This conference also gives me a chance to connect with old friends and former professors," she said. "It's a very warm conference. It feels like I'm with family."       
Tumellano Sebehela, an assistant professor of finance and lecturer from South Africa's University of the Witwatersrand, said he traveled to the conference to learn, but also to observe the presentations of research. "I want to improve myself before I begin to present," he said.
The conference offered a high-level dose of financial insights, and at the heart of it was Cheng-Few Lee, a distinguished professor of finance and economics at Rutgers Business School. Lee started the conference at Rutgers 26 years ago.
Lee, who is 79 and has taught for 45 years, said such academic conferences play an important role in developing and promoting ideology. The Conference on Pacific Basin Finance, Economics, Accounting and Management is significant for its inter-disciplinary focus, Lee said.
The son of a farmer, Lee came to the U.S.  from Taiwan in 1968 to study statistics at West Virginia University. He later earned a Ph.D. in economics and finance at the University of New York in Buffalo. Lee joined the finance and economics department at Rutgers in 1988 after teaching at the University of Georgia and the University of Illinois at Urbana-Champaign.
Many of the conference speakers were Professor Lee's former colleagues or students, including professor Yong Shi, who is one of 13 advisors to China's premier. The two have co-authored a half dozen academic papers on the theory of fuzzy logic.
During the conference, Shi delivered a keynote address on big Data Mining and Knowledge Management. He also spoke passionately about Big Data Analysis and the One Belt-One Road Initiative, which he described a "great idea for all parties."
Shi said one of the things that impressed him immediately about Professor Lee was the "excitement over his ideas." The two became friends as well as research partners.
The conference culminated with a talk by Terry Marsh, chief executive officer of Quantal International Inc. and professor emeritus at University of California at Berkeley.
Marsh presented an overview of his research on equity market premiums by presidential cycles from 1815 to 2015 and explained a theory that some follow based on presidential cycles predicting investment returns.
Press: For all media inquiries see our Media Kit