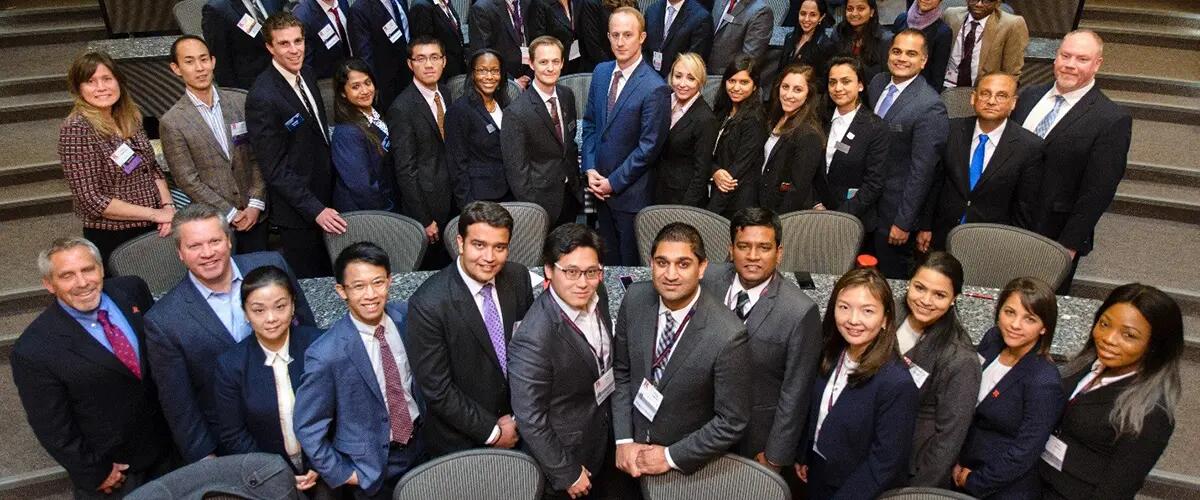 On a winning streak: Full-time MBA student proves his marketing, strategy skills one prize at a time
A single case competition wasn't enough for Wayne Chen, a student in the MBA pharmaceutical management program. Either was a single first-place win.
MBA student Wayne Chen admits he's a bit of a case competition fanatic.
During the fall semester, he helped a team of Rutgers MBA students capture first place at a cybersecurity-themed competition sponsored by Merck at North Carolina State University. Seven days after he returned to Rutgers, Chen went to work with another team of MBA students to prepare for the annual biopharmaceutical case competition at Rutgers.
"I always like to challenge myself," he said.
In the annual biopharmaceutical case competition, Chen's team won third-place against some of the nation's leading business schools, including Johns Hopkins Carey Business School, Columbia Business School and the Yale School of Management. In the event, the teams had to prepare a defense for the value of Genentech's Ocrevus, a new high-priced treatment for multiple sclerosis.
Then in February, Chen found himself holding another first-place prize for winning the Yale School of Management's healthcare case competition with three MBA classmates, Chirag Paghdal, Robert Tarantino Jr. and Aditya Patel. Chen said he's planning to compete once more before the spring semester ends.
"We try to do as many as we can to help build the Rutgers brand," said the former pharmacist who is an industry scholar in the MBA Pharmaceutical Management program. "They give you an opportunity to apply the business knowledge you're learning to a real company for a real situation. They're really good at building your ability to think strategically."
Chen said the only thing he's ever done that compares to the experience of a case competition was in high school when he was on the debate team.
What advice does he have for others interested in case competitions? "You definitely want to have a diverse team," he said. "A lot of things we came up wouldn't have been possible if the team didn't have someone from marketing, supply chain and finance."
"The Rutgers MBA is great, especially for those interested in the pharmaceutical industry," Chen said. "The network that Rutgers has in the pharmaceutical realm is extensive. It's what drew me to Rutgers."
And it paid off for him. Two months after he completes the MBA program, Chen will go to Janssen, part of the Johnson & Johnson healthcare company, where he will do two year-long rotations in the company's commercial marketing leadership program.
-Susan Todd
Press: For all media inquiries see our Media Kit