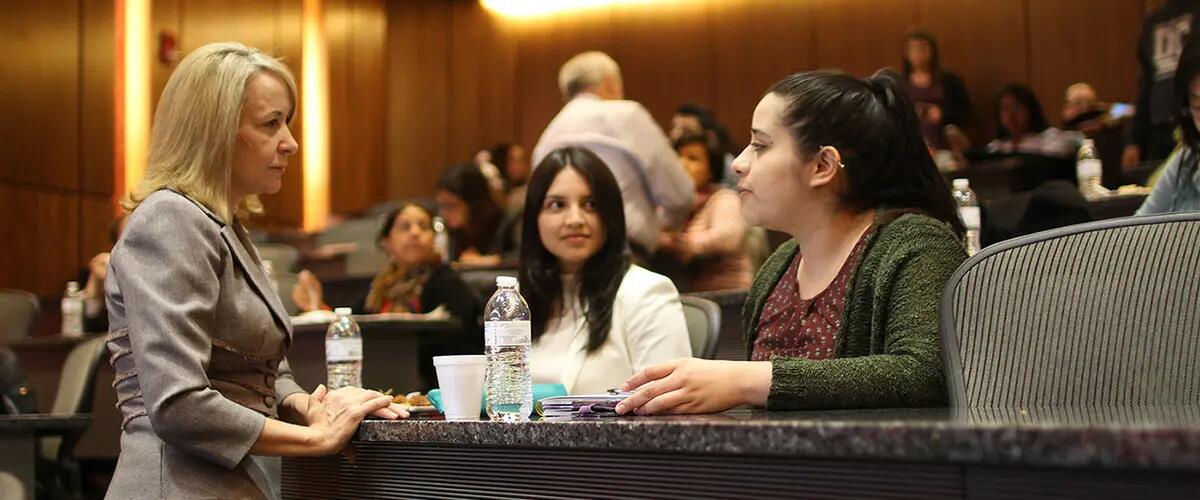 A woman's view of the work world
Symposium provides students with unique opportunity to hear insights of female supply chain management executives
Rutgers Business School-Newark welcomed executives Helen Davis and Sunny Nastase on March 29 at the second annual Women and Supply Chain Symposium.
Nastase, vice president of UPS global customer solution group, and Davis, vice president of supply chain at Coca Cola, gave students insight and advice about careers in supply chain. Both women spoke about what they have learned during their careers, including balancing work and life and overcoming the challenges of working in a male-dominated industry.
Nastase made some important points about how women should be confident and make their presence known. "Women need to own the room," she said. "Don't wait for someone to give you permission to speak or for someone to take control over the situation."
Nastase also stressed that work-life balance is important. She urged young women to be 100 percent all in their work at work and all in at home at home with their family. "No one is bullet-proof," she said, "everyone will go through ups and downs in their lives."
Like Nastase, Davis offered advice for how women can grow in your career. She began working at Coca Cola 20 years ago in the Minute Maid subsidiary and worked her way up. Her job allowed her to travel and work in different countries in the Middle East and Europe. All of those experience helped her throughout her career.
"Don't forget that you will learn from everyone, no matter if it was a good or bad experience," she said.
-Vita Viran
Press: For all media inquiries see our Media Kit