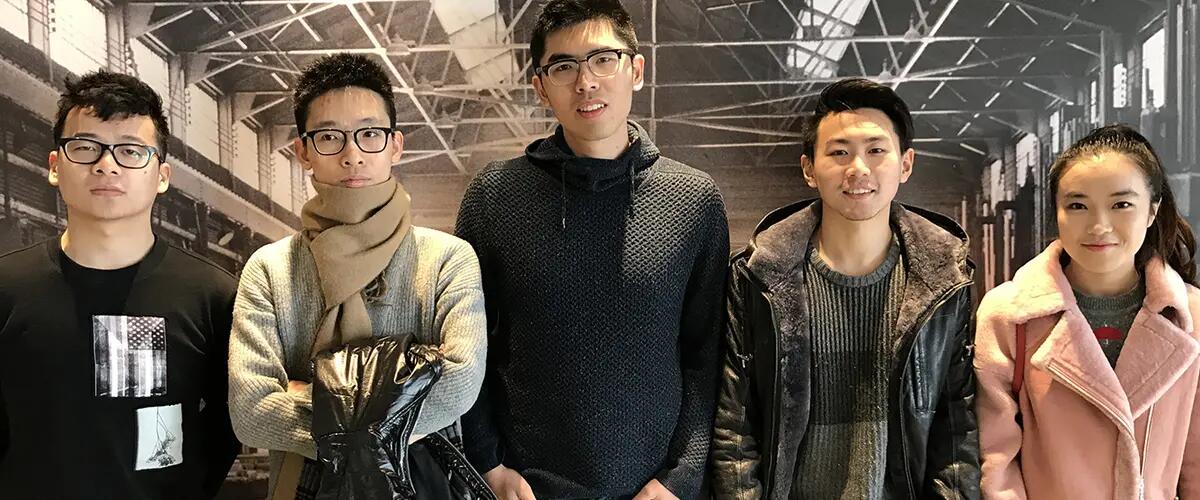 World's top student traders are from Rutgers Business School
This article was written by Evan Peterson and originally appeared in OpenMarkets, an online magazine published by CME Group.
In 2016, the CME Group Trading Challenge expanded the list of tradable futures contracts to 10. In 2017, a team from Rutgers University's graduate business school needed only one to run away from the competition.
Trading only natural gas futures over the month-long contest, the team nicknamed Oriental Lions amassed a simulated account balance of $530,615, more than $124,000 ahead of the next closest competitor. Teams start the final round of the competition with a $250,000 simulated balance. Put another way, over two weeks of trading, the Rutgers team achieved a 112 percent return.
"We thought if we can do one commodity very well, it's better than trading a lot of different futures contracts," says Chengran Su, one of five members of the Oriental Lions team. "We were more familiar with natural gas so we stuck with it."
The team led the competition for the final seven trading days of the 10-day final round. That's one factor that makes their victory so impressive. Here's another: The trading competition for college and university students attracted nearly 600 teams and more than 2,300 students this year, both records. Oriental Lions are also the first U.S.-based team to win the competition since 2013, following wins for teams from Spain, Turkey and Singapore the last three years.
All the team members from Oriental Lions are students in Rutgers Business School's Masters of Quantitative Finance Program, and two that we spoke with – Su, 22, and Zhihao Zhou, 23, have traded previously. Zhou traded ETFs related to natural gas and Su traded on China's Shenzen and Shanghai stock exchanges before coming to Rutgers for grad school. Both want to be quantitative traders when they graduate.
Their adviser, Ronnee Ades, who directs the Masters in Quantitative Finance Office of Career Management, notified her students about the competition.
"I just love trading, so I got some classmates to join this challenge and take a chance," says Zhou.
The chance paid off. For winning the competition, each member of the team receives $1,500 and a trip to Chicago for the annual Day of Market Education, which includes sessions with leading traders, asset managers, economists and a career fair where students can meet with top trading firms.
Other teams may have also employed the one-contract focus to their trading strategy in the competition. But it is the commodity the Rutgers team chose that helped set it apart. Natural gas was just the fifth most traded contract in the Trading Challenge, trailing crude oil, the euro currency, S&P 500 futures and gold.
Team Oriental Lions made the weekly natural gas production report from the Energy Information Administration (EIA) the key component in how they were going to trade.
Team Oriental Lions made the weekly natural gas production report from the Energy Information Administration (EIA) the key component in how they were going to trade.
"I've been watching commodities for a while, and I decided on natural gas because it's much more volatile," says Zhou. "Natural gas is related to temperature and there's the weekly production data every Thursday from EIA.  If the forecast is for cold weather the next week or two, we decided to long it. Demand and supply will affect the price greatly."
Even more important to their success than the contract choice was the team's ability to commit to a trading strategy, and not abandon it if the market turned against them, says Su.
"When I make a decision, I have to treat profit and loss equally," he says. "If we are more afraid of the loss, we will more likely change our position and we'll take losses. We had to stick with our principles, and that's what we did every day."
Chengran Su, Zhihao Zhou, Jiachen Chu, Cheng Xu and Wanyu Zhang discussed trading strategy in the lounge at their apartment building near the Rutgers University-Newark campus.
"I found their approach to making trading decisions very mature" says Ades, the team's advisor. "They collaborated with each other and at times disagreed with the suggestions of their analysis, but they stuck with their disciplined approach towards profit. I liked the fact that they didn't get tempted to change or move off of their strategy."
It's the sixth year teams from Rutgers have participated in the Trading Challenge. Ades, relatively new to the program, advised Oriental Lions and another Rutgers team that advanced to the competition's final round, where the top 10 percent of the initial 600 teams competed.
"I enjoy seeing so many students participate with enthusiasm, and with commitment," says Ades. "Any time you can improve a program by augmenting their education through outside information and experience, and specifically through competitions like the Trading Challenge, you're doing something good for the students and for the school."
As it turns out, Rutgers is becoming something of a breeding ground for young, talented traders. In addition to the strong showing in the CME Group competition, Ades advised teams this year that won an international risk management competition, and another that placed in the finals of an ETF portfolio trading challenge. In fact, she was unable to join Oriental Lions on their trip to Chicago because she had already committed to joining another team who won a different competition in New York City.
She says the flood of competition success comes from a commitment to moving the Rutgers MQF program beyond theory, and developing real-world job skills.
"One of my personal beliefs is to make students more turn-key. When they get a job, they can function at a high level, and they are beyond theorists."
Press: For all media inquiries see our Media Kit