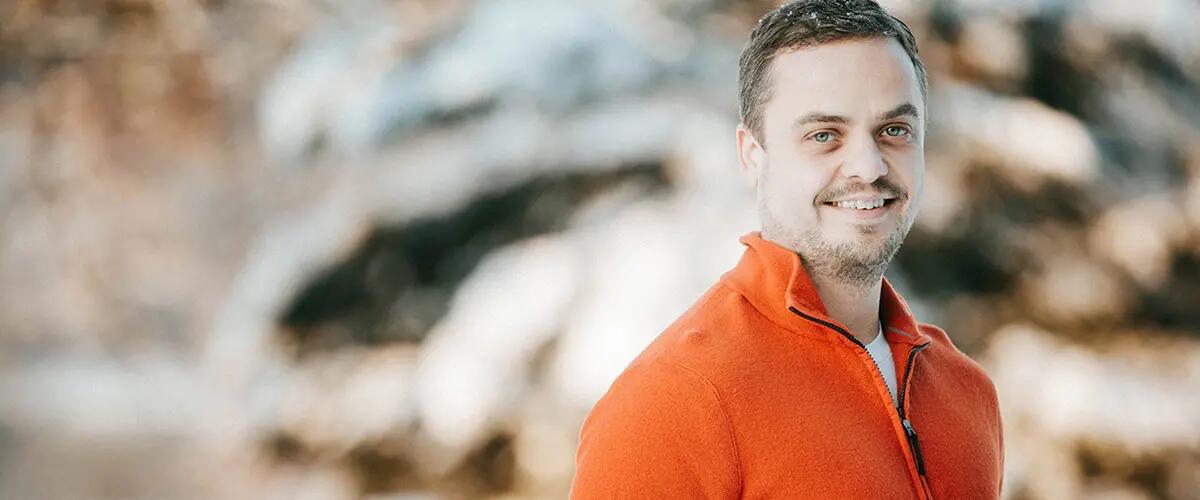 Young professional's latest adventure: Rutgers online Master of Digital Marketing
Aaron Marks wanted a change, and Alaska beckoned. The 36-year-old marketing professional and triathlete relocated from the Southeast in October 2018, embarking on an adventure that came to include Rutgers Business School's inaugural online Master of Science in Digital Marketing.
In Fairbanks, Marks discovered he could run for hours on 15-degree days and even get in an hour run at 15 below. He also figured out how to juggle a full-time job promoting events at a major arena, other part-time marketing work, daily training workouts, weekend races, and three-course semesters as a Rutgers Business School graduate student.
"When my dad calls, he always wants to talk about TV shows, and I tell him, 'dad, I do not watch television,'" he said.
Marks considered pursuing an MBA for several years, but last May saw an ad on his LinkedIn page for an online master's degree in digital marketing at Rutgers. After he expressed interest, Stacy Schwartz, the program director and an assistant professor of professional practice in marketing, encouraged him to apply.
"I thought, this makes sense, this fits," said Marks, who became one of the program's first 25 students and finished his first semester with a 4.0 GPA.
"The program has opened my eyes to many more opportunities." - Rutgers Business School graduate student Aaron Marks.
"Aaron is extremely proactive, organized, and curious, and really enjoys learning," Schwartz said. "And when he decides to do something, he does it wholeheartedly."
Within the first month of classes, Marks started applying what he learned to his job at the Carson Center, home to the University of Alaska Fairbanks' men's ice hockey team. He created ads promoting the hockey team for social media, emails and the website.
Marks said he now aspires to become a marketing director overseeing content development, a career that had not been on his radar before RBS. "The program has opened my eyes to many more opportunities," he said.
According to Schwartz, the digital marketing graduate program has attracted three types of students: marketing managers who want to modernize their knowledge; digital professionals who lack formal marketing training; and newcomers to the field who want to learn the full breadth of the industry. The curriculum gives equal weight to fundamentals of marketing from a digital perspective and the tactics and tools to implement successful campaigns, she said.
Marks is on track to complete the degree in December, and opportunity will determine his next move.
Between two childhood cross-country trips, his first career as a radio sportscaster, and frequently competing in running races and triathlons (including a full, 140-mile Ironman and five half-Ironman triathlons), Marks has visited every state but Vermont. His international travel includes a six-day trip to Costa Rica earlier this year, where he ran 82 miles from the country's mountainous center to the rain forest along the Pacific Coast.
In spite of his jam-packed schedule, Marks provides RBS staff feedback about the program, and shares his experiences with prospective students, Schwartz said. "Aaron is so giving of his time, and helps make our program better."
- Margaret McHugh
Press: For all media inquiries see our Media Kit