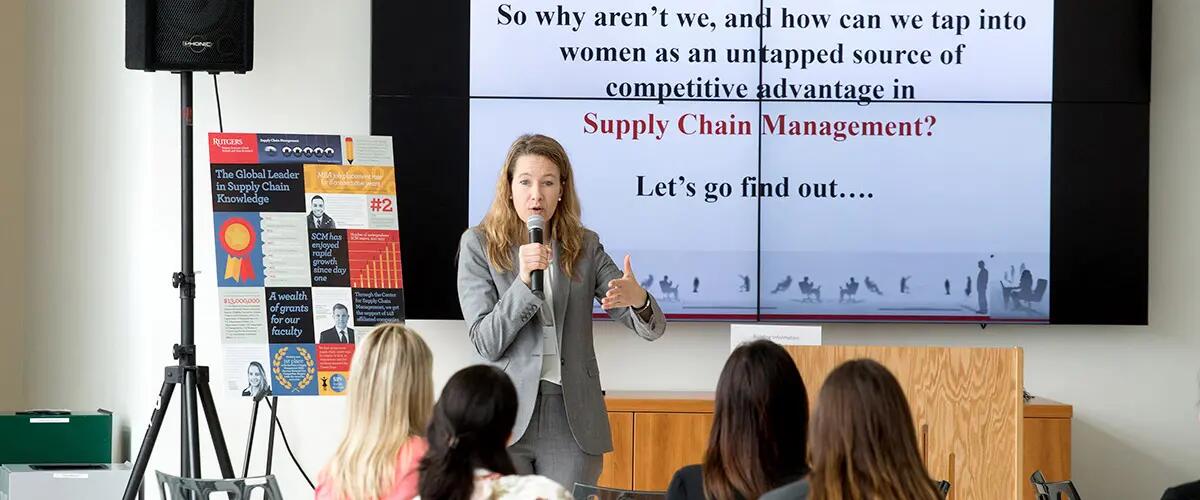 Supply Chain Management Industry Client Project
The Rutgers University Supply Chain Program has a unique opportunity! Companies can harness the talents of our RBS students to assist with supply chain management projects that they may not have the time or resources to complete. The Supply Chain Management Industry Client Project program has existed for several years and has resulted in mutually beneficial outcomes for the Supply Chain Management students, and company representatives alike.  
For instance, students are given the opportunity to use their knowledge and skills learned in class and apply them to a real-world situation to help create solutions. They work in teams, which enhances critical interpersonal skills and provides diversity of thought to project outcomes. Company representatives are able to off-load supporting projects that have been backlogged to a class of students, free of charge as well as potentially identify future talent for their hiring needs. 
We work with various clients including non-profits, for-profits, government organizations, small businesses, global chains, and more.  
How Does it Work? 
A team of 4-5 students, both at the graduate and undergraduate level will be assigned to your project and will be assisted by a professor sponsor and coach. Each semester project has a 15-week duration. All projects are confidential and students must sign a Rutgers confidentiality agreement, and if desired, a non-disclosure agreement with the client.
The first step would be for you to identify potential projects you have. Complete our Project Proposal document and email it to both individuals listed on the bottom. Some examples of previous projects include:   
Temperature Controlled Logistics 

Assessing Supplier Risks 

Forecasting Improvements  

Disruptive Logistics Practices 

  

SKU Stocking Strategy 

Transportation Management 

Supplier Segmentation and Catalog Analysis 

S&OP Process Improvements 

Key Performance Indicators 

  

Sustainable Sourcing 

CO2 Emissions Reduction Analysis 

Healthcare Analytics