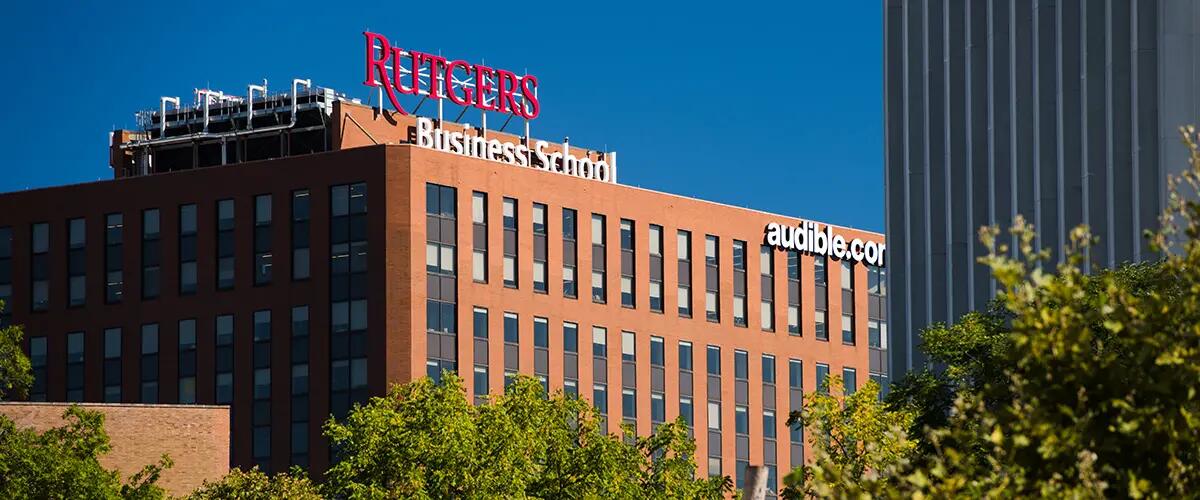 University Heights Highlights
State-of-the-art facility in Newark's Downtown Arts District
The building at 1 Washington Park has secured the quality of the Rutgers Business School's facilities and classroom technology, while expanding its capacity to meet the rapidly increasing demand for business education and the needs of growing undergraduate and graduate student bodies.
The building is showcased by a soaring glass pavilion with a Times Square-like news ticker scrolling across the outside that dominates the north end of Washington Park next to the Newark Public Library. Rutgers Business School shares the office tower at 1 Washington Park with Audible.com, an Amazon.com subsidiary.
1 Washington Park at Rutgers University-Newark is only 9 miles from Manhattan.
Located in the Newark Downtown Arts District next to the New Jersey Performing Arts Center (NJPAC), the Newark Bears Baseball Stadium, and a 15-minute walk to the Prudential Center, ranked 3rd for entertainment venues in the country, Rutgers Business School is part of Newark's exciting renewal.
The 15,000 square-foot atrium encompasses a new trading room, three lecture halls and second and third floor student lounges. On top of the two-story entry pavilion is a rooftop sustainable garden. 1 Washington Park houses RBS classes, faculty and staff offices, departments, centers, and even has a police substation for added security.
The new headquarters location promotes the use of mass transit with the Broad Street train station and the Newark Light Rail conveniently located minutes from the building. With these options available, New York City is only a 20-minute train ride away.
Newark Broad Street Station, a 5-minute walk from 1 Washington Park, connects Rutgers Business School to Manhattan with a 20-minute train ride.
The facility at 1 Washington Park is the second largest capital investment in Rutgers history. A total of $83 million was committed for the purchase, complete renovation, and expansion of the facility. PSE&G, Prudential and PNC Bank were vital partners in the completion of the state-of-the-art facility.