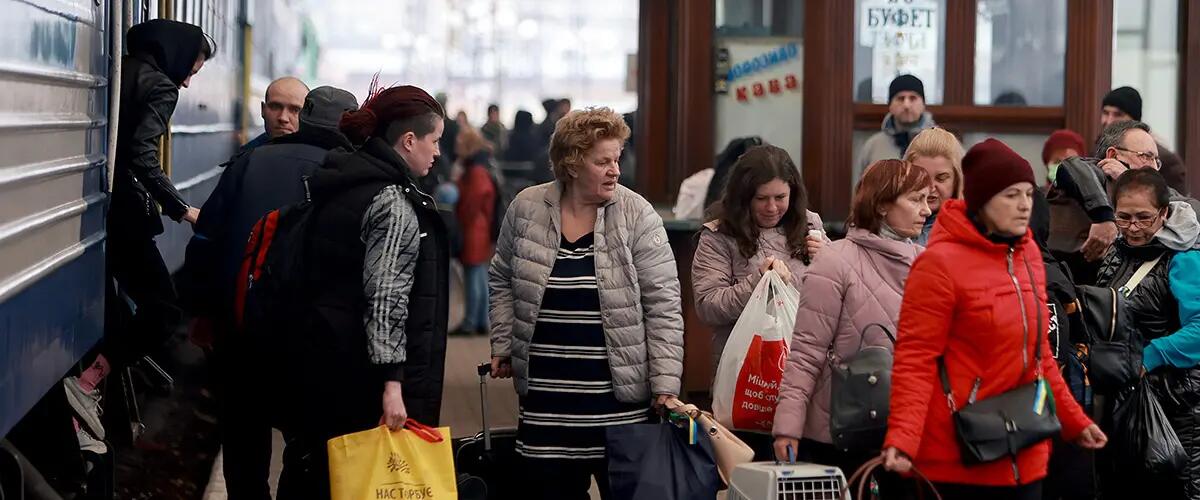 Thought Leadership: In Ukraine, crypto is demonstrating its promise
Among other examples, we've seen the Ukrainian government asking for donations in cryptocurrency and Ukrainians adopting crypto as their main currency as their lives have been uprooted due to the Russian invasion.
This opinion piece was written by Merav Ozair, a leading global expert in Blockchain and Cryptocurrency who teaches at Rutgers Business School. It was originally published by Nasdaq.
The Russia-Ukraine war has provided a demonstration of the vital need and benefits of cryptocurrencies and blockchain, the technology that underlies cryptocurrency, especially to underserved communities on a global scale. Among other examples, we've seen the Ukrainian government asking for donations in cryptocurrency and Ukrainians adopting crypto as their main currency as their lives have been uprooted due to the Russian invasion.
These instances underscore the promise of blockchain when Bitcoin, the first blockchain, was launched in January 2009, that a decentralized, peer-to-peer system, accessed by everyone, with no need for intermediaries – can empower everyday people: a system that is for the people, by the people.
It may seem unusual that a government would reach out to the citizens of the world and ask for direct donations; however, Ukraine is the poorest country in Europe, in terms of Gross National Income (GNI) per capita and has been struggling with dire economic conditions for decades. The war has simply heightened their economic stress and their need for immediate financial relief.
Bringing Relief to Ukraine
The government of Ukraine could have reached out to the United Nations, European countries or the United States, but that would have taken time and a great deal of bureaucracy. Ukraine needed assistance, and it needed it immediately. In the face of an existential crisis, it didn't have time to wait.
The Ukrainian government took the unusual step of tweeting out crypto wallet codes for global financing through both Bitcoin and Ethereum – the two most popular and valuable cryptocurrencies – from official accounts.
"Stand with the people of Ukraine Now accepting cryptocurrency donations," wrote Mykhailo Feddorov, Ukraine's vice-prime minister, on February 26th, 2022. Non-profits and local businesses in the besieged country have mirrored the government's request. The Kyiv Independent, an English language newspaper in the capital city, has been accepting sponsorships through Bitcoin.
Cryptocurrency is inherently global. To donate using traditional currency often requires intermediaries. It is impossible to donate fiat currency (e.g., USD or the euro) directly. First it needs to be converted to the Ukraine national currency, hryvnia, in some way, or find an intermediary.
Cryptocurrency solves this by simplifying the process. Blockchain is a peer-to-peer system, which does not require any intermediaries, banks, brokers, or central banks, and can be accessed and used by anyone anywhere, as long as you have internet connection. Therefore, if you have the wallet address for a charity, you can simply enter the address and the amount to donate.
In addition to the government's call for donations, UkraineDAO, led by Pussy Riot's Nadya Tolokonnikova, launched a nonfungible token (NFT) of the Ukrainian flag to raise funds for Ukrainian civilian organizations working to help those suffering from the war. Although unconfirmed, it is now believed that donations to the addresses shared by Ukraine government will be used directly by the government, while the UkraineDAO proceedings will be redirected toward citizens' welfare via a non-governmental organization (NGO.) 
"Blockchain allows us to scale our efforts in a way that wasn't possible for us before," said Nadya Tolokonnikova, a spokeswoman for UkraineDAO, in an interview with the New York Times. "The old ways of raising money sometimes are really slow and just clumsy."
Vitalik Buterin, the creator of Ethereum blockchain, has been supporting the UkraineDAO initiative, tweeting: "An opportunity to support Ukrainians here! Proceeds go to civilian efforts helping Ukrainians suffering from the war."
Other prominent crypto entrepreneurs have taken proactive efforts to aid Ukrainians. Sam Bankman-Fried, the CEO of FTX, a crypto exchange based in the Bahamas, was one of the first, offering monetary support to FTX traders from Ukraine.
How Ukrainians Use Crypto and Blockchain
According to the United Nations High Commissioner for Refugees, ten million people have fled their homes in Ukraine because of the Russian invasion; 3.6 million have left for neighboring countries and an estimated 6.5 million people are thought to be displaced inside the war-torn country itself.
Uprooted Ukrainians, with no access to banks or any traditional financial services, turned to cryptocurrencies for all of their financial needs, from payments to savings.
One Ukrainian tweeted: "My Ukrainian credit cards don't work anymore. I'm safe physically in Kazakhstan, but all my savings are gone. Crypto is the only money I still have, and today I can say without exaggeration that $BTC, $ETH, and #NFT are going to save my life while I can't come back home."
On March 17, Ukrainian President Volodymyr Zelenskyy signed a bill into law that makes Bitcoin and Ethereum legal tender; the move was triggered by the fact that more than $100 million in crypto donations have been made to help Ukraine's war effort against Russian invaders and has been broadly adopted as a mode of payment and savings by Ukrainians.
Ukraine is the second nation to give Bitcoin a status of legal tender (after El Salvador), and the first nation to give Ether a status of legal tender. By making Bitcoin and Ether legal tender, these two cryptocurrencies have the same legal status as the country's national currency, hryvnia.
Ukraine demonstrates the positive transformation that can be achieved via the growing adoption of cryptocurrency. Numerous institutional and financial problems prevent ordinary citizens in every country from achieving financial stability and economic freedom. The decentralized nature of cryptocurrency – accessible for anyone from anywhere, mitigating inefficiencies and costs – is a major diver of its adoption in Ukraine.
The war in Ukraine brings crypto full circle to where it all began when Bitcoin was launched in January 2009, after the 2008 financial crisis and the trillions of dollars that were spent to bail out financial institutions, which outraged many. Bitcoin introduced the premise of blockchain – a peer-to-peer, decentralized system that can be used by anyone, anywhere and for everything. No intermediaries, no bank accounts, no central banks – accessible for anyone, reducing costs and inefficiencies, the ultimate system for financial and economic inclusion, equality and sustainability. The war in Ukraine is showing how that premise has become a promise for crypto, moving it from the theoretical to an urgent, everyday reality.
Press: For all media inquiries see our Media Kit