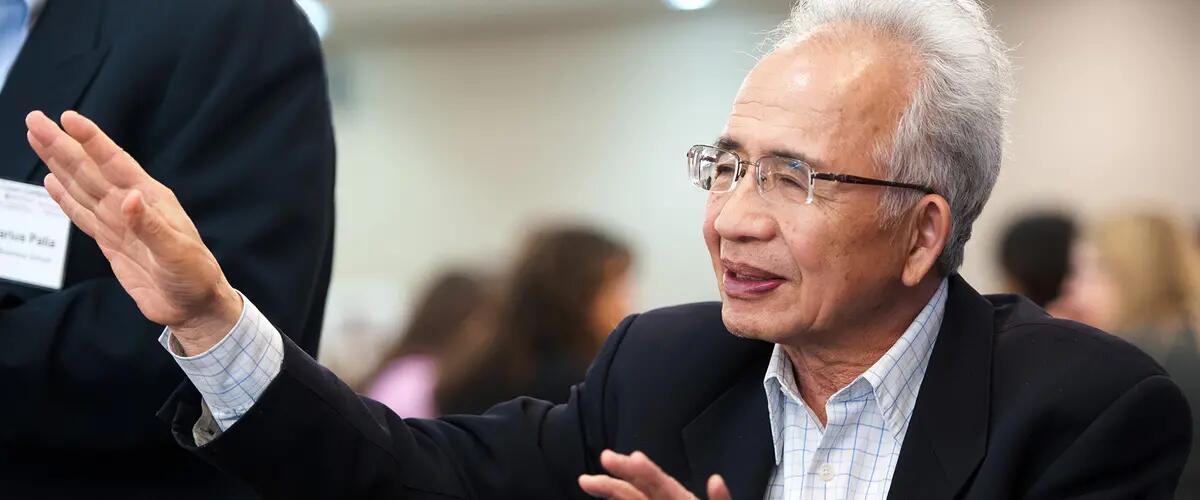 Cheng-Few Lee
Distinguished Professor
Professor Cheng-Few Lee is a Distinguished Professor of Finance at Rutgers Business School, Rutgers University and was chairperson of the Department of Finance from 1988–1995. He has also served on the faculty of the University of Illinois (IBE Professor of Finance) and the University of Georgia. He has maintained academic and consulting ties in Taiwan, Hong Kong, China and the United States for the past three decades. He has been a consultant to many prominent groups including, the American Insurance Group, the World Bank, the United Nations, The Marmon Group Inc., Wintek Corporation, and Polaris Financial Group.
 
Professor Lee founded the Review of Quantitative Finance and Accounting (RQFA) in 1990 and the Review of Pacific Basin Financial Markets and Policies (RPBFMP) in 1998, and serves as managing editor for both journals. He was also a co-editor of the Financial Review (1985-1991) and the Quarterly Review of Economics and Finance (1987-1989).  In the past 47 years, Dr. Lee has written numerous textbooks ranging in subject matters from financial management to corporate finance, security analysis and portfolio management to financial analysis, planning and forecasting, and business statistics.  In addition, he edited two popular books, Encyclopedia of Finance (with Alice C. Lee) and Handbook of Quantitative Finance and Risk Management (with Alice C. Lee and John Lee).  Dr. Lee has also published more than 220 articles in more than 20 different journals in finance, accounting, economics, statistics, and management.  Professor Lee was ranked the most published finance professor worldwide during the period 1953-2008.
 
Professor Lee was the intellectual force behind the creation of the new Masters of Quantitative Finance program at Rutgers University.  This program began in 2001 and has been ranked as one of the top fifteen quantitative finance programs in the United States. Professor Lee started the Conference on Financial Economics and Accounting. This conference is a consortium of Rutgers University, New York University, Temple University, University of Maryland, Georgia State University, Tulane University, Indiana University, and University of Toronto. This conference is the most well-known conference in finance and accounting.
 
Academic degrees
Ph.D., State University of New York at Buffalo; Economics and Finance
M.S., West Virginia University; Statistics
M.A., National Taiwan University; Economics
Related News
Thursday, September 30, 2021
Monday, September 17, 2018
Publications
Dissertations Supervised:
Name: Chang, Chingfu
Graduation Date: 1999/October
Thesis Title: Determinants of Capital Structure and Management Compensation: The Partial Least Squares Approach
Name: Chen, Hong-Yi
Graduation Date: 2011/May
Thesis Title: Momentum Strategies, Dividend Policy, and Asset Pricing Test
Name: Chien, Chin-Chen
Graduation Date: 1992/October
Thesis Title: Alternative Methods for the Estimation of Earnings and Dividends Announcement Effects: Review, Integration, and Extension
Name: Chiou Wan-Jiun Paul
Graduation Date: 2004/October
Thesis Title: International Security Analysis, Portfolio Management, and Asset Pricing: Theory and Applications
Name: Hu, Chengru
Graduation Date: 2004/May
Thesis Title: The Evaluation of New Products: An Event Study and a Real Option Approach
Name: Hwang, Dar-Yeh
Graduation Date: 1991/October
Thesis Title: Alternative Pricing Models for Estimating FDIC Deposit Insurance Premiums: Theory and Empirical Studies
Name: Lee, Han-Hsing
Graduation Date: 2007/October
Thesis Title: Two Essays in Financial Economics: Essay I. Empirical Performance of the Constant Elasticity Variance Option Pricing Model; Essay II. Default Prediction of Alternative Structural Credit Risk Models and Implications of Default Barriers
Name: Li, Li
Graduation Date: 1998/May
Thesis Title: Alternative Models for Mutual Fund Performance Evaluation: Theory and Evidence
Name: Liu, Bo
Graduation Date: 2006/May
Thesis Title: Two essays in Financial Economics, I. Functional Forms and Pricing of Country Funds, II. Inflation, the Fisher Equation, and Term Structure Model of Inflation Risk Premia: Theory and Evidence from TIPS
Name: Liu-Avis, Yu-Jung
Graduation Date: 1995/October
Thesis Title: Three Alternative Term Structure of Interest Rates Models for Testing Term Point Estimation Hypotheses
Name: Mai, Shin-Ying
Graduation Date: 2010/October
Thesis Title: Three Essays on Financial Distress, Earnings Management, and Post-Earnings Announcement Drifts
Name: Moore, Mark
Graduation Date: 2002/January
Thesis Title: Intangible Asset Valuation using the Feltham-Ohlson Framework and Real Option Analysis: Theory and Empirical Evidence.
Name: Shih, Wei-Kang
Advisors: Govindaraj, Suresh and Lee, Cheng-Few
Graduation Date: 2010/October
Thesis Title: Three Essays on Firm Fundamentals and Asset Pricing
Name: Tai, Tzu
Graduation Date: 2014/May
Thesis Title: Essays on Capital Structure, Risk Management, and Options on Index Futures
Name: Wu, Ta-Peng
Graduation Date: 2000/May
Thesis Title: An Empirical Comparison of Alternative Option Pricing Models: Parametric vs. Nonparametric Approach.