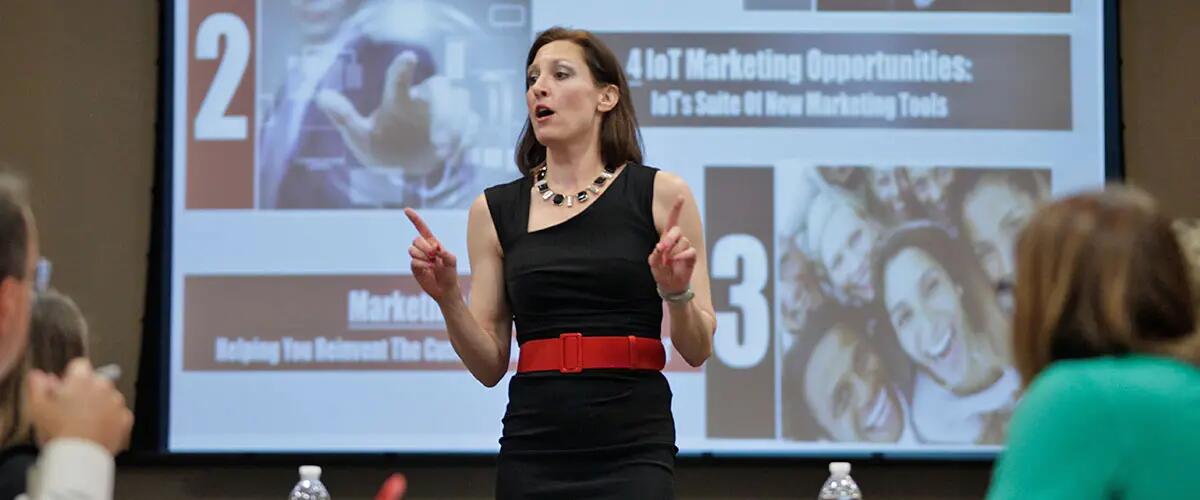 Christina "CK" Kerley
Instructor of Professional Practice
A forerunner in tech revolutions for 20 years, innovation speaker and specialist Christina "CK" Kerley steers B2B and B2C executives through the sweeping set of emerging tech and trends that are transforming our world today… and those igniting the strategies, brands, and business models of tomorrow.
CK's compelling speeches – termed"edu-tainment" due to her signature high-energy style – have been featured at Johnson & Johnson, Verizon Wireless, Microsoft, the United Nations, Bristol-Myers Squibb, Sodexo, Sony, Cisco, Neutrogena, Verisign, and Wyndham Worldwide.
Along with being a faculty member for Rutgers Business School Executive Education, she has guest lectured at Stanford, Cornell, Northwestern, and Carnegie Mellon.
Covering the most tech in the industry – bar none – her portfolio spans Mobile, Wearables, The Internet of Things, Big Data, mHealth, Augmented Reality, Virtual Reality, Robotics, and Artificial Intelligence.
All firsts in their sectors, CK's eBooks include The Smart Revolution (2013), Innovation Through Mobile (2013), and The Mobile Revolution & B2B (2011).
Her advice on emerging tech has been featured in various media outlets, including: Inc. Magazine, CMO.com, BtoB Magazine, MarketingProfs, Mobile Marketer, B2B News Network, Chief Content Officer, IDG, Federal Computer Week, and MediaPost, as well as in business books: The New Influencers (Quill Driver Books, 2007), Join The Conversation (Wiley, 2007), Content Rules (Wiley, 2011), and The B2B Social Media Book (Wiley, 2012).
Based in New York City, CK is surely one of the most dynamic industry thought leaders of our time.
Executive Education Programs
Our Mini-MBA in Digital Marketing will empower you to think strategically, not just tactically. You will be able to design an effective digital strategy to deploy to your team and outside partners, support and track the discrete efforts across your organization, and synthesize the data to measure return on investment.
In Class program:
$4995.00