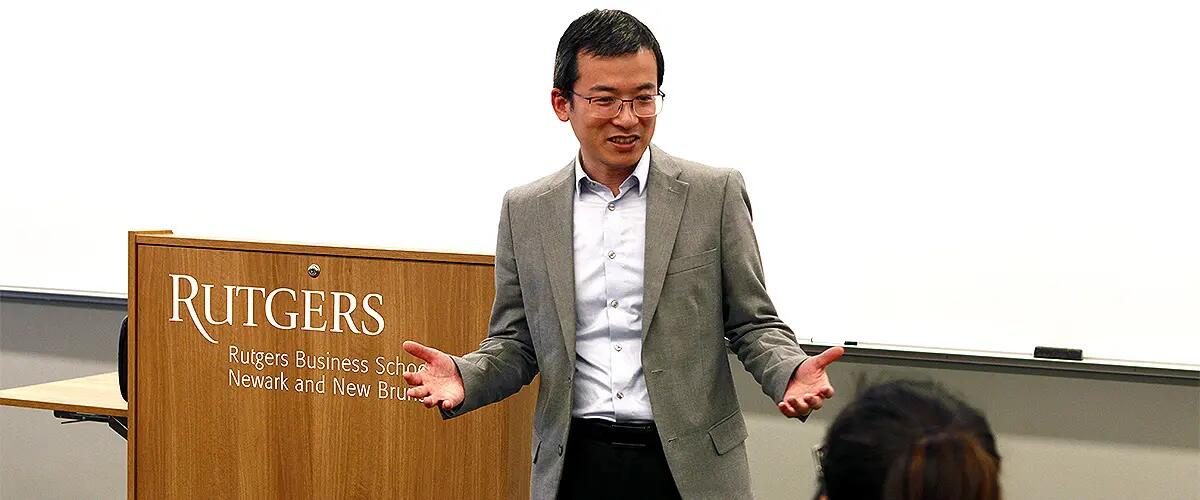 Weiwei Chen
Associate Professor and Senior Director of MBA Programs
Dr. Chen's research interest lies in data analytics in service operations, supply chain optimization, as well as operations and finance interface. He also works on simulation and global optimization methodologies. He has extensive research and consulting experience with businesses and public sectors, aiming to improve strategic decisions and operational efficiencies using modeling and data analytics. His work has appeared in Operations Research, Manufacturing & Service Operations Management, Production and Operations Management, INFOMRS Journal on Computing, Transportation Science, Interfaces, IEEE Transactions on Automatic Control, etc. Prior to joining Rutgers, he worked at GE Global Research, NY, solving various problems from GE Energy, GE Aviation, Lockheed Martin and electric utility companies. He is an associate editor of INFORMS Journal on Applied Analytics, IEEE Transactions on Automation Science and Engineering, etc., and a guest editor of IISE Transactions, International Journal of Production Research, etc. He currently serves as the Chair of the INFORMS Service Science Section.
Academic degrees
Ph.D., University of Wisconsin-Madison; Industrial Engineering
M.S., Tsinghua University; Control Science and Engineering
B.S., Tsinghua University; Automation
Insights
Wednesday, January 03, 2018
Publications
Selected Publications
For a complete list of publications, see Google Scholar.
W. Chen, S. Gao, W. Chen and J. Du (2022) Optimizing Resource Allocation in Service Systems via Simulation: A Bayesian Formulation. Production and Operations Management, forthcoming.
T. Wu, C. Zhang, W. Chen, Z. Liang and X. Zhang (2022) Unsupervised Learning-Driven Matheuristic for Production-Distribution Problems. Transportation Science, forthcoming.
J. Liu, W. Chen, J. Yang, H. Xiong, C. Chen (2022) Iterative Prediction-and-Optimization for E-logistics Distribution Network Design. INFORMS Journal on Computing, 34(2): 769–789.
I. Dmitry, B. Sokolov, W. Chen, A. Dolgui, F. Werner, S. Potryasaev (2021) A Control Approach to Scheduling Flexibly Configurable Jobs with Dynamic Structural-Logical Constraints. IISE Transactions, 53(1): 21–38. (Received the IISE Transactions 2022 Design & Manufacturing Best Paper Award)
W. Chen, B. Melamed, O. Sokolinskiy, B. Sopranzetti (2017) Cash Conversion Systems in Corporate Subsidiaries. Manufacturing & Service Operations Management, 19(4): 604–619.
S. Gao, W. Chen, L. Shi (2017) A New Budget Allocation Framework for the Expected Opportunity Cost. Operations Research, 65(3): 787–803.
R. Tyagi, W. Chen, J. Black, P. Tiwari, B. Lecours, J. Shaver (2017) Transforming Electrical Load from an Operational Constraint to a Controllable Resource. Interfaces, 47(4): 292–304.
S. Gao, W. Chen (2017) A Partition-based Random Search for Stochastic Constrained Optimization via Simulation. IEEE Transactions on Automatic Control, 62(2): 740–752.
Dissertations Supervised
Name: Jian, Zhe
Graduation Date: 2017/May
Thesis Title: Multimodal Freight Transportation Problem: Model, Algorithm and Environmental Impacts
(Co-Advised with Lei Lei)
Name: Wang, Zhengwei
Graduation Date: 2016/October
Thesis Title: Coordinated Supplier Selection and Project Scheduling in a Resource-Constrained Construction Supply Chains
(Co-Advised with Lei Lei)
Executive Education Programs
The Artificial Intelligence Mini-MBA is intended to (1) acquaint the leaders of a business enterprise on the general principles of automation (Robotic Process Automation and Artificial Intelligence), (2) apply the principles to address persistent business pain points, (3) augment the capability of technical and human resources, and/or (4) execute a change management/ transformation process.
In Class program:
$4995.00