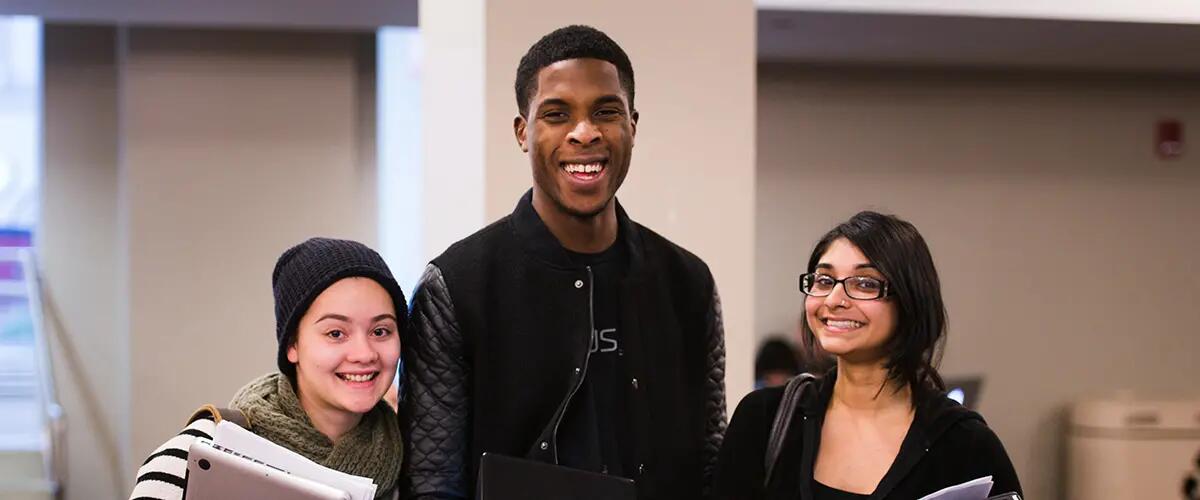 Diversity at Rutgers Business School
Rutgers University, with its 33 schools and colleges, is a leader in diversity. DiversityInc. ranks Rutgers among the nation's top five higher education institutions for commitment to diversity. The Newark Campus has been ranked the nation's most diverse by U.S. News & World Report since 1997.
We are proud of the many facets where diversity is evident at Rutgers Business School. We leverage this strength through our students, faculty and curriculum.
Students and Student Life
Rutgers Business School's MBA student body comprises 33 percent women, 11 percent minorities, and 33 countries are represented. There are more than 100 countries represented in our Newark undergraduate program.
Graduate clubs include the Black and Hispanic MBA Association, International Students Organization, and Rutgers Women in Business. Undergraduate clubs include the Association of Latino Professionals in Finance and Accounting, ASCEND – Pan-Asian Leaders in Finance and Accounting, and the National Association of Black Accountants.
The University's Center for Social Justice Education and LGBT Communities (SJE) serves students on all campuses and provides educational, social and leadership development programs and activities for LGBT students and allies.
Students can avail themselves to a range of cultural, recreational and other entertaining diversions in the area, including theaters, arenas and art galleries in New Brunswick, Newark and nearby New York City.
MBA alum Andy Myers said the diversity that students benefit from at Rutgers goes beyond nationality and ethnicity. "One of the things I love about the school is it's also diverse in terms of work backgrounds," Myers said. "We have media. We have banking. We have marketing and advertising. We have people from theater. You really get a broader perspective."
Faculty and Research
Rutgers Business School has nearly 200 full-time faculty members with teaching and research interests spanning across the wide spectrum of business disciplines. Here is just a sample:
Dr. Nancy DiTomaso, professor of Management & Global Business, recently published a book entitled The American Non-dilemma about how people think about issues of inequality.
Dr. Jeffrey Robinson is associate professor and recipient of the Aspen Institute's Social Impact Faculty Pioneer Award. He is also founding assistant director of The Center for Urban Entrepreneurship & Economic Development.
Curriculum
Rutgers Business School has a strong curriculum which provides students with the skills that they need to become successful executives and world-class leaders.  The foundation courses include accounting, management and others that focus on teaching both "hard skills" and "soft skills."  Beyond the foundation courses, several electives highlight the importance of students grasping the nature of diversity in the workplace.
Elective courses include "Managing U.S. Workforce Diversity" and "Multi-National Cross-Cultural Management,"  "Women in Business Leadership," "Multicultural Markets & Urban Developments" and "Social Entrepreneurship." Rutgers also offers Study Abroad opportunities in China, India and other countries.

Office of Inclusion, Diversity, Equity and Access
The Office of Inclusion, Diversity, Equity and Access (RBS IDEA Office) helps to create and sustain a diverse, inclusive, and welcoming environment for all RBS community members, including students, faculty, staff, and alumni, where we can study, learn and prepare future leaders to courageously serve the needs of our diverse society.
Learn More about the RBS IDEA Office
Make a Gift
The world continues to progress into an increasingly more diverse place. RBS is committed to assuring this same diversity also be reflected in our student body, faculty, staff and partners. Funding and scholarships are critical tools that RBS utilizes to attract, retain, and graduate diverse groups of students to become our future business leaders. We cannot accomplish this without your generous support. Giving to diversity student programs at RBS is very simple and makes a lifelong difference in the lives of students. To give your support today, please follow these steps:
Click the donate link below.
Enter your donation amount in the field provided.
Next, under the "I would like to give to" section please be sure to enter the amount again in the field next to RBS Diversity Programs Fund and fill out your personal information as indicated.