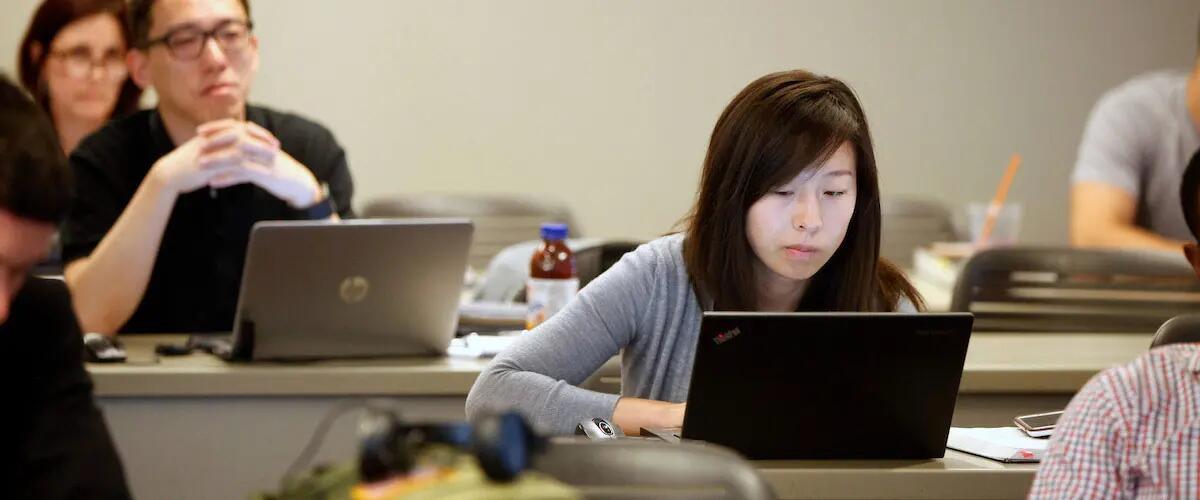 Master of Supply Chain Analytics Curriculum
For supply chains to run smoothly, they need savvy, data-driven decision makers who can communicate well. Our curriculum is built to help you be that person. You'll find the ideal balance of hard, analytical data skills and generalized supply chain domain knowledge, as well as leadership and management opportunities with practical application. Some courses also offer you the opportunity to earn professionally-recognized certificates that will help advance your career.
You'll master analytics, learn to navigate the industry and become a data-driven leader.
Offered in lock-step format for full-time students, and flexible scheduling for part-time students, you'll be able to finish your degree in as quickly as 1 year.
Curriculum Highlights
Students must complete 33 credits (11 courses) including:
3 foundation courses
1 experiential learning course
7 elective courses
Full-time students can graduate in 2-3 semesters (1-1.5 years) depending on the number of courses taken per semester. Part-time students are suggested to take 2 courses per semester, and graduate in 3 years.
Credit Waiver: Subject to approval by the program director, students can be granted a course waiver up to 3credits. The waiver should be requested toward a specific course in the program curriculum.
Students can be granted a waiver of up to 3 credits, for the following:
Prior comparable course work at the graduate level (preferably from AACSB-accredited schools). The student should provide a detailed syllabus of the comparable course and prove the similarity in contents covered. A transcript showing the grade of the comparable course should also be provided.
At least three years of work experience in a relevant area. The student should provide a detailed resume and a supporting letter from his/her employer to prove the relevant work experience.
Professional certification in a relevant area.The student should provide a relevant professional certificate, and prove that the contents covered in the certificate exam/training is similar to the contents covered in the correspondingly course.
Course Details
Core Courses
(3 courses, 3 credits each, required)
Supply Chain Management Strategies (22:799:607)
Provides an understanding of the variety and the importance of critical decisions encountered in the practice of an integrated supply chain. Offers important quantitative techniques needed for continuous improvement of a company's operation efficiency, product/service quality, and strategic position in the global marketplace. Team projects based on real-world supply chain managerial issues will be assigned.
Operations Analysis (22:799:580/586)
Covers fundamentals of performance analysis for various operational issues encountered in real-life supply chain processes. The major topics include demand forecasting techniques, sales and operations planning (SOP), mathematical programming applications and spreadsheet solutions, supply chain inventory planning, uncertainty, safety stock management, project resource allocation and risk analysis, network design and facility location selections, and computer simulation and quality management. Uses Harvard Business Cases in developing cost-effective solutions for continuous improvement of a company's operational efficiency and strategic position in today's highly dynamic and competitive marketplace. The objective of the course is to help students to develop analytical thinking skills and to build the knowledge of business performance optimization toward operational excellence of supply chains.
Supply Chain Analytics (22:799:601)
This course showcases real life applications of data analytics (descriptive, predictive and prescriptive) in various fields of supply chain management, such as forecasting and inventory management, sales and operations planning, transportation, logistics and fulfillment, purchasing and supply management, supply chain risk management, etc. in manufacturing, trade and service industries. Students learn to define the right data set, ask the right questions to drive supply chain efficiency and business value, and use the right models and tools to develop data-driven decisions. Topics includes demand forecasting for new products, product/service-line selection and rationalization, transportation analytics, fulfillment diagnostics in logistics systems, sales and operations analytics in production, inventory and resource management, spend analytics and supplier selection, supply chain risk management, and product development analytics. Software packages such as R and Python will be utilized.
Experiential Learning Courses
(choose 1 of the following 3 courses)
Industry Client Projects (22:799:650)
This course builds upon academic SCM learnings by working on "real life" supply chain management projects requested by our Rutgers Center for Supply Chain Management Advisory Board companies and corporate partners. Students in this course must identify and understand the key issues, formulate models, complete analyses, and apply SCM course learnings to solve real-world problems. Faculty members whose expertise lies in a particular area are available to assist students with complexities of the projects. The projects change each semester depending on the current requirements of the clients, but always focus on specific issues within the supply chain. Client visits may be included to better understand the project scope and work with the company executives. The culmination of the project will be a formal presentation to the client's SCM executives and management team along with delivery of a final report. The presentation and report will include the team's approach, data analysis, findings and recommendations.
MSCA Independent Study (22:799:649)
To receive credits for Independent Study, the student should contact a faculty to supervise the study, and a proposal needs to be submitted to register for the course. The topic of the study should be related to supply chain and data analytics. A final report, final presentation, or other forms of assessment should be used by the faculty to evaluate the student performance.
MSCA Internship/Experiential Learning (22:799:630; 0 credit) + 1 additional elective course (3 credits)
The MSCA internship program is an integral and important enhancement to class lectures, readings, and student assignments. It is designed to provide students practical experience in supply chain and analytics field with the opportunity to experience classroom theory in the business environment. The student will work under the supervision of an approved employer within a specific department and will be evaluated by both the employer and MSCA director.
Elective Courses
(choose 7 as outlined of the following courses, 3 credits each)
Supply Chain Elective Courses (Choose at least 2)
Global Procurement and Supply Management (22:799:608)
Supply Management is the overarching cross-functional management framework that integrates all activities related to the acquisition and management of resources for the organization. It includes global sourcing, supplier relationship management, procurement and purchasing. Supply Management is now recognized as a key strategic initiative to create value for the corporation. This course reviews the demands placed on today's procurement and supply management from the firm's stakeholders and demonstrates their impact on the competitive success and profitability of the organization. Furthermore it describes ethical, contractual and legal issues faced by procurement, and recognizes the expanding strategic nature of supply management. The major areas covered are procurement as a functional activity, and how effective supply management impacts on total quality, cost, delivery, technology, and responsiveness to the needs of a firm's external customers (insourcing/outsourcing, supplier evaluation, supplier development, and global sourcing). We introduce the tools, techniques, and approaches for managing the procurement and sourcing process (cost/price analysis, negotiations, and contract management). Case studies and outside speakers will be used to illustrate the issues discussed in lectures.
Supply Chain Finance (22:799:640)
Supply chain management is an interdisciplinary field in which knowledge of techniques of financial analysis as they relate to the SC context is one valuable aspect of a manager's toolkit. This course is not an overall introduction to financial management. Rather, it is a focused examination of SC in the finance context in general and the financial services and operations context in particular, with an emphasis on cash management strategies, working capital management strategies, and financial management software applications. While some quantification is important, it is not a predominantly quantitative course.
Supply Chain Solution w/ SAP I (22:799:659)
Provides a technical overview of Enterprise Resource Planning Systems and their role within an organization. It introduces key concepts of integrated information systems and explains why such systems are valuable to businesses. SAP ECC is introduced to illustrate the concepts, fundamentals, framework, general information, technology context, technological infrastructure, and integration of enterprise-wide business applications. In addition to lectures, students will be guided through several hands-on activities of various business processes in SAP ECC. The objective of this course is to help students: 1) master the basic concepts, architecture and terminology of an ERP system; 2) understand the need and examine the capabilities of ERP systems; and 3) illustrate how integrated information systems can help a company prosper.
Introduction to Project Management (22:799:661)
Project Management is one of the most critical elements in the competitiveness and growth of organizations. Projects are the drivers of innovation and change and no organization can survive today without projects. Effective leaders in today's leading companies must be effective project managers. Furthermore, almost every MBA graduate may sooner or later be asked to manage a project. This course presents the classical foundations of project management and introduces students to the world of real-life project problems. Upon completion of this course, students will understand the basic concepts and critical factors of initiating, planning, organizing, controlling, and running a project. They will be able to develop a project plan, build a project team and adapt their project management style to the unique project characteristics. Course topics will include: project initiation, project success dimensions, integration, scope, planning, controlling and monitoring, time, cost and risk management, project organization, project teamwork, and project adaptation. The course will also advise students how they could prepare themselves for the PMP Exam of the Project Management Institute in order to become Professional Project Managers.
Demand Management for Value Chain (22:799:663)
This course focuses on the applications of forecasting models and methodologies throughout supply chains, for use in business related activities, including operations, sales, marketing and finance. The course aims to help students understand the significance of matching supply and demand and the development of managerial insights aimed at improving that balance. Several relevant techniques for forecasting, inventory management, and production planning are developed and illustrated. The students are asked to build forecasting and inventory models in Microsoft Excel. The course will focus on by combining theory, examples, practical applications and case studies and consist of a combination of lectures, case presentations, and class discussion.
Lean Six Sigma (22:799:676)
Lean six sigma is an application of the quantitative six sigma quality management techniques within a lean enterprise. The goal is to create an efficient organization that continuously reduces waste and operates at the most efficient levels possible. In addition to covering the fundamentals of Lean and Six Sigma, this course will equip students with other important tools and strategies to improve the performance of business processes. Students will practice solving business problems and improving processes through case studies, team exercises and simulations, self-assessments, and guest lectures. Topics covered will include: six sigma improvement methodology and tools, lean manufacturing tools and approaches, dashboards and other business improvement techniques. Students will also gain an understanding of: the strategic importance of business improvement, the need for fact based management, the significance of change management, and how to deploy these tools in different parts of the value chain.
Analytics Elective Courses (Choose at least 3)
Supply Chain Artificial Intelligence (22:799:641)
In the last several decades, the supply chain area has become increasingly data-driven. Traditional statistical techniques have helped supply chain planners improve operations efficiency (e.g., a better match between demand and supply via forecasting). With the growth of data accessibility in the e-commerce age and the power of new programming platforms, innovative AI methods have emerged to help supply chain managers organize/analyze data and derive actionable insights. This SCM graduate elective course will help train students who are interested in connecting AI with supply chain applications and integrating automated data processing tools with supply chain management.
Business Intelligence for Supply Chain and Marketing (22:799:670)
Business intelligence (BI) is a set of technologies and processes that allow people at all levels of an organization to access, interact with and analyze data. In a data-rich business environment, BI can help a management team to operate efficiently, discover new market opportunities and improve business performance. This course focuses on data science techniques, analytical toolboxes and business applications in supply chain and marketing management.
The course is structured as a combination of lectures, in-class case studies and group projects. All data analysis, optimization and simulation models are implemented in R (https://cran.r-project.org/ and https://www.rstudio.com/). R is a powerful, extensible and free programming language, which is gaining popularity for data scientists and business analysts. Students are expected to learn how to integrate BI with supply chain and marketing management, improve their data/analytical skills and deepen their knowledge of supply chain and marketing science from a quantitative perspective.
Data Analysis and Decision Making (22:544:575)
Introduces statistics as applied to managerial problems. Emphasis is on conceptual understanding as well as conducting statistical analyses. Students learn the limitations and potential of statistics, gain hands-on experience using Excel, as well as comprehensive packages, such as R or SAS. Topics include descriptive statistics, continuous distributions, confidence intervals for means and proportions, and regression. Application areas include finance, operations, and marketing. Introduces the basic concepts of model building and its role in rational decision making. Knowledge of specific modeling techniques, such as linear and nonlinear programming, decision analysis, and simulation, along with some insight into their practical application is acquired. Students are encouraged to take an analytic view of decision making by formalizing trade-offs, specifying constraints, providing for uncertainty, and performing sensitivity analyses. Students form groups to collect and analyze data, and to write and present a final report.
Business Data Management (22:544:603)
The purpose of this course is to provide students with an understanding of database technology and its application in managing data resources. The conceptual, logical, and physical design of databases will be analyzed. A database management system will be used as a vehicle for illustrating some of the concepts discussed in the course.
Business Forecasting (22:544:608)
Innovative businesses are using data to make better predictions about their business environment, their business future, and the future of their global competitors. "Big Data" is a business term frequently used these days. Businesses are storing and collecting more data than ever before to gain a competitive edge. McKinsey predicts that data will grow 10-fold by 2015 and 100-fold by 2020. This will result in businesses looking for better data scientists to help them leverage "Big Data" and gain a competitive edge. In this class, students will use the level R programming language to become data scientists and business forecasters. Specifically, students will learn how to: Understand Data, Analyze Data, Apply various forecasting methods, Leverage forecasts to make decisions. Communicate forecasts and recommendations to management. No prior knowledge of R programming is required. You will learn and become proficient in R and obtain hands-on experience of its forecasting package through case studies and real-life examples during each lecture. You will also learn to better communicate your forecast and strengthen your analytical skills. The practical knowledge gained upon completion of this course will help in careers ranging from business analytics to marketing, accounting, financial services, and more.
Analytics for Business Intelligence (22:544:641)
This course is intended for business students of data mining [1] techniques with these goals: 1) To provide the key methods of classification, prediction, reduction, and exploration that are at the heart of data mining; 2) To provide business decision-making context for these methods; 3) Using real business cases, to illustrate the application and interpretation of these methods. The course will cover Classification (e.g. helps banks to determine who will default on a loan, or email filters to determine which emails are spam), Clustering (like classification, but groups are not predefined, as in legitimate vs. spam email, so the algorithm will try to group similar email together for instance), Regression (e.g. how ad campaigns in offline media such as print, audio and TV affect online interest in the advertiser's brand), Association Rule Learning (enables merchants, for example Amazon, to determine which items customers tend to buy together and make suggestions for further purchase, otherwise known as "market basket analysis"); and Neural Nets (helps financial agents to model complex markets for high frequency trading; helps Pandora adapt to your personal radio station). The pedagogical style will use business cases so the student can follow along and implement the algorithms on his or her own with a very shallow learning curve. In addition, students will work in teams to mine their own data. Individual students may request to work on their own company data. The computation platform with be the R Programming language and the specialized packages in data mining.
Data Mining (22:544:650)
The key objectives of this course are two-fold: (1) to teach the fundamental concepts of data mining and (2) to provide extensive hands-on experience in applying the concepts to real world applications. The core topics to be covered in this course include classification, clustering, association analysis, and anomaly/novelty detection. This course consists of about 13 weeks of lecture, followed by 2 weeks of project presentations by students who will be responsible for developing and/or applying data mining techniques to applications such as intrusion detection, Web usage analysis, financial data analysis, text mining, bioinformatics, systems management, Earth Science, and other scientific and engineering areas. At the end of this course, students are expected to possess the fundamental skills needed to conduct their own research in data mining or to apply data mining techniques to their own research fields.
Data Analysis and Visualization (22:544:646)
The course will enable students to develop critical business data presentation skills to ensure that the visualizations add to the effective interpretation and explanation of the underlying data without undue strain to the consumer of the information; ensure the visualizations enable the effective detection of trends that can be easily connected to real world events to help explain relationships and interrelationships; learn appropriate and minimal use of color to maximize its impact. Spatial data analysis tools will be introduced and advanced graphical programming skills will be developed using R graphics packages.
Business Analytics Programming (22:544:660)
Our goal in this course is to learn the principles of programming for business analytics using the Python and R programming languages. Programming is the fundamental background skill based on which all Information Systems are built. Even if it is not your goal to become a software developer, it is essential for an MBA graduate with concentration in Analytics and Information Management to possess a working knowledge of programming and fundamental insights into what a programmer does. This course provides you with this essential knowledge.
Enrichment Courses
Valuation of New Business Ventures (22:799:648)
Knowledge contained in the supply chain can be used to foster new demand-driven product innovations and to initiate new ventures. Virtual company teams are formed to plan the design, assembly, marketing and distribution of new innovative products. A business plan will be formed by each virtual company team. The business plan will include: a marketing plan; financial analysis including income statements and balance sheets, procurement, supplier alliances, logistics and fulfillment plans for the products to be produced. A design plan for the proposed new product will also be produced. The expected outcome of each project is a marketable new product together with a design of its supply chain that is resilient, profitable, cost-effective, and responsive to the highly dynamic market. A large number of project opportunities will be encountered as the participants work through the introductory material.
Supply Chain Sustainability (22:799:672)
Global experience and examples show how sustainability criteria (using Sustainable Development as a point of reference) in the 'upstream' supply chain management and procurement process and decision-making of public and private agencies, organizations and corporate entities can both improve environmental performance, while addressing ethics, social regeneration and economic concerns (e.g. the 'triple bottom-line'). This course will allow students to participate in applied research (real-time programs currently being developed in the U.S., and around the world) to explore the application of environmentally responsible supply chain and 'green' procurement principles across multiple public and private sectors which includes: designing supply chain management and procurement schemes which address environmental, social and ethical considerations in organizational policy development as well as the procurement process. Our goal in this class is to bring business students (and other academic students) together with different experiences to examine environmental management from a supply chain management perspective. It is our intention to provide each of you with an opportunity to apply your general background knowledge and specific expertise of your foci to a single issue that is relevant not only to the local area but also to the global environment as well.
Global Logistics Management (22:799:679)
Logistics and Transportation Management is designed to provide students with an understanding of the strategic and tactical elements of logistics and transportation management. This course will examine various forms of transportation and how the supply chain can be structured to supply logistics and transportation solutions. In addition to studying transportation modal choices, logistics and transportation infrastructure in the U.S. and around the world will be discussed. This course will provide students with a thorough overview of the concepts of logistics management and transportation. We will take a total systems approach to the management of all those activities involved in physically moving and storing materials and information through the supply chain. Improved management of logistics activities offers significant potential for improving corporate profitability and return on assets. Students will learn how to make tradeoffs using logistics cost modeling techniques. The course focuses on strategic, management, and operational design issues. While some quantification is important, it is not a predominantly quantitative course.
Negotiation (22:620:617)
Provides an introduction to the principles, practice, and processes of negotiations as a management skill with bosses, subordinates, peers, clients, and customers. Discussion of the preparation and planning for negotiation, the strategy and tactics of negotiation, issues regarding both distributive and integrative bargaining, and ethics in negotiation.
Marketing Management (22:630:586)
The purpose of the course is to offer an understanding of the nature and role of marketing in the firm and in the society. Students will gain knowledge regarding the marketing decisions of price, place, promotion, product, develop an understanding of consumer behavior, market research, social and cultural factors affecting marketing. The course will expose students to a series of marketing principals, frameworks, and analyses. These techniques will be applied to a series of case studies to reinforce the concepts. At the end of the course the students should be able to develop effective marketing plans for products and services.
Business-to-Business Marketing (22:630:606)
Introduces business-to-business marketing from the perspective of both the seller and the buyer. Covers marketing strategy and product/ market planning systems; selling and management of the sales force; marketing research and competitive intelligence; pricing and promotion; management of auxiliary services; and industrial buying behavior.
Machine Learning (26:198:622)
Many successful applications of machine learning exist already, including systems that analyze past sales data to predict customer behavior, identify fraudulent credit card transactions, and recognize faces or spoken speech. This course will cover supervised learning, Bayesian decision theory, parametric methods, multivariate methods, dimensionality reduction, clustering, nonparametric methods, decision trees, linear discrimination, multilayer perceptrons, hidden Markov models, assessing and comparing classification algorithms, and combining multiple learners.
Discrete Optimization (26:711:653)
Combinatorial and discrete optimization problems on graphs and networks, knapsack, cutting stock, set covering and packing problems: theoretical properties, algorithms, complexity. Branch and bound methods, cuts, lifting. Applications.