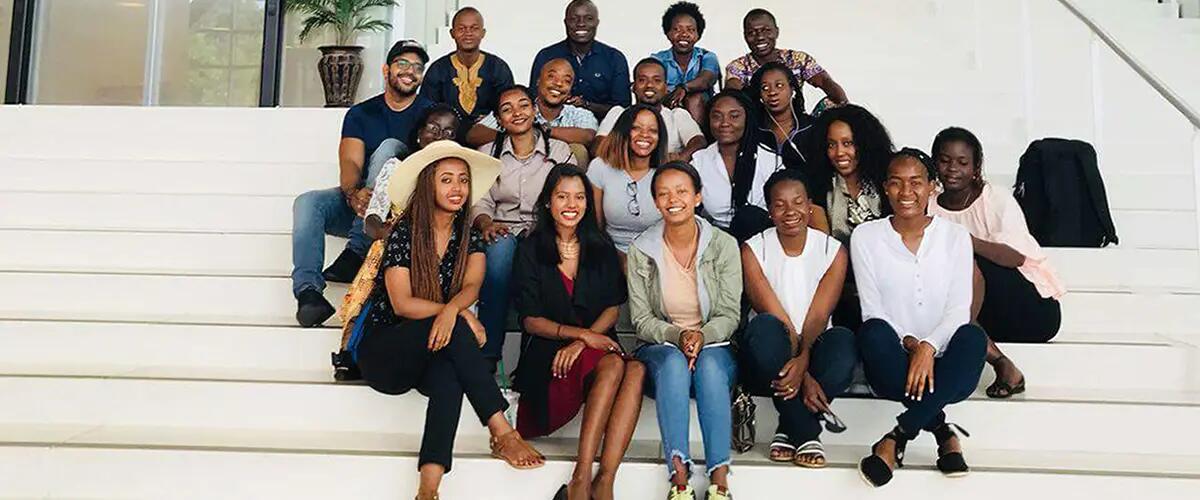 2018 Mandela Washington Fellows leave mark on Rutgers University
By Matheus Hamutenya
Matheus Hamutenya is a journalist at New Era Newspaper where he reports on news in the Hardap and Kharas regions of Namibia. He was among 50 young African professionals who participated as a 2018 Mandela Washington Fellowship at Rutgers University, which included programs and events at Rutgers Business School. He wrote these articles about the fellowship.
New Brunswick - Rutgers University Vice President for Global Affairs Eric Garfunkel said hosting the Mandela Washington Fellows over the years has been a pleasure and this year was no different.
Speaking at a recent farewell dinner hosted by the university for the 50 fellows from across Africa who were placed at the university in the Business and Entrepreneurship (BE) and Civic Leadership (CL) institutes for six weeks, the vice president said Rutgers has always welcomed the fellows with open arms.
Garfunkel said he hopes the fellows take the knowledge they've gained in the course work and use it to make meaningful contributions in their home countries. "I really hope you take some of the ideas back home and put them to practical use, and we hope to hear these testimonies soon," he said.
He urged the fellows to return to Rutgers University, saying the door is always open for study opportunities "We hope you will stay connected not only with us but among yourselves as alumni," he said.
The fellowship at Rutgers University would not have been as wonderful without the people committed to the program for both Business and Entrepreneurship and Civic Leadership, including Johanna Bernstein who is the administrative director for the Business and Entrepreneurship Institute and a woman most fellows found a friend and a mother figure.
"You guys have formed your own group and you take care of each other, which happened to a certain extent in the other groups before, but you all really seem to like to be together, it's a beautiful thing to see," she said.
She added that she wants each and every fellow to realize that of all the networks formed in the U.S., the fellows represent the best resource for one another and at Rutgers, the university remains open for any resource needed.
"You are part of the Rutgers family now," she said.
Kevin Lyons, an associate professor of Supply Chain Management at Rutgers Business School who was instrumental in setting up the curriculum and teaching the Business and Entrepreneurship Institute, also echoed Bernstein's sentiments about this year's group, saying the cohort complimented and supported each other well.
"I think you are little more cohesive and you complement each other, understanding that you each have different projects and different goals," he said. "Yet, you have managed to find time to support each other's goals and offered advice that comes with experience."  
He added that if there is one thing he wants the fellows to take away from the fellowship, it's that the U.S. is fully committed to working with Africa, and that there is a true partnership that can be developed. He said he wants all of the fellows to help to make the partnership a reality.
During the farewell dinner, the fellows received their certificates and then, they danced the night away and shared last moments with other fellows and everyone at Rutgers who has become family through the Mandela Washington Fellowship.
Mandela Washington Fellowship: An experience almost impossible to put into words  
After six weeks at Rutgers University, many of the Mandela Washington Fellows simply could not find the words to describe their experiences in the United States.
The fellowship immersed them in American culture and business. They were introduced to new people and new ways of living. They had opportunities to visit different sites such as the United Nations headquarters in New York City, the Jersey Shore, Thomas Edison Labs, and an African burial ground in New York City. They attended a New York Mets baseball game and networking sessions at Rutgers, Johnson & Johnson and Aero Farms.
The Mandela Washington Fellowship is the flagship program of the Young African Leaders Initiative, and since 2014 the program has empowered young professionals between the ages of 25 to 35 from 49 Sub-Saharan Africa nations.
Each year, a new group is selected to complete academic coursework, leadership training and to expand their networks. The fellows are placed at universities across the U.S. This year, Rutgers University in New Brunswick again hosted two cohorts of 25 each in the Civic Leadership and Business and Entrepreneurship institutes.
As the program neared the end, it was clear from a chat with some of the fellows, that the experience could not easily be put into words. "Wow" is a word that popped up many times as fellows took a deep breath to gather the right words to describe their journeys.
For Nigerian fellow Emmanuel Nnadi, a practicing medical laboratory scientist and the director and founder of Bonitas Medical Diagnostics, a Nigerian healthcare start-up, the six weeks was life-changing and opened many opportunities and expanded his network.
"It is a life changing experience, it has helped me to finally decide on the path to take, it has also widened my scope of other opportunities that I can tap into apart from the health sector," he said of the program.
Nnadi further said his biggest take away from the six weeks in the U.S. is chance to work and partner with other people from Africa and the rest of the world. He said he has been opened to a new way of thinking and new ways of seeing things. When he goes back home, he said he aims to use everything gained to grow his businesses and venture into new business.
He added that as a young person, he is usually restricted by resources, but the fellowship has changed this, as he will no longer rely on resources from within his country but he can collaborate and use resources from other countries.
"Now I am no longer limited by the resources in my country, because I now have the contacts to collaborate with people from other countries, so building contacts and relationships is key, because if we work alone we go faster, but if we work as a group we go further," he stated.
Thandi Palai, an architect and fashion designer from Botswana, echoed Nnadi saying the experience was revolutionary, with so much knowledge gained and opportunities presented.
"This has provided me with new knowledge, new ways of thinking, I was craving that and the fellowship has definitely done that," she said. It has just revolutionized my personal way of thinking."
The founder of Lebone Architects based in Botswana, Palai said that meeting other young African leaders and the networks established in the U.S. was the highlight of her six weeks. She said the fellowship had a huge impact on her both personally and as a businessperson. As she heads back home, she said she is positive it will help her grow.
"On a personal point of view, the six weeks have definitely provided a good platform to visualize my ideas more and make all of my ideas come to life. I am inspired and excited about the future, and from a business perspective I want to grow my business and extend our services to other countries," she said.
John Richard, a fellow from Kenya, could not have been more excited since the fellowship was the first time he has ever left his country. He said it was quite an experience, and he loved every minute of it.
Africa has a bright future and there is hope, saying as he rubbed shoulders with other African leaders, he learned a lot from each and every one of them, and he realized there are young people out there doing amazing things.
"Everyone is doing something to make Africa better and each of us have lit a candle in our corner of the continent and one day the flames from the candle will burst into a huge fire and the world will stand still and notice the great revolution in Africa," he said.
He added that the courses he completed in the Civic Leadership Institute have given him skills to help him and his organization grow.
"One of the main problems we face is a lack of resources, but I realize that it is not even that, it is mostly because we do not have capacity," he said, "and I think that is a gap that this fellowship was able to bridge."
Press: For all media inquiries see our Media Kit