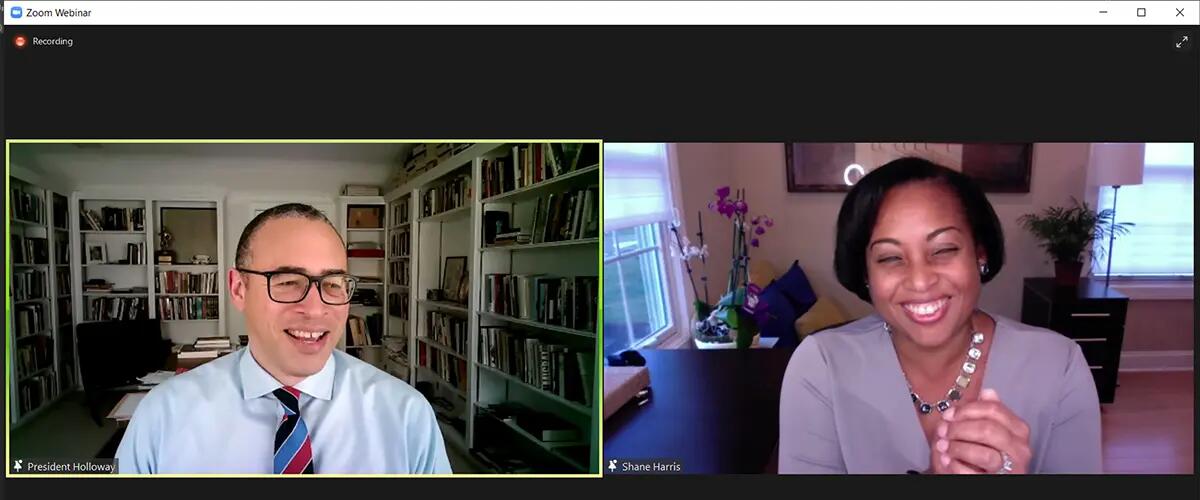 Prudential-Rutgers Connection 10th annual event "Doing Our Part Together"
The Prudential-Rutgers Connection 10th annual event "Doing Our Part Together" highlighted the collaboration and community engagement between Prudential Financial, Rutgers University-Newark, and the City of Newark.  The virtual presentation focused on racial and social inequality and how higher education and the business community can improve equity outcomes. 
Robert Falzon, vice chairman, Prudential Financial, Inc., opened this last of the "10 for 10 virtual events" Prudential held across Rutgers University in 2020.  The Rutgers Business School event had the largest turnout with 250 people.  Over 1,000 alumni are actively engaged in the partnership.  Falzon provided a high-level review of the corporate-university-community partnership's accomplishments.  Founded and headquartered in Newark, Prudential has continuously demonstrated its commitment to provide local Newark students with access to the knowledge and resources they need to succeed.
"Prudential and Rutgers have a deep and trusted partnership with common values focused on bringing opportunities to students, alumni, and the communities that we serve," said Jennifer Rodrigues, VP, ISG Chief of Staff and Business Ethics Officer, Prudential Individual Solutions Group and Chair of the Finance & Economics Advisory Board at Rutgers Business School. "Together, we have made significant progress, and I continue to be energized and encouraged with the impact our efforts will have in the future."
In May 2019, Prudential Financial committed $10 million to Rutgers University-Newark – the largest donation ever made to the university – to create the Prudential Scholars Program for Newark residents.  The gift created Newark residents' cohorts in the Honors Living-Learning Community (HLLC) called Prudential Scholars and provides them with full scholarships to cover tuition, fees, room, and board as they study full-time. Scholars have access to resources to build entrepreneurial skills and social networks to become positive change agents in the city.
Since 2013, Rutgers University–Newark's enrollment of Newark residents has grown by 87 percent, and half of 220 HLLC Scholars are Newark residents.
Following Falzon's comments, Dr. Jonathan Holloway, president, Rutgers University, explained how the Prudential Scholars Program for Newark residents exemplifies the "beloved community" he wants for Rutgers.
"A beloved community is not a place where everyone agrees with one another," said Holloway. "That would be a boring community. Rather, I have spoken about the value of a true marketplace of ideas and opinions and the need, often an uncomfortable one, to listen to others with whom you may have a deep disagreement. This is powerful and can be transformative."
Holloway emphasized that diverse ideas and perspectives solve problems that homogenous thinking cannot.
Shané Harris, vice president, social responsibility and partnerships, Prudential Financial, Inc., posed questions to Holloway and facilitated a lively discussion. Harris also moderated questions from the 250 participants connected to the webinar.
Ivan Brick, Dean's Professor of Business and Chair, Finance & Economics Department, concluded the webinar by presenting Dr. Lei Lei, Dean, Rutgers Business School, with the Prudential Ivan Brick Award for her leadership working with Prudential to improve students' lives and the Newark community.
Press: For all media inquiries see our Media Kit