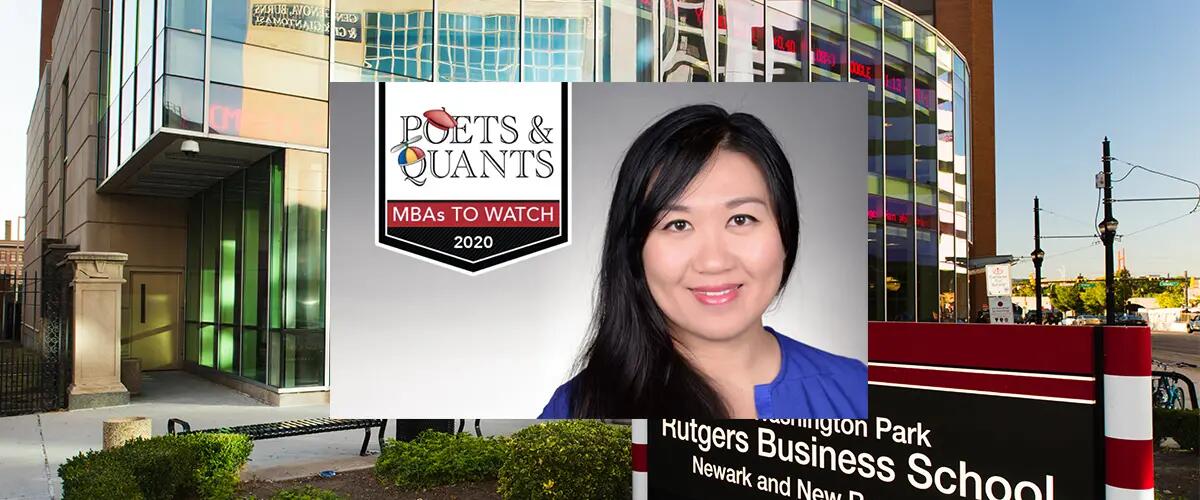 Poets & Quants 2020 MBAs To Watch: Leah Ku
This story written by Jeff Schmitt originally appeared on Poets&Quants, May 30, 2020.
Leah Ku
Rutgers Business School
"Community-builder and class mom. I can't stand it when someone feels left out."
Hometown: New Providence, New Jersey
Fun fact about yourself: I know how to make the vegan version of most non-meat items. Milk, eggs, cheese – even mayonnaise!
Undergraduate School and Degree: University at Buffalo, Doctor of Pharmacy (PharmD)
(I did an accelerated program, and as a result, do not have a bachelor's degree.)
Where was the last place you worked before enrolling in business school? Celgene, Patient Support Specialist
Where did you intern during the summer of 2019? Bristol-Myers Squibb, Princeton, NJ
Where will you be working after graduation? Bristol-Myers Squibb, Commercial Leadership Development Program Associate
Community Work and Leadership Roles in Business School:  
Co-President, Pharmaceutical Management Club
Lead, MBA Student Mentoring Program
Which academic or extracurricular achievement are you most proud of during business school? Planning, marketing, and co-chairing the 8th annual Rutgers MBA BioPharma Case Competition. I'm most proud of this event because of the sheer number of moving parts. There was a large team of us organizing everything from day-of logistics to breakfast and lunch menus. Additionally, I reached out to numerous MBA programs to invite them to apply to the case competition required meticulous attention to detail. We couldn't have successfully accomplished the event without the support of the school, as well as the efforts of all our volunteers.
What achievement are you most proud of in your professional career? In my most recent job prior to business school, I had to develop trust with patients and healthcare providers very quickly over the phone. It was very different from the in-person experience of working as a pharmacist, but the experience translated seamlessly across to my new setting. People need to feel that you care before they share honestly and allow you to help them. I'm proud of the fact that I was able to develop a good rapport with patients and providers, whom I'm told, asked about me long after I left.
Who was your favorite MBA professor? Professor Gary Branning – His classes are some of the most engaging and applicable I have taken at RBS. He has a huge network within the pharmaceutical industry and always brings in exciting guest speakers to make the course material come alive. Additionally, even though he maintains a full-time job outside of teaching, he always makes himself available for additional questions or career advice.
What was your favorite MBA event or tradition at your business school? My favorite tradition is one that began organically amongst ourselves. Every summer, we visit the home countries of one of our classmates. Last summer, it was Colombia and we explored the beaches of the Rosario Islands, Cartagena, Medellin, and Bogota. This reflects the curiosity and adventurous spirit of Rutgers Business School (RBS) MBA's pretty accurately.
Why did you choose this business school? I chose RBS for its reputation within the pharmaceutical industry for producing high caliber leaders. It also didn't hurt that all my target companies came to campus to recruit MBA talent.
What is your best advice to an applicant hoping to get into your school's MBA program? Don't underestimate the value of soft skills. Yes, it's important to have mastery over class subject material, but it's even more important to be able to work with people you don't know very well yet, especially when disagreements arise.
What is the biggest myth about your school? One of the biggest myths I heard prior to attending was that there wasn't a strong sense of community since everyone commutes. While we do spend a significant amount of time commuting, I've found a sense of tight-knit community through the various club and networking events, as well as exploring all the restaurants downtown Newark has to offer.
Looking back over your MBA experience, what is the one thing you'd do differently and why? I would have tried to live closer to campus to save time on commuting time and perhaps gotten a part-time research assistant position. There is some fascinating research being conducted in the marketing department in the areas of biases and decision-making, both of which I have a strong interest.
Which MBA classmate do you most admire? Marcos Londono – He has lived through some daunting times in his homeland, Venezuela, and still maintained a positive attitude during a particularly challenging recruiting season (very few employers were willing to sponsor) and ended up with an offer from a great consulting firm.
Who most influenced your decision to pursue business in college? My best friend's mom most influenced my decision to pursue business as my second career. I was very conflicted about leaving a comfortable position as a pharmacist, and she encouraged me to invest in myself. She's also someone who switched careers later in life and is doing spectacularly well at her second profession (real estate).
What are the top two items on your professional bucket list?
Hire, mentor, and promote a direct report.
Live abroad and run a division of whichever company I am employed.
In one sentence, how would you like your peers to remember you? She made sure everyone felt seen and heard.
Hobbies? Dogspotting, hiking, and thrift store shopping
What made Leah such an invaluable addition to the Class of 2020?
"I have known Leah for the past two years in her capacity as a student in the two courses I teach at Rutgers Business School and her role as a student leader of the Pharmaceutical Management Club (PMC). Within the classroom, her attentiveness and insightful questions show that she is genuinely interested in the healthcare industry. The premise for my classes is to develop thinkers that see the complexities of healthcare as an invitation to develop solutions. Her passion to truly understand the complexities of the healthcare industry was infectious and enriched the learning experience for all students in the pharmaceutical management concentration.
Outside of the classroom, I have had the pleasure to collaborate with Leah on several PMC events. Leah is not one to openly seek the spotlight, instead she displays servant leadership through the way she attends to details and inclusion of all those around her. Using her skills to collaborate across students, faculty, and guest speakers quietly engaged everyone to deliver beyond expectations. In addition, she always serves as a rational voice advocating for inclusion and diversity of thought in the speaker panels, we curate. Most impressive is Leah's desire to constantly expand her circle of inclusion demonstrated through her leadership of the MBA student mentoring program, which pairs incoming first-years with second-year mentors based on concentration and shared interests. Her appointment to spearhead this wildly popular program was no doubt due to her ability to cultivate community wherever she is."
Gary Branning
Professor, Pharmaceutical Management
Press: For all media inquiries see our Media Kit