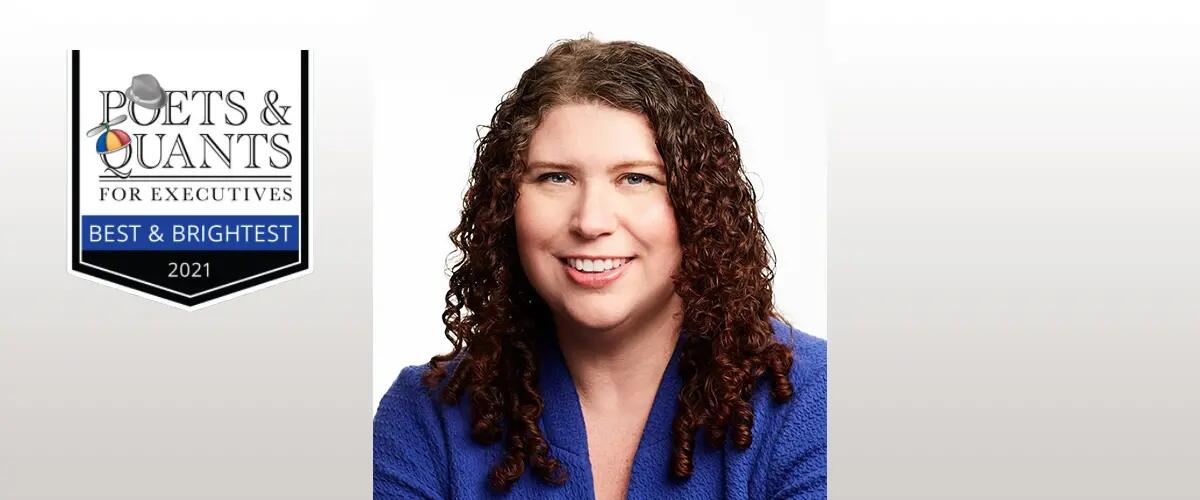 2021 Best & Brightest EMBAs: Denise Weber
This profile was included among The Best & Brightest Executive MBAs of 2021 published by Poets & Quants, September 3, 2021.
Denise Weber
Rutgers Business School Executive MBA Program
"Advocate for talent and diverse & inclusive workplaces. Loves stories, podcasts, the outdoors, dogs and being a mom."
Hometown: Paramus, NJ
Family Members: Allyson Weber (wife) and two daughters: Raya (9), Fiona (6)
Fun fact about yourself: I started my undergrad program with a major in vocal music performance. Though these days I only sing to my kids and the imaginary audience in my car.
Undergraduate School and Degree: The College of New Jersey, B.A. English
Where are you currently working? Johnson & Johnson. Head of Human Resources (HR), Cardiovascular Metabolism & Janssen Patient Engagement and Customer Solutions
Extracurricular Activities, Community Work and Leadership Roles: My family organizes an annual walk in Paramus, NJ to support the Lustgarten Foundation for Pancreatic Cancer Research, in memory of my father, Ron Weber. Although we weren't able to have the event last year, we've been going strong for over 11 years, with nearly 1,000 participants and have raised more than $1.2m during that time.
Which academic or extracurricular achievement are you most proud of during business school? I'm most proud of becoming a trusted advisor to many of my classmates. It's been a privilege to offer career and leadership development support to my fellow students that I respect and admire through lunch and learns and individual coaching.
What achievement are you most proud of in your professional career? When I reflect on my career, I am most proud of helping organizations sustain and thrive through significant change and disruption. Sometimes, these experiences have involved building new capability, a shift in strategy, M&A activity, or supporting employees through events or dynamics beyond all of our control, such as the pandemic.
Why did you choose this school's executive MBA program? I chose Rutgers for several reasons – the strong rankings of the executive MBA program, the diversity of students and staff, the program's focus on real-world application, and strong recommendations from previous students.
What is the biggest lesson you gained during your MBA and how did you apply it at work? The biggest lesson I learned is to deliberately prioritize each day where you most need your best energy and focus and ensure that you have planned time to recover. By intentionally planning when I need be at the top of my game and when I need to rest and recover, I can better manage the demands on my time and attention. I apply this to work regularly, focusing on where I need to put my energy in to further important strategic work without getting distracted by the daily swirl of urgent things that come up.
Give us a story during your time as an executive MBA on how you were able to juggle work, family, and education? It's difficult to pick one story – I believe that any sense of balance is achieved more in making intentional, seemingly small daily decisions rather than during big moments. I try not to see myself as "juggling" as it implies that work, school, and family are competing priorities. Instead, I try to focus on how these areas align and how focus in one area supports my goals in the others. For example, as a mom to two young daughters, it was important for me to remember that while school was demanding on my time, I was showing them that it's possible to achieve your goals with focus, practice, and resilience, even during a pandemic. And I know that time with my family helps me to re-charge and gives me the focus and motivation I need to be successful at work and at school.
What advice would you give to a student looking to enter an executive MBA program? Invest deeply in your relationships with classmates and alumni as they are incredible resources. You will learn nearly as much from them as you do in the classroom.
What is the biggest myth about going back to school? The biggest myth was that you will have no time for life outside of class. You will, but you have to be thoughtful about trade-offs.
What was your biggest regret in business school? My biggest regret was that I did not get more face-to-face time with my classmates due to the pandemic. Although, I do feel we adapted well to working virtually, I will treasure our in-person time from the first year.
Which MBA classmate do you most admire? Kavitha Govindarajulu was the first person I met in the program and she continues to impress me. She consistently demonstrates strong leadership even on controversial issues, passionately pursues her academic and career goals with excellence, and has invested significant time in helping others find their voice and in diversity and inclusion efforts at her new job. She does this all while being a great mom to young children. I admire her tenacity, intellect, and generous spirit.
What was the main reason you chose an executive MBA program over part-time or online alternatives? I chose an executive MBA program because I wanted more than a purely academic experience. I sought a more experiential and holistic learning experience that included not only acquiring knowledge but application of key concepts and the opportunity to be part of a cohort of experienced leaders who could learn from each other.
What is your ultimate long-term professional goal? I aspire to be a senior HR leader that enables companies to achieve their mission by designing differentiated talent strategies and building innovative and inclusive cultures.
What made Denise Weber such an invaluable addition to the class of 2021?
"Denise Weber is what I would call a truly "holistic" leader. She has the amazing ability to look at any issue from absolutely all perspectives and make a thorough and balanced analysis every single time. In addition to this quality, Denise is a leader who clearly is a "humanist" – the compassionate streak in her is a mile wide. She has been absolutely brilliant in the Rutgers EMBA Program, known as The Powerhouse. In my Macroeconomic Policy course, she was clearly a star as she was in the rest of the program. When she enrolled, she was a human resources director at Johnson & Johnson, and just weeks before graduation, she was promoted to the head of human resources for Cardiovascular, Metabolism and Janssen Patient Engagement and Customer Solutions. Given her inherent and intrinsic leadership abilities, I fully expect to see her become a chief human resources officer reporting to the CEO of a very large and globally recognized company in the not-too-distant future. The Powerhouse has been honored to have her as a student."
Professor Farrokh Langdana
Director, Rutgers Executive MBA Program
Press: For all media inquiries see our Media Kit