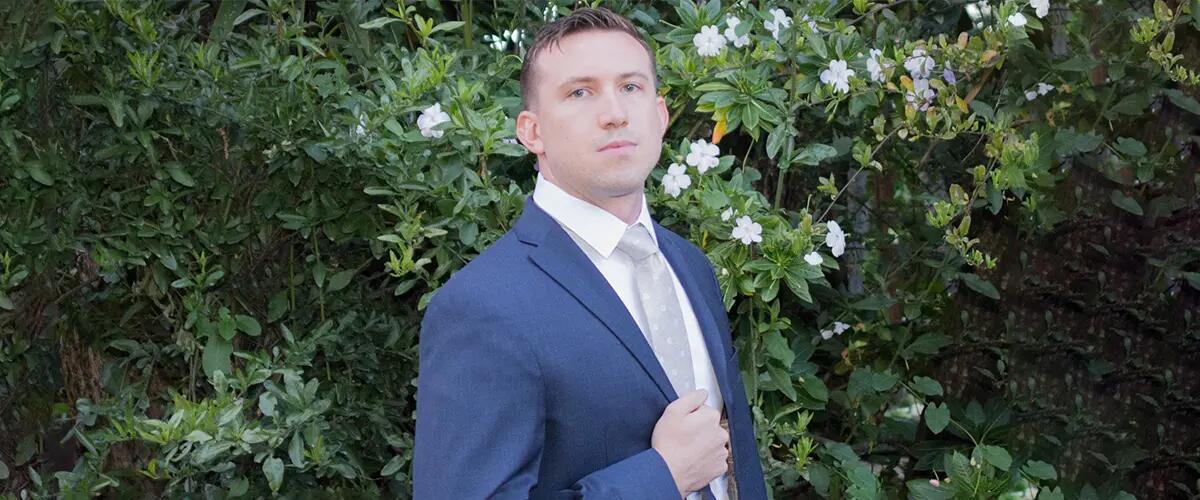 2022 Best & Brightest MBAs: J. David Wiessler
This profile was included among the 100 Best & Brightest MBAs: Class of 2022 published by Poets & Quants on May 1, 2022.
J. David Wiessler
"I'm committed to building high-performing teams through positive leadership."
Hometown: Washington, NJ
Fun fact about yourself: I won 100 boxes of PopTarts in a raffle contest.
Undergraduate School and Degree:
B.A. Economics
Rutgers University, New Brunswick, NJ
Where was the last place you worked before enrolling in business school?: US Army, Commissioned Officer. Five years as an Explosive Ordnance Disposal Officer in multiple leadership positions at Fort Benning, GA. Transitioned from the Army as a Captain.
Where did you intern during the summer of 2021? Bristol Myers Squibb, based out of Princeton, NJ (remote due to COVID-19)
Where will you be working after graduation? Bristol Myers Squibb, Associate in Commercial Leadership Development Program (CLDP)
Community Work and Leadership Roles in Business School:
– Conducted mock interviews for 230 undergraduate students, providing feedback to aid them in securing employment
– Served as a mentorship panelist to Rutgers Army ROTC Cadets on how to leverage their upcoming military experience into eventual civilian careers
– Social media manager for nonprofit, Bomb Techs Without Borders
– Containerization Intermodal Institute (CII) Scholarship Recipient
Which academic or extracurricular achievement are you most proud of during business school? I'm most proud of my ability to maintain my academic performance while recovering from a serious injury. In July of 2021, I was involved in an accident that left me badly burned on my hands, arms, and face. I spent a month in the ICU and was released the same week that classes started. Instead of taking time off, I decided to remain a full-time student. I'm thankful to the university administration and my support network for accommodating for my condition. I maintained a 3.8 GPA despite having limited function in my arms and hands. Enrolling in classes while recovering will allow me to graduate on time and finish the MBA program without issues.
What achievement are you most proud of in your professional career? Before business school, I led a 12-person team to dispose or render safe all explosive hazards across Georgia, Alabama, and Florida. This mission typically requires a 48-person team, but we accomplished the same mission at 25% staff coverage. We destroyed over 150 bombs, grenades, and other hazardous items. I'm proud we drastically reduced the number of life-threatening hazards in the world. In the same time period, I also provided protection support to the US Secret Service in India during the President's visit.
Why did you choose this business school? Rutgers Business School has one of the most robust Supply Chain Management programs in the country. I became interested in supply chain while attending the Army Logistics University in Fort Lee, VA. I was aware of the Supply Chain program's reputation from my undergraduate experience at Rutgers. I also wanted to attend a school that supports veterans in a meaningful way. My two highest priorities were a strong supply chain program and veteran support, and Rutgers had both.
Who was your favorite MBA professor? Professor Gary Branning was my favorite MBA professor. His classes were always thoughtful and relevant. He combined industry experience with guest speaker presentations for an engaging experience. Despite his busy schedule, he always took time to provide additional instruction and career advice. His instruction has been invaluable for me as I transition from a career in the military to a career in pharma. I'm incredibly grateful for his patience and willingness to pass on his expertise to students.
What was your favorite MBA event or tradition at your business school? I very much appreciated Dean Vera's approach to conducting mock interviews. Mock interviews are one of the first experiences in the Rutgers MBA program and are an essential part of the job search process. The MBA Office of Career Management helped me understand how to succeed during an interview. Receiving immediate feedback is one of the best parts of business school. I was able to pass on Dean Vera's guidance when evaluating undergraduate students during mock interviews. Most importantly, I learned a skill I will use throughout the rest of my career.
Looking back over your MBA experience, what is the one thing you'd do differently and why? I would have liked to attend more club events run by fellow students. The clubs offer excellent opportunities to connect with people outside your program. There are a lot of students across RBS graduate programs who don't always take classes with MBA students. Participation in the clubs expands your network outside of the full-time MBA program. While I formed many great connections during business school, I feel I could have better connected with a broader variety of people with unique backgrounds.
What is the biggest myth about your school? Before attending RBS, I heard cohorts competed aggressively for internships and grades. I quickly realized that I'd been misinformed. Everyone collaborated and supported each other from the start. I never felt like I was competing with my classmates for internships or jobs. Instead, we all shared opportunities and resources for the group's benefit. Business school can sometimes be stressful, so relying on one another is essential.
What surprised you the most about business school? I was surprised how quickly the cohort developed strong bonds with one another, given the virtual environment. I was nervous about returning to school after finishing my undergraduate degree five years prior. Having kind and helpful classmates alleviated a lot of stress of graduate school. I'm very grateful to the people in my class who helped make business school such a positive experience.
What is one thing you did during the application process that gave you an edge at the school you chose? I decided on a concentration and ideal employer very early in the process. I was not entirely sure about my decision, but it gave me direction. Having a goal in mind before attending business school is extremely helpful during the application process. It's ok if your plans change in business school. I found that having a purpose before applying helped even when shifting my focus later on.
Which MBA classmate do you most admire? I most admire my classmate, Marsha Fils. She has been an outstanding Student Government Association President, organizing everything from social events to fundraising initiatives. She's brilliant and compassionate, and she works harder than anyone I know. When India experienced an oxygen shortage due to COVID-19, she rallied university students and faculty to raise money for those affected. Her leadership and dedication have made the Rutgers MBA program better for all.
Who most influenced your decision to pursue business in college? My first commander in the Army has continued to mentor me after his role as my boss. He took great interest in my professional development and pushed me to plan my career. While I enjoyed my job in the Army, I did not see making the Army a career. My mentor helped me understand how many of my skills are transferrable to business.
What are the top two items on your professional bucket list? I want to use my leadership experience to benefit any organization I'm with. Leading a launch team for a new pharmaceutical product in the US market is one of my top two items.
My second item is to use my experience and resources to benefit nonprofit groups. Two causes I feel strongly about are preventing non-combatant casualties from remnants of war and helping burn survivors.
How has the pandemic changed your view of a career? The pandemic has changed my perception of an ideal work environment. I held a traditional view of work that required working in an office every day for eight hours. The pandemic has shown me how a virtual or hybrid environment can improve work efficiency without a lengthy commute. Virtual cannot completely replace in-person interaction, but many issues can be solved over a video conference.
What made David such an invaluable addition to the Class of 2022?
"I have known David for the past couple of years in his capacity as a student in the two courses I teach at Rutgers Business School. David was a particular stand out in both classes, demonstrating leadership and willingness to consistently engage. Within the classroom, his attention and provocative questions created dialog in the class that increased other classmates' participation. His efforts were also rewarded with the highest grades in the class. The premise for my classes is to develop thinkers that see the complexities of healthcare as an invitation to develop solutions. His passion to understand the complexities of the pharmaceutical industry landed him an internship with BMS and the company extended a full-time offer in the prestigious Commercial Leadership Development Program.
Outside of the classroom, I have had the pleasure to collaborate with David on several occasions as a mentor for his career and made additional observations about his leadership skills. He is straight forward, humble, and leads by example. Add to that his attention to detail and inclusive thinking, creates traits that all of us appreciate in our leaders. Leadership is David's pillar, demonstrated through his special contributions to our Rutgers community, where he coached over 200 undergraduate students by conducting mock interviews and mentoring Rutgers Army ROTC cadets on how to leverage their upcoming military experience into eventual civilian careers.
In my opinion his military background has been a strong contributor to his success and sets an example all future RBS Student Veterans, where he serves as a mentor. I am very proud of David."
Gary Branning
Professor, Pharmaceutical Management
Rutgers Business School
Press: For all media inquiries see our Media Kit