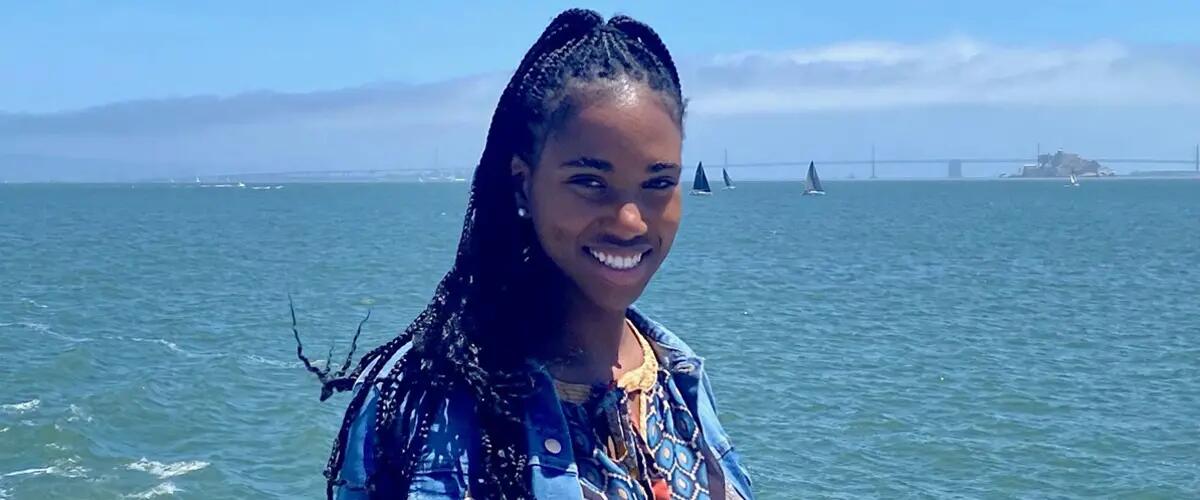 MBA made virtual graduate school experience work to her advantage
Marsha Fils went all in when she picked Rutgers Business School for her MBA, relocating from Long Island and buying a home in Newark even before she'd been accepted. Fils intended to immerse herself in the full-time, in-person program, figuring that was the best opportunity for networking.
When the COVID-19 pandemic upended her plans, Fils had to get inventive.
"I draw energy from being around other people, so being virtual was going to be tough for me," said Fils, who enrolled in the fall of 2020.
Before classes started, Fils reached out to classmates to organize outdoor lunch and dinner gatherings. "It was really important to get to know people in person so we'd have a connection in class," she said. It worked. The 29-year-old said she became friends with people with vastly different backgrounds than her own, something she doesn't think would have happened had they not had to make the extra effort.
The experience inspired Fils to get involved in the MBA student government association; she served as president throughout 2021. Fils also participated in Rutgers CeO Forum, an entrepreneurship club whose members include MBA students, alumni, faculty, and community leaders. Fils helped to organize and promote events for the club.
Trying to get people to engage virtually in the campus community wasn't easy. Nor was sitting through three-hour classes looking at her computer screen. "I'd do fine the first half, but it was hard to pay attention beyond that," said Fils. To combat lethargy, "I did high kicks," she said with a laugh.
Before classes started, Fils reached out to classmates to organize outdoor lunch and dinner gatherings. "It was really important to get to know people in person so we'd have a connection in class," she said.
Despite all the challenges of doing her MBA largely online, she has no regrets. Fils said reality pushed her to have new experiences, and she worked diligently to network online. "I feel that it's worked to my advantage. I made sure of it," she said. (This semester, two of her six classes are in person.)
In October, Fils was selected to help moderate a fireside-style chat between Rutgers University President Jonathan Holloway and Johnson & Johnson Chairman and CEO Alex Gorsky at RBS's virtual Innovations in Undergraduate and Graduate Business Education Conference. When a technical problem arose, Holloway went off-script, asking Fils to share her experiences as an MBA student during the pandemic.
"I spoke about how I missed in-person interactions and my belief that the future of work is hybrid," she recalled. "It was a totally unexpected conversation. I was pretty nervous, but President Holloway made it effortless," she said. "I learned a lot from him that day about leadership and how to navigate high-pressured situations."
Last summer, Fils landed an internship with Google's recruiting operations team. Members were tasked with analyzing recruiting processes and coming up with ways to streamline the application experience for the company's growing cloud business.
Due to the pandemic, the internship was virtual, but Fils decided to travel to California and meet some of her colleagues. When she graduates with her MBA in May, Fils will return to Google, initially working in Austin, Texas, as a strategy and analytics associate.
Fils became interested in venture capital through two of her MBA classes, Urban Entrepreneurship and Economic Development taught by Lyneir Richardson, executive director of The Center for Urban Entrepreneurship and Economic Development, and Opportunity Identification and Evaluation taught by Professor Jeffrey Robinson.
"I realized that I can prepare for entrepreneurship by learning more about venture capital," she said. "I learned that financing was a major challenge for founders, especially for people of color, so I set out on a goal to learn what I can before graduation."
As part of that goal, she recently started working as a part-time consultant for a venture capital syndicate firm where she researches startups and analyzes their potential for success. "The experience'" she said, "is helping me to dive deeper into my entrepreneurial mindset and teaching me a lot about how investors evaluate businesses that I hope to implement in the future."
Even as an undergraduate, when she was pursuing a health care career, Fils said she always dreamed of starting her own business. On her phone, she has notes full of ideas, she said. Fils said she thought she would have settled on one of them while working on her MBA but decided the time was better spent learning as much as she could.
"I'm in the growing part of my life," said Fils, who will soon be a bride.
Fils had intended to become a physician's assistant, a career encouraged by her parents, who emigrated from Haiti in the 1980s. Then, while interning at a facility for children with profound disabilities and behavioral problems, Fils saw blood. "It made me queasy. I realized I can't stand the sight of blood," she said.
Fils's undergraduate degree focused on healthcare informatics, a new field at the time. She had planned to pursue a concentration in public health, but when course registration opened, she was in Peru volunteering at an orphanage. She had no internet access and missed out on getting into the classes she would need. Fils shifted gears and picked a concentration that taught her how to manage information systems that store and retrieve patient data.
She worked in that field until she was recruited to a human resources software startup that handled employee data. The commute to New York City from eastern Long Island took a toll, so she took a job at Newsday, helping to handle a mass layoff of 800 employees as the newspaper transitioned to digital format.
Fils set her sights on a Rutgers MBA because of its reputation and the strength of its alumni network, she said. As Fils sees it, she did her bachelor's degree in health care for her parents' sake. The MBA? "That's for me," she said.
- Margaret McHugh
Press: For all media inquiries see our Media Kit