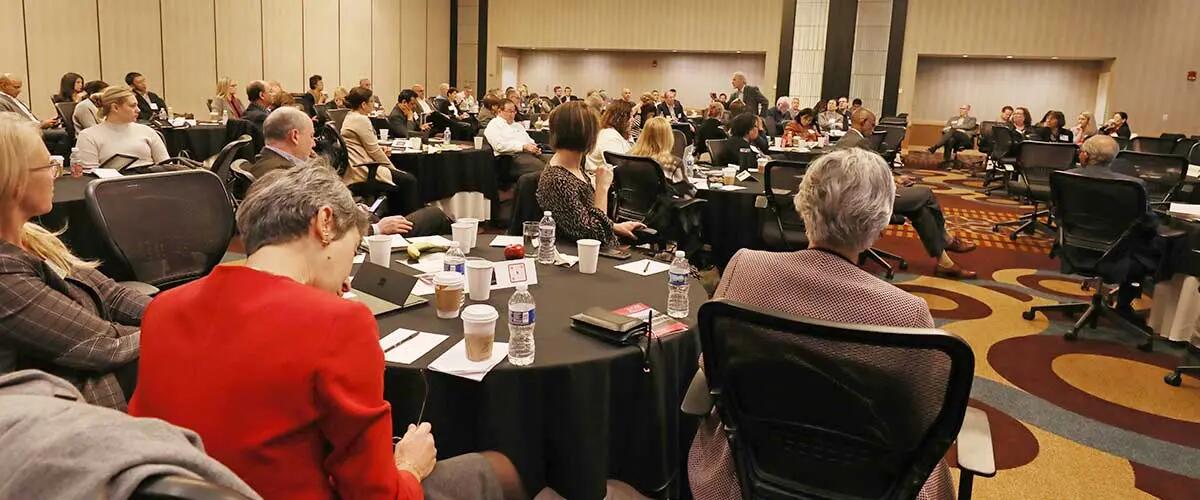 Academic and corporate leaders united by purpose at innovative education conference
Acknowledging the difficult challenges business schools face and the unique abilities they possess to answer them were consistent themes throughout the Innovations in Undergraduate and Graduate Business Education conference.
United by Purpose: Student Success is Our Shared Success grappled with broad-ranging topics such as Job Skills of Future Leaders, Rethinking the Rankings; Public, Private Partnerships & the Benefits; and Diversity, Equity, and Inclusion. Deans from across the country and C-Suite corporate executives provided their expertise, engaged in discussions, and answered questions from attendees. Sessions ran out of time before participants were ready to leave. Email addresses and LinkedIn connections were shared to continue conversations when people returned to their schools and corporations.
Dr. Lei Lei, dean, Rutgers Business School, opened the conference by welcoming back deans and executives who previously participated and hoping to meet first-time participants and everyone attending personally. "Thank you for joining us at the IUGBE Conference and contributing to advancing innovative undergraduate and graduate business education," she said.
Dr. Prabhas V. Moghe, executive vice president for academic affairs at Rutgers University, echoed Dean Lei's welcome and gave an engaging narrative exemplifying the RBS brand: Resilient, Resourceful, Responsible, and Reinvent Yourself for the Digital Era.
"Rutgers lets you reinvent yourself," Moghe said. "We have a sea-facing, global perspective with a diverse population and goals. There is a transformative spark at Rutgers."
He told the story of an alumna with over twenty years of experience as a successful pharmaceutical business leader. After surviving breast cancer, she left her career to start a nanotechnology imaging company developing the ability to detect tumors earlier, better track drug therapy response, and improve surgery outcomes while reducing repeated operations.
"This is what a Rutgers alumna does. She faced a difficult challenge and responded using her considerable abilities. She is also my wife," Moghe concluded.
The "AI in the Business Curriculum" panel explored the integration of artificial intelligence (AI) within business education. Moderator Mark Anquillare, former president and chief operating officer at Verisk Analytics, provided a corporate perspective to the discussion. "The cost of storing a terabyte of usable data has dramatically decreased, and analyzing it has become so much faster than even a few years ago," he said. "Data analytics and artificial intelligence are changing everything in business and business education."
Dean Saby Mitra, Warrington College of Business, University of Florida, said they are incorporating elements of analytics and AI across the curriculum and adding them to the required core courses. Connecting with what Dean Mitra said, Ian Williamson, dean, Paul Merage School of Business, University of California, Irvine, added, "We, too, are weaving analytics and AI into the curriculum across the disciplines. Two years ago, we started an AI ethics course, one of the more important elements in teaching AI."
Dean Bill Boulding, Fuqua School of Business, Duke University, noted how the faculty composition is changing to recruit more members from computer science. This led to a discussion on how faculty evaluations would change as well, such as widening the journals for recognizing papers published beyond the Financial Times 50 to where they could have a more significant impact.
The panel consensus was that AI is changing everything; it cannot be kept out of the classroom, so it must be used as a learning tool: teach its value, limits, and ethical use. Just like calculators, Excel, and laptops teachers previously tried to keep out of school, AI will become a tool that students and faculty must learn to use in the classroom and their careers or be left behind.
AI is but one of the complex challenges facing business schools, whose leadership, faculty, students, and staff are uniquely capable of answering.
Press: For all media inquiries see our Media Kit