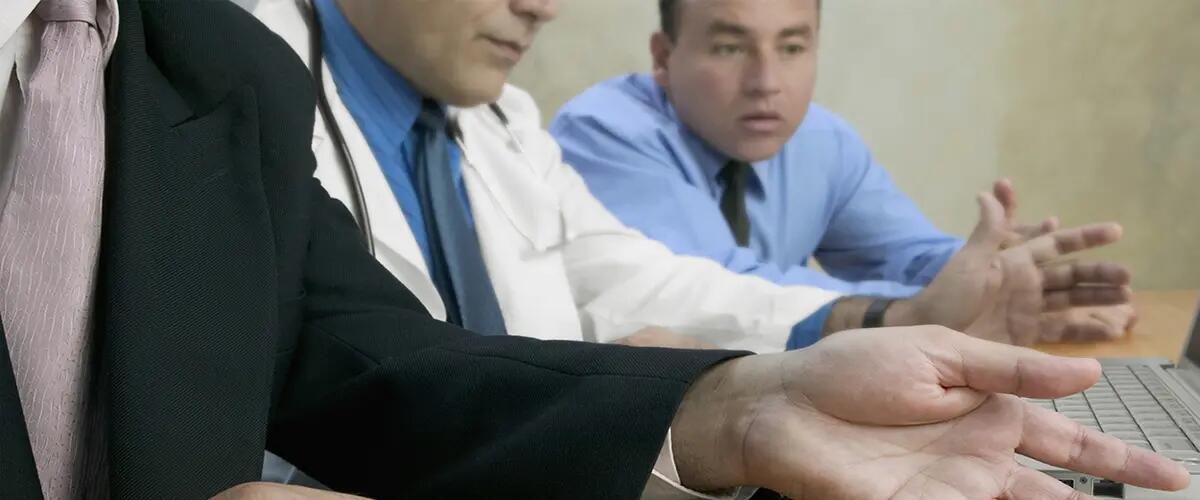 Alumni Profile: Hospital leadership fueled by combination of medical and business knowledge
Dr. Joshua Bershad, who completed an Executive MBA at Rutgers Business School in 2007, owes much of his passion for medicine and business to the experiences of childhood.
The first was the thrill of his periodontist uncle handing off medical books when he was four or five. The second was the unfortunate tragedy of a friend's younger brother succumbing to cancer a few years later, a helpless feeling he never forgot.
Today, Bershad is chief medical officer and executive vice president at Robert Wood Johnson Barnabas Health, where he strives to combine his love of healing with an understanding of business principles which can help keep a medical institution's doors open.
Business was often in the air, his father immersed in real estate, his mother working at Johnson & Johnson, a company that Bershad would one day even call an employer. "Business was just a vital part of dinner table conversation," he says. "By the age of 12, I was reading Businessweek. Business seemed a part of life to embrace."
But it might have stopped there as medicine was his chosen profession – except Bershad chose not to study for the Medical College Admission Test when he was finishing up his bachelor's at Binghamton University.  "I just thought I would take it and, surprise, I didn't do well!" he says.
This might have been a story he would be telling today, ruefully, having been forced into another career path. But his detour off the road to medical school in the mid-90s was fairly brief and had an unexpected payoff. "I ended up working at Johnson & Johnson on the technology side and one of the focuses was on medical equipment," he says. "It made me see the inefficiency going on in the medical profession."
"A business school education can be what you make it. For me, it helped pave the way." - Dr. Joshua Bershad.
Bershad decided to give the MCATs another go. And this time, he studied. "I'm happy to tell you I did well," he says. "And I was thankful to be back on that path."
But his mind was opened all the more by his Johnson & Johnson experience and, after he received his medical license, he decided to pitch his own job (a combined instructor of medicine at Robert Wood Johnson Medical School and assistant medical director at Robert Wood Johnson University Hospital). Yes, he, in fact, got a job offer. "I thought I could be a strong help if I got my MBA and used that knowledge to improve business," he says. "And they agreed."
Like a man possessed, he looked to scoop up mountains of knowledge, he says. This certainly wasn't lost on the faculty instructing him at Rutgers Business School. One particular project of his is still talked about.
"Like many, I've had a chance to hear about the analysis he did of emergency room visits," says Professor Farrokh Langdana, director of the Executive MBA program. "He just has a great mind that would lend itself to modeling."
Bershad also still remembers his passion for the project. "I actually used that as a basis of a lot of what I ended up doing in my career," he says. "There was the idea that emergency room visits you would get in a (certain) period of time would be hard to predict. I saw that it's not necessarily the case and that can help with order."
That kind of thirst for efficiency still fuels him today. He has patients he sees as a clinician, but as a chief medical officer, he's also responsible for all patients doing better. But it's not without its challenges.
"One of the biggest roadblocks in health care is a lack of information and lack of collaboration," he says. "Medicine can be a fragmented field. I think all of my educational and work experience has helped me with bringing people together and being candid about challenges we face and where we need to go. I try to appreciate the issues everyone brings to the table.
"You can have complex problems – it can mix in individuals, companies and a sector that is regulatory in nature. You have to follow rules but also consider the socioeconomic factors."
Bershad said he believes continuing to see patients helps him get an invaluable insider's view, while fulfilling part of why he got into medicine in the first place.
"I still want to take care of people and it makes me a customer of everything I design," he says. "Everything used to help people in the health system I have to use, so it's a powerful concept. Can it get a little complicated sometimes from a time management standpoint? It can. But, luckily, I have important support from leadership."
And he has proudly taken on a new role teaching leadership at Rutgers Business School, giving him a chance to come full circle from where he gained so much applicable knowledge. "I feel privileged to be able to help the next generation of students grow like I did," he says. "A business school education can be what you make it. For me, it helped pave the way."
-Eric Butterman
Press: For all media inquiries see our Media Kit