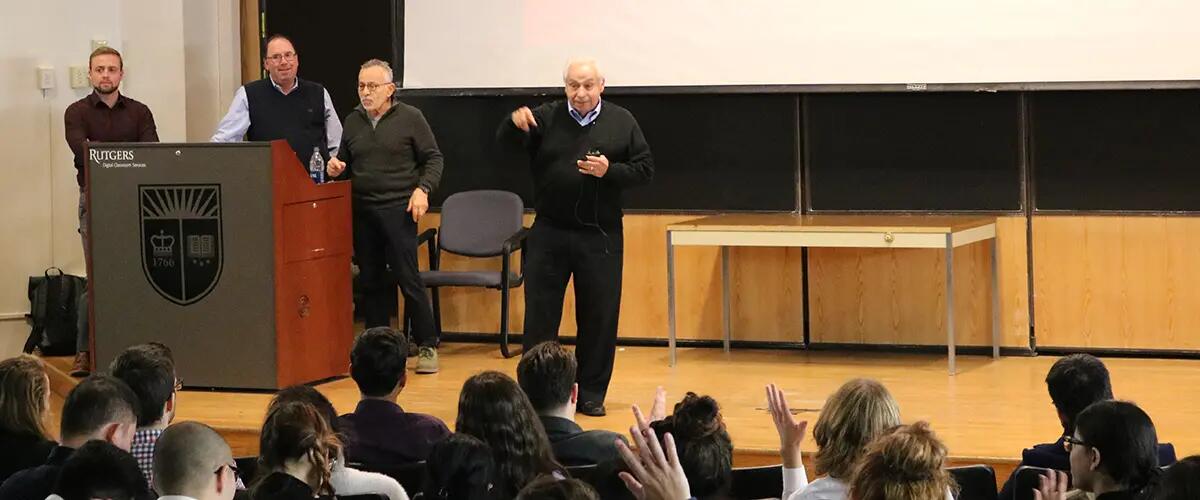 Alumnus launches seminar to teach students how to manage finances
Alumnus Edwin Schiffer, who earned an MBA at Rutgers Business School, attended the inaugural Schiffer Family Financial Literacy Program: a seminar stressing the importance of saving early and taking control of one's financial future.  The seminar was made possible by Schiffer's generous donation to Rutgers Business School.  Schiffer hopes to get his message into every Business Forum class and eventually to the wider community through outreach to high schools and guidance counselors.  He envisions events where students and parents participate. 
While college students may be getting more thoughtful about education loans and credit card debt, most can benefit from the fundamental messages from Schiffer's experience.
The personal finance seminar took place in Instructor Michael Schneider's finance class and was presented by Assistant Professor of Professional Practice Ron Richter.  Spend less than you earn, save and invest early and regularly, was not new to the students; however, Richter's "Tale of Two Savers" really got their attention.  In a simple comparison of retirement-age balances, the value of starting to save and invest early was abundantly clear.  
Richter showed that saving a modest 10 – 15 percent of earnings as soon as one started working, along with compounding interest, resulted in twice as much money for retirement as starting to save after working for 20 years.
The presentation went into greater detail and utilized investment data from the last 100 years.  Richter demonstrated an Excel spreadsheet tool that he created for the students to complete for homework.  It gives the students accurate feedback on their budgeting choices and helps them a start to take control of their long-term financial future.
Press: For all media inquiries see our Media Kit