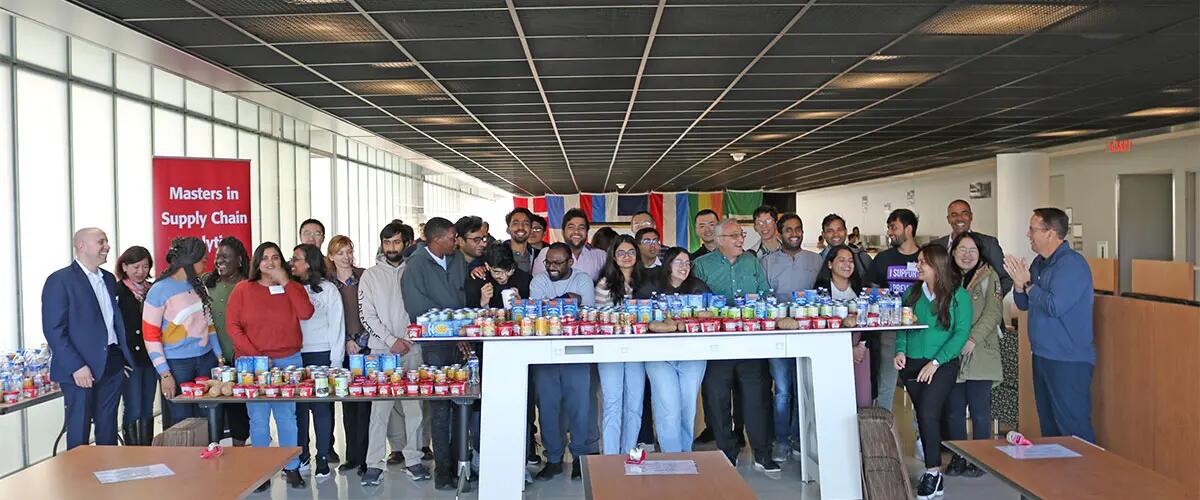 Analytics students try the Toyota Production System
Joseph N. Agresta, assistant professor of professional practice and director of the Master of Supply Chain Analytics, invited representatives from Toyota Financial Services to Rutgers Business School to engage approximately 35 students from the Master of Science in Healthcare Analytics and Intelligence and the Master of Supply Chain Analytics programs in an experiential learning exercise.
After introductions and boxed lunches from Jersey Mike's, Brock Bayles introduced the students to the Toyota Production System (TPS) for eliminating waste and improving efficiency. This is part of Toyota's philosophy of giving back to communities: "We share our production know-how with nonprofits and community partners—from food banks to hospitals—to help them serve more people, more effectively."
Agresta explained that Rutgers Business School's corporate partnerships and connections are part of the RBS experience. "Our students spend time with company leaders, ask questions, and have one-on-one conversations," he said.
To demonstrate TPS, Don Lomanto and Jade Merrick set the stage for the activity. Students broke into teams of five or six and raced to fill four boxes with specific food items that only fit in the boxes one way. The teams had a list of items randomly spread across several tables. Every team succeeded in less than five minutes.
The teams were then allowed to sort and organize the items and plan an assembly-line approach to move boxes along the table as each member placed their particular items in the box. Every team succeeded in less than thirty seconds.
Bayles' message to the students specializing in analytics was to get involved and experience as much as possible how an organization works,  "Having a deeper understanding of structure, processes, and desired outcomes will be indispensable in framing your data-driven decision-making analytics."
He also informed the students that the thirty food boxes would be donated to the Food Bank Network of Somerset County.
Lomanto summarized the Toyota Financial Services team's impression of the RBS students. He said, "I was impressed by the students' engagement and thoughtful questions throughout the session. It was great to see so many students rally around the event and pitch in to support a great cause."
Press: For all media inquiries see our Media Kit