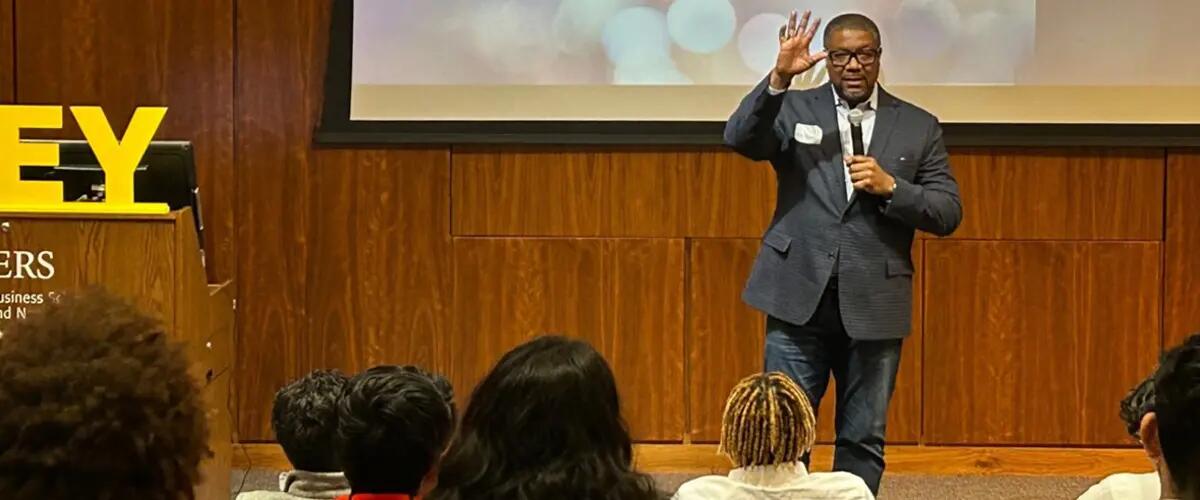 EY's leading DEI champion pays a visit to advocate for accounting and student excellence
A team from Ernst & Young (EY), including nearly a dozen Rutgers alumni, spent a day at Rutgers Business School meeting with deans, speaking with faculty, and inspiring students.
Hosted by the Office of Inclusion, Diversity, Equity and Access (IDEA), the event included a reception with undergraduate accounting students and culminated with a keynote speech by Ken Bouyer, EY's Americas DEI recruiting leader.
The visit reflects a long-standing relationship between EY and Rutgers Business School and its IDEA Office, which helps to nurture and support diverse accounting talent at RBS. For the IDEA Office, Bouyer's appearance as part of its Diversity Speaker Series, was significant because of his prominence as a DEI champion and his advocacy for IDEA programs like the ones at RBS, according to Charles Brown, assistant dean of the IDEA office. 
During his keynote, Bouyer said he struggled during his first few years in a field where only a few people looked like him. When he was on the verge of leaving, a mentor took him aside and encouraged him to be comfortable being himself. "I hired you to be who you are. Be you," the mentor told him.
Thirty-two years later, Bouyer is a leading advocate for nurturing diverse college talent and a champion for inclusion and belonging at EY, an international accounting firm. "While I have a seat at the table," he said, "I'm going to maximize my time. I'm going to make an impact while I can."
An example of the talent produced by RBS was in the spotlight as well. Alumna Chanel Clarke introduced Bouyer. Clarke was a member of the IDEA Office's B-STAR program and took at job at EY when she graduated in 2018. She told the students that she is active in EY's professional women's network and volunteers as a mentor. "I want to be that reassuring face in the crowd that proves that you can make it, wherever you want to go," she said.  
During his talk, Bouyer was candid with a crowd of historically underrepresented students who filled Bove Auditorium. He urged them to resist being average, to differentiate themselves with high grades, involvement, and work experience.
"Success does not come easy. It takes focus. It takes resilience. I appreciate that it's not easy," he said, acknowledging that some in the crowd were first-generation college students, juggling jobs, classes, and, sometimes, family obligations.
"It will pay off," he told them.
Read more about the IDEA Office's Diversity Speaker Series offered as part of its programming for enrolled students.
Press: For all media inquiries see our Media Kit